There are injury-time goals for Manchester United at Old Trafford that have shattered the dreams of opposing teams, and changed the course of title races, and yet for all the drama today, this was a different kind of late goal, for a different kind of United team, in a very different era.
Robin van Persie disappeared under a mound of United team-mates after his 94th-minute goal, and still had the elation coursing through him when he emerged to tear his shirt off and throw it in the air. The Old Trafford crowd were sent home with that familiar tingle of joy at a game-changing last few minutes. But this was a draw, not a victory, and the gap to Chelsea remains a formidable 10 points.
On the touchline as Old Trafford erupted in delight at the equaliser, Jose Mourinho responded with a dismissive wrinkle of the nose and a shake of the head. His team had come close to a big win, and he was furious at the decision of referee Phil Dowd to send off Branislav Ivanovic in the moments before United scored. But soon he had composed himself because, for now, a point seemed like it was enough for him.
His team had stepped it up a level in the second half, scored through the 36-year-old Didier Drogba and then held United at arm's length for much of the rest of the game. United got out of jail. They had the better of a hectic first half but Chelsea had taken control after the break and to watch them today was to see a team ready to win a title.
For Van Gaal, United remain frustratingly short of being the sum of their parts and the Dutch coach's jolly attitude afterwards, ticking Van Persie off for the goal celebration that got him booked, suggested that he was relieved with a point. His team had thrown everything at Chelsea in the closing stages and, man-for-man, they match up well. The simple truth is that Chelsea are a much better functioning, slicker ensemble.
Manchester United 1 Chelsea 1: Player ratings
Manchester United 1 Chelsea 1: Player ratings
1/23 David de Gea

Made superb second-half save to deny Eden Hazard and produced a couple of other decent stops as he continued his impressive form this season. 6/10

GETTY IMAGES

2/23 Chris Smalling

Showed good defensive instincts to cover mistakes by his fellow defenders – especially Marcos Rojo - and was generally in command against Drogba. 6

GETTY IMAGES

3/23 Marcos Rojo

Always looked to pass out from the back, but it put United under pressure on a few occasions, including when he gifted Willian the ball on the halfway line. 5

GETTY IMAGES

4/23 Luke Shaw

Much improved from recent shaky performances – the left-back attacked with purpose and put in some strong challenges on Willian and Oscar. 7

GETTY IMAGES

5/23 Daley Blind

As is his custom, the Dutchman kept things simple with plenty of short passes and held his position well in front of the hosts' back four. 6

GETTY IMAGES

6/23 Marouane Fellaini

Provided a physical presence in midfield and got forward regularly to ensure Van Persie wasn't isolated. Won the header that was spilled to the Dutchman for the equaliser. 7

GETTY IMAGES

7/23 Juan Mata

A reasonable performance but hardly one that will have made Jose Mourinho regret selling him. The Spaniard couldn't produce a telling contribution and was taken off after 67 minutes. 6

GETTY IMAGES

8/23 Angel Di Maria

Not at his scintillating best but he never stopped demanding wanted the ball, and it was his free-kick that led to Robin van Persie's leveller. 6

GETTY IMAGES

9/23 Adnan Januzaj

Enjoyed himself as he beat the Chelsea full-backs with his intelligent movement and quick feet. Constantly willing to take on his man even if it meant getting clattered. 7

GETTY IMAGES

10/23 Robin van Persie

Missed two presentable chances in the first half but was a constant headache for the Chelsea defenders and deserved his late goal. 7

GETTY IMAGES

11/23 Best of the bench: James Wilson

Replaced Mata for the last quarter of the match but, aside from a looping header from the edge of the box, struggled to get into the match. 5

GETTY IMAGES

12/23 Thibaut Courtois

Fine performance as usual, but was left without any chance for Van Perse's rocket of an equaliser after great save from Fellaini. 7

GETTY IMAGES

13/23 Branislav Ivanovic

Nearly scored from an incredible, Messi-esque mazy run, but was then send off for clipping Januzaj for United's goal-yielding free-kick. Eventful game. 6

GETTY IMAGES

14/23 John Terry

The 33-year-old showed his experience in a composed and commanding performance alongside Cahill for the majority of the match. 7

GETTY IMAGES

15/23 Gary Cahill

Brilliant performance was ruined by losing Fellaini in the move for United's equaliser. The towering Belgian's header was rebounded for Van Persie's equaliser. 6

GETTY IMAGES

16/23 Filipe Luis

The Brazilian deputised for the suspended Azpilicueta at left-back, and did struggle against DI Maria in his first Premier League start for the Blues. 5

GETTY IMAGES

17/23 Nemanja Matic

A wall. Broke up waves and waves of United attacks. Every team would love to have a player of his stature guarding the defence. 8

GETTY IMAGES

18/23 Cesc Fabregas

Carried on his fine form for the Blues in a more disciplined defensive performance. Still set the goal up though, of course he did. 8

GETTY IMAGES

19/23 Oscar

The tricky Brazilian's passing was not quite at the races today, and chose the wrong option more than once. Taken off with 20 minutes left. 6

GETTY IMAGES

20/23 Willian

A slick display from the 26-year-old. Always looking to charge forward on the counter-attack and stung the palms of De Gea with a fierce drive. 7

GETTY IMAGES

21/23 Eden Hazard

Unplayable. Twisting and turning at truly remarkable speed. Would have got full marks if he finished the chance when clean through. 9

GETTY IMAGES

22/23 Didier Drogba

Not the terrorising presence he once was, and disposed of with ease at times by Rojo and Blind, but the 36-year-old was there when it mattered. 6

GETTY IMAGES

23/23 Best of the bench: John Obi Mikel

Midfielder was brought on by manager Mourinho to see the game out for Chelsea, which they were unable to do at Old Trafford. 5

GETTY IMAGES
Eight minutes after half-time, Drogba drifted to the near post pursued by the diminutive Rafael Da Silva who was wholly inadequate when it came to challenging one of the greatest headers of the ball the game has known. Those are the kind of details that are tripping up United at present, the sort of glitches that Mourinho has had longer to address in his own Chelsea team.
Chelsea also had the most consistently dangerous player on the pitch in Eden Hazard, whose incision through the United defence won the corner for the goal. They played without their first and second choice strikers, Diego Costa and Loïc Rémy, and in the calmer post-match atmosphere, Mourinho seemed to have assessed the result as acceptable. His unwillingness to be explicit about what he regarded as Dowd's mistakes in the game told you that much.
As for United, they were without the injured Radamel Falcao and their best attacker was the teenager Adnan Januzaj, who came in and out of the game but delivered quality every time. As for Angel Di Maria, when he reaches full fitness, he will be extraordinary – but this could not have been him at his best. Phil Jones is injured again, and missed the game with a case of shin splints that Van Gaal said had prevented him training.
It was a wonderful first half, full of the exceptional high-quality football one would expect of these two sides, but also with the promise of a mistake that might unlock the match. Marcos Rojo gave the ball away to Willian on 34 minutes and was lucky that Chris Smalling was there to cover. Rafael got himself booked on 12 minutes, falling for one of Hazard's oldest tricks.
There were some fine moments from United for whom Marouane Fellaini did a good job minding Cesc Fabregas in midfield. The best chance for United in the first half was Januzaj's ball into the inside left channel to Van Persie when Thibaut Courtois was off his line so quickly he was almost at the striker's toes when he blocked.
Drogba missed Chelsea's best first-half chance, a shot that David De Gea stopped with his feet. Chelsea found themselves stretched in midfield, demonstrated by the booking for Nemanja Matic for his second cynical block of the half. At a Chelsea corner, the away team could have complained about the grappling of United defenders. 
In the second half, Dowd's decision to book Ivanovic on 65 minutes enraged Mourinho, and with some justification. Di Maria had tried to push the full-back away and found himself out-muscled. When the free-kick was given United's way it appeared to be Ivanovic's complaint that earned him a yellow card for dissent. It was to cost him later.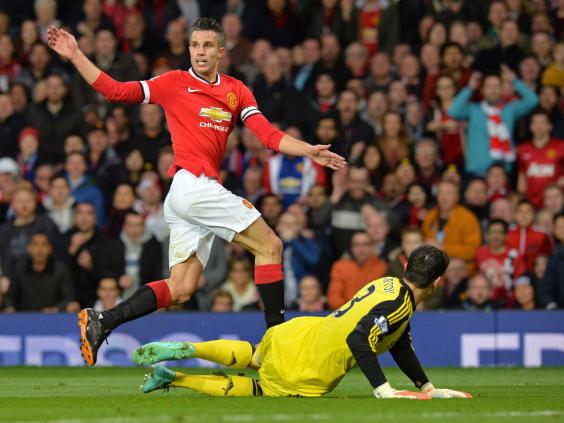 By then, Chelsea were in the lead. On 50 minutes Hazard was through the United defence in a heartbeat, exchanging passes with Drogba and in on goal. De Gea did well to save that time but from the subsequent corner United were undone.
The home side got their marking patterns all wrong, and so it was Rafael who chased Drogba to the near post in vain, making no impact on the striker's glancing header back into goal. Van Persie managed a touch but it was not enough to stop the ball going in. In 20 games against United it was just Drogba's fourth goal but what a goal, and what a player – even after all these years.
Later Van Gaal explained the mis-match of Rafael marking Drogba as a necessity; he said he simply did not have enough tall players in his side. The suspicion was that one reason for Fellaini's inclusion was to address that problem, but he could not cover all the giants in Chelsea's team.
The big tactical switches followed the goal. Van Gaal brought off Mata for the striker James Wilson and changed to a 4-4-2. Mourinho introduced John Obi Mikel to play alongside Matic. Oscar came off and Fabregas moved into the orthodox No 10 position. The big moment came after Ivanovic's red card, which felt like it would be the decisive moment of the game.
For Ivanovic's second yellow card, he had caught the heels of Di Maria, who swung in the free-kick and Fellaini attacked it well. From Courtois' fine save it spilled to Van Persie who thumped it home. This was enough for now for United, but very soon they will need more from these kind of games.
Manchester United (4-1-4-1): De Gea; Rafael, Smalling, Rojo, Shaw; Blind; Di Maria, Fellaini, Mata (Wilson, 67), Januzaj; Van Persie.
Substitutes not used: Lindegaard (gk), Carrick, Herrera, Fletcher, Blackett, Pereira.
Chelsea (4-2-3-1): Courtois; Ivanovic, Cahill, Terry, Filipe Luis; Fabregas, Matic; Willian (Zouma, 90), Oscar (Mikel, 67), Hazard (Schurrle, 89); Drogba.
Substitutes not used: Cech (gk), Ake, Salah, Baker.
Booked: Manchester United Rafael, Fellaini Chelsea Drogba, Matic, Fabregas ,Oscar, Ivanovic
Sent off: Ivanovic
Referee: P Dowd (Staffordshire)
Man of the match: Hazard
Rating: 8
Attendance: 75,327
Reuse content