When I lived in Rio de Janeiro you couldn't hide from the World Cup. In the weeks preceding the tournament, yellow and green ribbons hung from most buildings, every shop, office and bar was draped with flags, and murals appeared on pavements and walls throughout the city.
This year things are very different. The murals are absent. The ribbons are few and far between. The party atmosphere is subdued. Even though Brazil are World Cup hosts, the residents of Rio seem less excited about the event than they ever have been before.
Except in one way: a booming national obsession with collecting Panini football stickers. "If we painted murals in the streets like we did before, it would give the idea that we support the government, that we are happy with the way they have spent public money," said Jose Carlos Novello, who runs a newspaper kiosk that has already sold 70,000 packets of stickers. "But we aren't happy with them. So we haven't painted the streets, and we are getting ready for the World Cup in our own way. The stickers are our way of having a party."
Newspaper kiosks and shopping malls across Brazil have become hubs of activity for swapping "figurinhas", the little figures, Brazilian Portuguese for football stickers. "I've never seen anything like it before," said Daniela Velho, 41, a mother of two, sitting by a kiosk near Ipanema beach. "It's not just boys and their fathers, it's the only thing that all the mums in the neighbourhood are talking about too. Look at my phone – the only messages I get now are my friends asking which ones I have to swap."
I visited the busiest swap spot in Rio's city centre, where more than a thousand people show up every day. During one lunchtime earlier this week the pavement was crowded with more than 200 adults, each holding pieces of paper with the numbers written down of the stickers they wanted. Only a few said they were getting the stickers for their children, most said they were swapping for themselves.
Lucas Gabriel, 22, a shop assistant, said that collecting stickers was the only way to channel his passion for football before the World Cup began. "People are really dissatisfied with the government. The stolen money. The roads that never got built. But we want to take part in the World Cup, and the most authentic way to do this is with the stickers."
Football stickers are not new in Brazil, but the level of interest in them has rocketed this year. Panini does not say how many it has sold, only that their initial print run was 8.5 million stickers compared to a total of five million in 2010.
"It's not surprising that more people want them this year," said Diego Abrantes, 28, a businessman. "We all love football, and we want to have something to remember the World Cup in Brazil."
He echoed the prevailing view that the World Cup organisers had betrayed ordinary people, but he added that this did not mean he had fallen out of love with the World Cup itself. "It's like when your wife cheats on you – you are upset but you keep on loving her. We have a complicated relationship with football."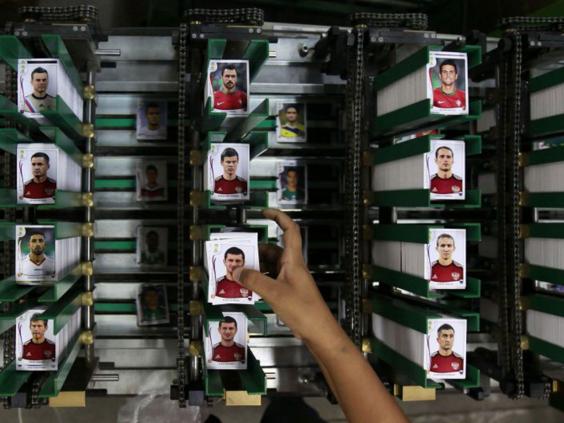 The unprecedented interest in collecting stickers has stimulated the informal economy. Collectors who have no time to swap can buy individual stickers from street sellers like Alan Cidri, 41, who buys boxes of them wholesale and sells albums for Br$230 (£60) and individual players from pennies up to pounds.
"Neymar is the most expensive, at Br$8 [£2.10]," he said. "Everyone wants him. The other Brazilians are Br$2, and if you want someone from Croatia or Mexico, they are only Br$0.30." (He'll sell you an England player for Br$0.50.) Alan said the stickers are in such demand that he earns well, taking home a good deal more than his peers who are bus drivers. "There are probably more than 200 street sellers now just in Rio who are making a living from reselling individual stickers," he said.
The message from the centre of Rio is that its residents are looking forward to the World Cup, even though they have not decked their streets out for a party like they usually do. "What has happened is that people have separated the football part of the World Cup from the organisational part," said Charles Gomes, 40, an accountant. "We don't want to do anything in public that looks like we agree with what has been done. But as soon as the World Cup begins, of course we will get behind the team."
Lucas Gabriel added that he had thought about supporting another team in the World Cup, as a personal protest, but he knows that as soon as Brazil v Croatia kicks of this afternoon he will be cheering on Brazil just like he has done in all the previous cups.
"Of course I will. This is Brazil," he said.
Alex Bellos is the  author of 'Futebol: The Brazilian  Way of Life'
Reuse content