Faustino Asprilla's cult status has just been solidified.
The former Newcastle winger endeared himself to English football fans during his time on Tyneside thanks to his gangly runs down the wing and ever-present grin.
Despite being at St James' Park for just a couple of years he's managed to remain on the radar, perhaps in part due to him launching a range of flavoured condoms. "I'll recommend the guava flavour," he said at the time.
His recent thoughts on countryman and Manchester United striker Radamel Falcao haven't gone unnoticed either.
Those not in the cult of Faustino Asprilla probably will be after the publication of today's AS newspaper.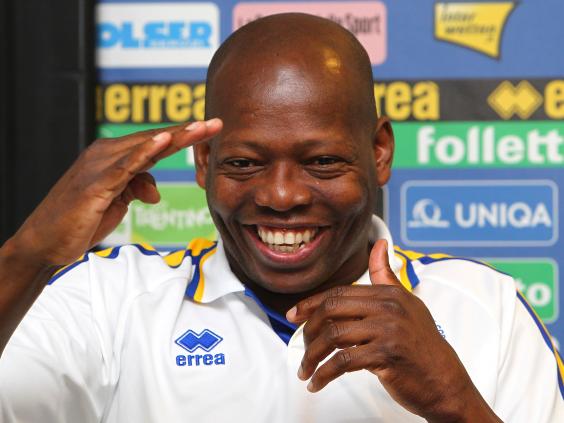 In an interview with the Spanish newspaper which chiefly focuses on the Colombian's time with current Real Madrid manager Carlo Ancelotti when they worked together at Parma, a picture of the 45-year-old was published alongside it which demonstrated just what a character Asprilla is.
It sees him straddled upon a horse by the side of a swimming pool. With hand on hip, the eccentric former footballer is wearing a pork pie hat as well as a rather funny expression.
A picture is meant to paint a thousand words. Not sure what this pic of Tino Asprilla in @diarioas paints. Brilliance pic.twitter.com/WyanImOrB3

— Nicholas Rigg (@nicholasrigg) March 17, 2015
It turns out Asprilla, who has the nickname 'Octopus', is a big fan of horses as the pictures posted to Twitter in the past show.
Here's Tino Asprilla with a horse. #nofilter pic.twitter.com/DxDLhCzYC2

— Michael Penney (@TheBoyPenney) February 12, 2014
Anyone want to see a photo of ex-Newcastle striker Faustino Asprilla with a horse? Oh, and the horse is wearing a hat. pic.twitter.com/mS9RXlQY

— The Football Bar (@TheFootballBar) May 18, 2012
It appears Asprilla's horse is a fan of the pork pie hat too.
Reuse content