'Chelsea victims of vendetta', 'Mourinho rages at campaign', 'scandal', 'conspiracy'. Jose Mourinho, as he surveyed the back pages this morning, must have thought: 'Mission accomplished'. The next time a Chelsea player goes over in the box, and the referee is unsure, he will not be reaching for his yellow card. Instead he may well, in those borderline decisions, point to the spot.
Referees are not cheats, but they are human. Few welcome being at the centre of attention and giving a decision against a big team invites the spotlight. It is one of the two main reasons big teams tend to get more penalty decisions - the other being that they are more likely to be fouled in the box as in most matches they have more possession and better attacking players.
In the wake of Mourinho's comments after Cesc Fabregas was booked for simulation at Southampton that focus will be all the brighter. Subconsciously, rather than deliberately, officials are now likely to err in Chelsea's favour for a few weeks.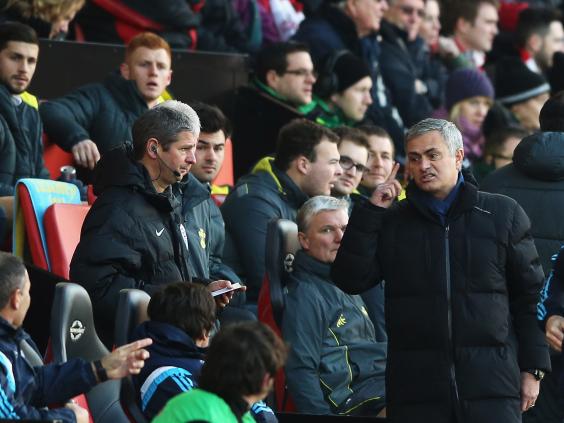 Complicit in all this is the media. If Mourinho's comments had been dismissed as another attempt, by a master of the art, to influence the public debate they would not be as effective. But Mourinho's status means few media outlets dare ignore them. Were it a lower-profile boss, such as Gary Monk or Nigel Pearson, such comments would have been tucked on the inside pages, or relegated to item five on the news ticker. Mourinho, through his success, has earned himself a platform. And boy, does he know how to use it.
Southampton 1 Chelsea 1 player ratings
Southampton 1 Chelsea 1 player ratings
1/22 Fraser Forster

Was always present when needed and could not be held responsible for Eden Hazard's goal. 6

GETTY IMAGES

2/22 Maya Yoshida

His nervy performance led to a careless tackle from behind on Hazard which resulted in a yellow card and was substituted to make sure nothing worse happened. 5

GETTY IMAGES

3/22 Jose Fonte

An impressive performance by the Portuguese who withstood Chelsea's constant bombardment and was vital in getting the point for his team. 7

GETTY IMAGES

4/22 Toby Alderweireld

The Belgian played as a centre back and a right back today and albeit a quiet performance he managed to make sure the Chelsea strikers didn't get the winner. 6

GETTY IMAGES

5/22 Matt Targett

The left-back can thank his lucky stars that the referee didn't give a penalty for his collision with Cesc Fabregas. 5

GETTY IMAGES

6/22 Victor Wanyama

A strong performance by the Kenyan who was brilliant defensively and tried his best to help the strikers get the winner. 7

GETTY IMAGES

7/22 Morgan Schneiderlin

He had a very clumsy performance today and was rightfully sent off with a second yellow that he didn't even complain about. 4

GETTY IMAGES

8/22 Sadio Mane

A good goal by the Senegalese but was unable to keep the ball and produce anything decent for his team afterwards. 6

GETTY IMAGES

9/22 Dusan Tadic

He produced a brilliant assist with a long ball during first half but looked more defensive during the second. 6

GETTY IMAGES

10/22 Steven Davis

Just like Targett, he almost made his team lose when he carelessly gave the ball away in defence, but thankfully Diego Costa slipped. 5

GETTY IMAGES

11/22 Graziano Pelle

Another quiet performance by the Italy international who is expected to produce much more in the future. 5

GETTY IMAGES

12/22 Thibaut Courtois

Could do little about Mane's goal and was a spectator during most of the rest of the match. 7

GETTY IMAGES

13/22 Branislav Ivanovic

A consistent force on the right in both his defensive and offensive duties. 7

GETTY IMAGES

14/22 Gary Cahill

The duo of Cahill-Terry did not really have to worry much during the match except the Southampton goal. 6

GETTY IMAGES

15/22 John Terry

He had an easy day in defence and tried to help as much as possible up front. 6

GETTY IMAGES

16/22 Filipe Luis

Had a few problems on the left during second half and needs to do more to convince Jose Mourinho. 5

GETTY IMAGES

17/22 Nemanja Matic

Was one of Chelsea's strongest players today and was vital in their pursuit of scoring a winner. 7

GETTY IMAGES

18/22 John Obi Mikel

Not a convincing performance by the Nigerian which led to his substitution. 5

GETTY IMAGES

19/22 Andre Schurrle

He only lasted for one half until he was substituted for Willian and can therefore not be judged. 5

GETTY IMAGES

20/22 Cesc Fabregas

A very strong performance by the Spaniard who produced a brilliant assist, showed good positioning and had excellent chemistry with Hazard. Was arguably denied a penalty during second half. 8

GETTY IMAGES

21/22 Eden Hazard

He scored a beautiful goal during first half and was a constant danger from both flanks. 8

GETTY IMAGES

22/22 Diego Costa

A goalless day for the striker who didn't manage to really threaten the Southampton net. He also slipped when Davis gave away the ball in a perfect spot for him to capitalise. 6

GETTY IMAGES
Of course, if his players had less keen to dive in the past Mourinho would not have needed to mount his soapbox as referee Anthony Taylor would have been more likely to judge Matt Targett's challenge on Fabregas incident on its merits, rather than in the context of recent history. In that respect what Mourinho has done is redress an imbalance caused by his own players' attempts to cheat. Arguing, as he did yesterday, that those incidents were less relevant as his team were already winning at the time is fatuous, and not just because goals and red cards change matches. It does, though, underline how misguided Gary Cahill and Branislav Ivanovic, to quote the most notorious examples, were. Fabregas should have been blaming them, as much as Taylor, for his yellow card.
Maybe Chelsea's players will keep their feet better in future because one thing is certain, if the league leaders now win a penalty through an act of simulation the debate will turn against them again.
Reuse content