With the possibility Daniel Sturridge could miss some or all of the rest of the season with the hamstring injury he picked up against Manchester City on Sunday, Liverpool's title challenge has taken a significant blow. The statistics show that Sturridge's injury could knock Brendan Rogers' team severely off course, and offer Chelsea and City renewed hope.
The England man is the Premier League's leading goal scorer in 2014, and has played in every Liverpool game so far this season, barring a nine game stretch during December and January. That mid-winter absence coincided with Liverpool's worst run of the season, including defeats to both Liverpool's title rivals, as well as a shock loss to Hull City.
Based on this season's statistics, although Liverpool score about the same number of goals per game (2.6 with Sturridge, 2.7 without him), and concede a similar number of goals per game in his absence (1.2 with Sturridge, 1.1 without him), the results are markedly poorer. The Anfield club's defeat percentage, which stands at just 13 per cent when the England striker has played this season, surges up to 33 per cent when he is missing.
A large part of this stems not from the number of goals scored, but when the goals are scored. Although Luis Suarez has been banging in the goals this season, his 29 strikes in the league have earned Liverpool just 13 points, whereas Sturridge's 20 goals have earned them 18. The Uruguayan has tended to score his goals in dominant wins, whereas Sturridge can be relied upon to score crucial goals in tight games.
The most prolific partnerships in Premier League history
The most prolific partnerships in Premier League history
1/8 1993/94: Peter Beardsley (21 goals) and Andy Cole (34)

The pair contributed 55 goals as Newcastle were the leading scorers in their first season back in the top flight, finishing third

2/8 2009/10: Dider Drogba (29) and Frank Lampard (22)

Both enjoyed the most productive league seasons of their careers as they helped Carlo Ancelotti's side win the Double, scoring a combined 51 goals

3/8 2013/14: Luis Suarez (29) and Daniel Sturridge (20)

A combined 49 goals for the unstoppable duo. Can they fire Liverpool to the league title?

PA

4/8 1994/95: Alan Shearer (34) and Chris Sutton (15)

The original SAS totalled 49 goals as Blackburn won the Premier League title

5/8 2007/08: Carlos Tevez (14) and Cristiano Ronaldo (31)

The pair were in prolific form, scoring 45 goals to help United end the season as Premier League champions

6/8 2003/04: Thierry Henry(30) and Robert Pires (14)

Played a key part in the Invincibles unbeaten triumph, the Frenchmen scoring 44 goals

7/8 1999/00: Kevin Phillips (30) and Niall Quinn (14)

44 goals from the pair sent Sunderland to a seventh-lace finish

8/8 1995/96: Robbie Fowler (28) and Stan Collymore (14)

Fowler and Collymore chipped in with 42 goals in the division as Liverpool finished in third
Another problem during the Christmas period, when Sturridge was injured, was that, other than Suarez, few other Liverpool players got themselves on the score sheet. Aside from Suarez only Raheem Sterling, who netted three times in the nine games, scored more than once while the England man was out.
In comparison during Liverpool's last nine matches, excluding goals by the SAS strike partnership, Gerrard (7), Henderson (3), Sterling (2) , Skrtel (2) and Coutinho (2) have all found the net multiple times. If Liverpool are to go on and win the league without Sturridge, those players, and others around them, will have to continue to contribute.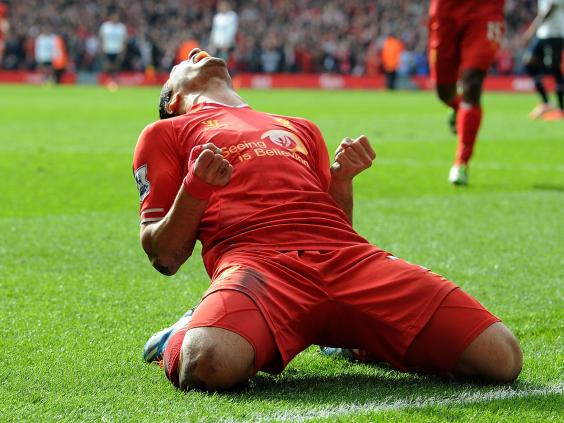 The only positive for Rodgers to take from the numbers is that, in the absence of his strike partner, Suarez has been even more deadly than usual. In the nine games that Sturridge missed, the controversial striker bagged 11 goals, at a rate of 1.2 goals per game. Throughout the rest of the season, as part of the most feared partnership in the league, he has scored just 18 in 25 games, at a rate of 0.72 goals per game.
If Suarez returns to the sort of numbers he recorded in Sturridge's first absence, and those around him continue to contribute from midfield, Liverpool might be able to avoid a repeat of the form they experienced at Christmas. If not, they will be hard-pushed to hold onto their place at the top of the table.
Reuse content