Q. David Moyes is expected be presented as Real Sociedad's new coach on an 18 month contract. Has he chosen the right road to recovery?
A. This could be exactly what his career needs because it is everything the United job wasn't. There is no pressure to win things and there is no expectation of getting things spot-on in the transfer market because there is no money to spend. He will be judged on what he does best: working on the training ground to make players better. He inherits an underachieving squad with youth and potential, not an overachieving one passing its peak.
Q. Will his predecessor be missed by the players left behind?
A. Highly unlikely. Jagoba Arrasate was given the job in 2012 as a cheap in-house fix but, to the squad's relief, his reign ended last weekend – cue Real Sociedad beating Atletico Madrid. When Real midfielder Sergio Canales posted the image of Albert Einstein on his Instagram account last month complete with the quote: "Insanity is doing the same thing over and over again and expecting different results", it was interpreted as a clear message to his under-fire manager. This time round, the bar for Moyes has been set very low.
Q. And no intense national spotlight?
A. On today's 45-minute lunchtime sports show, Moyes accepting the job was given around two minutes air time. A cartoon tug-of-war between Vicente del Bosque and Jose Mourinho – each pulling at one of Diego Costa's arms – was one of the many things considered more important.
Q. And the expectations will be lower?
A. He won't have to win the league and neither is he following someone who won it 13 times. Real Sociedad's record signing, Carlos Vela, cost around €11m [£8.8m] from Arsenal, and expectations are in line with that level of spending. Playing well, bringing on young players and competing for a Europa League place will good enough for president Jokin Aperribay.
Q. Does he have the players to do that?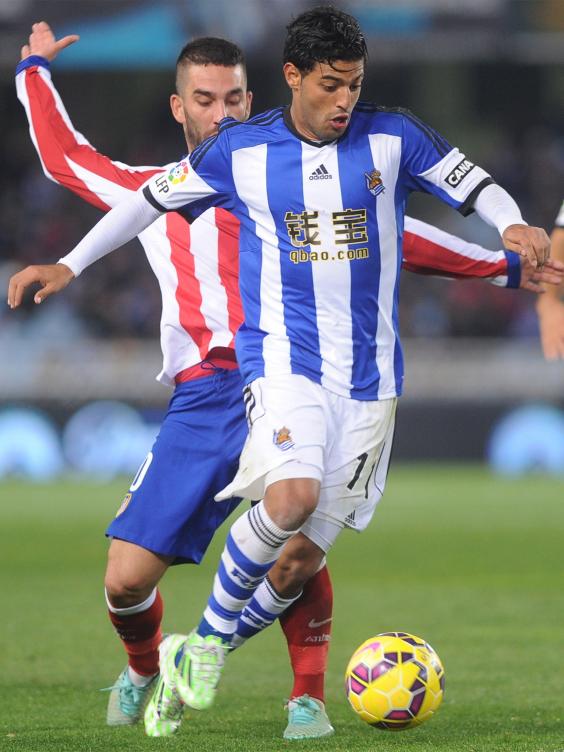 A.

The current squad is far better than their 15th place standing. Moyes will have Argentine goalkeeper Gerónimo Rulli, signed from Estudiantes in the summer, back soon from the broken finger he suffered in pre-season. And he has Iñigo Martinez in defence, Ruben Pardo in midfield, and Vela in attack... so there  is talent.
Q. Not all of it being fulfilled though?
A. Martinez was tipped for a regular place in the Spain line-up and a move to Barcelona two years ago, and Real Madrid were chasing Pardo when he won a European Championship medal with Spain's U-19s. Both players are now stagnating in their early twenties. If Moyes can resuscitate their careers, he will be well on the way to putting his own one right back on track.
Q. And he's being brought in to improve existing players not buy new ones?
A. The way in which he got the best out of Everton's limited resources made him an Athletic Bilbao target a few years ago and it's the reason why Real Sociedad have taken him now. They are a selling club who let Antoine Greizmann leave for Atletico Madrid last summer and Asier Illaramendi to Real Madrid the year before. In the summer, they signed Icelandic international Alfred Finnbogason from Heerenveen for €8m and that will have used up almost the entire transfer budget. A central-midfield enforcer will be high on the list of priorities if any cheaper deals can be done.
Q. How good is Finnbogason?
A. He maybe Iceland's equivalent to Wayne Rooney but he has yet to start firing for his new club. That's another of Moyes first jobs. Paring him with key man Vela will also be important.
Q. Other reasons to be cheerful?
A. Stalwarts such as Xabi Prieto and David Zurutuza, who have played over 400 games between them for the club, will give him everything and the excellent Zubieta youth academy should produce more good talent. The 32,000 capacity Anoeta will also back him. The athletics track can affect atmosphere but not on 14 December when Bilbao arrive for the Basque derby.
Reuse content