During his 26 years as manager of Manchester United, Sir Alex Ferguson made mistakes, some even by his own admission such as the sale of Jaap Stam and failure to sign Edwin van der Sar sooner.
But for the most part he did right - that's why United won 13 Premier League titles, five FA Cups and two Champions League titles under his stewardship. It's also why the club listened to his advice when seeking his replacement.
But the announcement today that his successor David Moyes had been sacked told the world that the hierarchy at Manchester United felt his final decision, his choice of successor, had been the wrong one.
Ferguson was the driving force behind the appointment of David Moyes - the latter told the story of how he was invited to Ferguson's house to be told not that he was being offered the job, but quite simply "you're the next Manchester United manager". Few ever dared to argue with Ferguson and Moyes wasn't about to start.
"We unanimously agreed on David Moyes," Ferguson said in a statement to announce the appointment of his successor.
It continued: "David is a man of great integrity with a strong work ethic. I've admired his work for a long time and approached him as far back as 1998 to discuss the position of assistant manager here.
"There is no question he has all the qualities we expect of a manager at this club."
The next Manchester United manager: Those linked with the Old Trafford hot seat
The next Manchester United manager: Those linked with the Old Trafford hot seat
1/10 Jurgen Klopp

Currently the manager of Borussia Dortmund, Klopp coached his team to the Champions League final in 2013. He also delivered back-to-back Bundesliga titles in 2010/11 and 2011/12, despite Dortmund being in the financial shadow of Bayern Munich. All of that was achieved while playing a distinctive attractive style of football. After six years at the club, it could be time for the 46-year-old German to move on, however he has already said he is happy to stay.

GETTY IMAGES

2/10 Fabio Capello

The former England manager has coached the likes of Real Madrid, AC Milan, Juventus and Roma. He now resides over the Russian national team who topped their group in qualification for the 2014 World Cup in Brazil to ensure they are at the biggest tournament of them all for the first time since 2002.

Getty Images

3/10 Louis van Gaal

Dutchman Van Gaal will be leading his national side at this year's World Cup in Brazil. He has taken charge of both Barcelona and Bayern Munich in the past and won the Champions League in 1995 with Ajax. In total, he has won over 60 per cent of his 780 games in management and he's made it very clear he covets a position in the Premier League. Heavily linked with Tottenham prior to David Moyes' sacking.

GETTY IMAGES

4/10 Sir Alex Ferguson

Considering he's at every game anyway, a switch from the stands back to the dug-out doesn't seem inconceivable for Sir Alex Ferguson. It'd certainly be a popular choice among fans having achieved so much success in his long time in charge. The winner of 13 Premier League titles, five FA Cups and two Champions League titles, if there's anyone who can succeed Ferguson, it's Ferguson.

GETTY IMAGES

5/10 Frank De Boer

Although his managerial experience is relatively small in comparison to other potentials, he has already shown he can win domestically. Since taking over at Ajax in 2010, in his first job as manager, De Boer has won the Eredivisie in three consecutive attempts, with his team currently well clear at the top of the league this season. Has been regularly linked with the biggest vacancies in Europe.

6/10 Antonio Conte

Winner of the Serie A manager of the year in 2011-12 and 2012-13 after leading Juventus to the title in those seasons, as well as a Champions League winners medal to his name as a player, Conte has pedigree. Since taking charge in Turin three years ago, the Italian has returned Juventus to the dominant force in Italy, with the club destined to win their third title in a row this term. That kind of dominance is exactly what United crave.

GETTY IMAGES

7/10 Diego Simeone

Simeone has been enjoying much success since taking over at Atletico Madrid. His excellent win rate has seen the club win the Europa League and Super Cup, and against all odds challenge Real Madrid and Barcelona for La Liga title this season. He'd have to hope his history with David Beckham didn't count against him if Manchester United came calling.

GETTY IMAGES

8/10 Michael Laudrup

Despite a rather sudden and messy divorce from Swansea City earlier this year, Laudrup did show he was capable of managing at the highest level. He won the League Cup with the Welsh club, the first major trophy in the club's history, and he did it with a brand of football that won many plaudits. A legend as a player, the Dane has the gravitas for such a huge position as Manchester United manager.

AP

9/10 Harry Redknapp

Currently manager of QPR, Redknapp has often been a fan favourite across English football, winning manager of the year in 2009/10 as well as the FA Cup with Portsmouth in 2008. At one stage he looked a certainty to be the next England manager, only to lose out to Roy Hodgson.

GETTY IMAGES

10/10 Ex-United players

If Manchester United were to choose from one of their own, they would have plenty of ex-players to pick from. Ryan Giggs is the most obvious choice after being installed on a temporary basis after Moyes' departure. Others in management who served as a player under Sir Alex Ferguson include Roy Keane, Ole Gunnar Solskjaer, both Neville brothers and Steve Bruce. Mark Hughes played for United along with Gordon Strachan and Laurent Blanc. While none of them have particularly overachieved in any of their positions, a former player tends to be popular with fans, and can be rewarded with success.

AP
Since the appointment of Moyes numerous ex-players, existing employees and pundits have spoken of the merits of appointing the Scot. Rio Ferdinand said on the day it was announced that Moyes was succeeding Ferguson: "I'm sure he is the right man to take us forward."
David Beckham spoke of Moyes needing time to get through the "transitional period", Eric Cantona said he was "strong enough to handle the pressure" and even Roy Keane offered his backing: "I think United will be all right and David Moyes will get plenty of time," said the club's former captain last month. "The man deserves it. He's got vast experience, but his staff and a couple of senior players, they have to step up to the plate."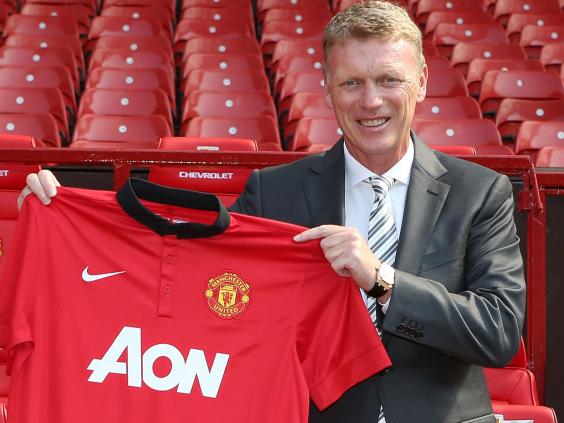 Whether Ferguson was involved in anyway in the decision to sack Moyes less than 10 months after he took the job is unclear but it seems unlikely. The most pertinent words Ferguson had to say about his successor were those made in a speech to the Old Trafford crowd after his last home match in charge.
"I'd also like to remind you that when we had bad times here the club stood by me, all my staff stood by me, the players stood by me - your job now is to stand by our new manager. That is important."
It was advice that with a brief announcement on Twitter was ignored.
Reuse content