Ashley Cole took to Twitter last night to reveal he was retiring from international football having learnt he would not be in the England World Cup squad.
Along with wishing the team success in Brazil and admitting the decision to call it a day after 107 caps had been a difficult one, the Chelsea left-back also made use of Emoji to express his feelings.
Across the three tweets Cole used to reveal the news, he managed to squeeze in two crying faces and a Union Jack.


For those who follow @TheRealAC3 the use of Emoji is his latest tweets will not have come as a surprise. The former Arsenal player is a fan of the ideograms and smileys that were originally used in Japanese electronic messages. Used much like emoticons, the wide range of symbols available is seeing them grow in popularity.
Earlier on Sunday, Cole expressed his thanks to the Chelsea fans after playing in what may have been his last game for the club. In it, he used no less than 19 Emoji, including three 'thumbs-up' signs.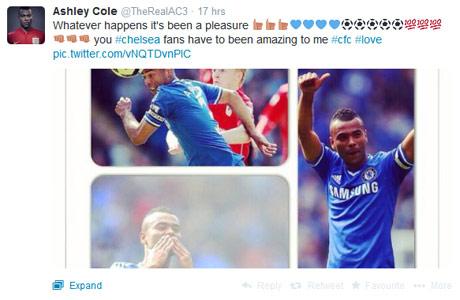 Cole also used Emoji when disassociating himself with rumours a player in the England squad was set to come out. After announcing he was into 'strictly #chicks only', he finished his message with two symbols that have been interpreted in various ways.

Cole is out of contract at Chelsea this summer and having been overlooked for the World Cup can turn his attention to deciding what to do next season. The 33-year-old has been linked with various other Premier League teams and a move to the MLS.
Reuse content