Gordon Taylor, the chief executive of the Professional Footballers' Association, has urged Fifa and boot manufacturers to introduce new safety regulations on "hybrid" boots in the aftermath of the incident that forced Wayne Rooney to miss England's World Cup qualifiers earlier this month.
Rooney has been wearing a protective headband having needed 10 stitches in his forehead after being caught by Phil Jones during a Manchester United training session – the second time in just over a year that he has suffered a similar injury. The England striker missed more than a month of last season after he sustained a six-inch gash in his leg during a match against Fulham last August after a clash with Hugo Rodallega, with United's doctors admitting that the injury could have been fatal had the cut been just one millimetre deeper and punctured his femoral artery.
Both are believed to have been caused by boots – known as "hybrids" – that use a combination of traditional metal studs and new-style blades that are made of plastic and can become sharp when exposed to concrete surfaces. Taylor first raised his concerns after Rooney's injury last year and has since held discussions with major boot manufacturers over the possibility of introducing a safety Kitemark to their products, with no regulations in place under Fifa's current rules.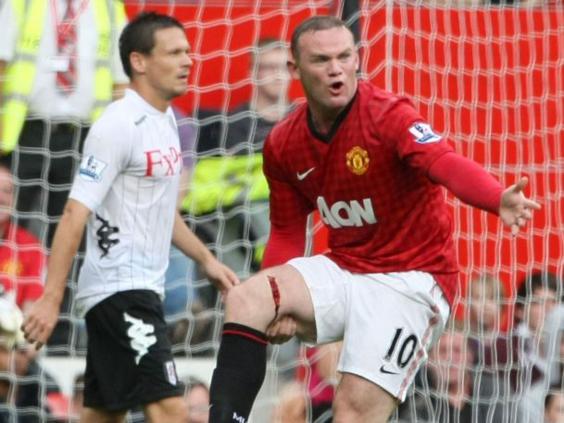 "Wayne is a very high-profile player and both these incidents could have ended his career," Taylor told The Independent.
"It's put it into perspective because if you get an injury to a top player it gets a great deal of publicity, but you wonder how many times it has happened lower down the scale where there isn't so much focus. I think the boot manufacturers are becoming more and more aware there is a problem but I think it's something that needs to come from football with regard to health and safety issues. This has happened enough times for it not to be coincidence. It's very dangerous for us to ignore it.
"It's hard to get things changed but we made the same efforts with regards to all staff being trained in resucitation and first aid and the same efforts with easy access for ambulances to stadiums," Taylor added. "I don't see why this doesn't fall into that area because it could end up saving a career. This is something we want to pursue with Fifa.
"It is incumbent on us to have some kind of measure of regulation and a Kitemark. [Boot manufacturers] have been forewarned with the potential dangers and we should be doing all that we can to protect against this problem. Manufacturers are willing to take part in this because in a litigious day and age it could be a problem for them in the future."
Blades were first introduced by adidas in the mid 1990s when former Liverpool midfielder Craig Johnston designed a new "Traxion" sole to be incorporated in his Predator boots that were designed to improve a player's ability to change direction at high speed. Sir Alex Ferguson banned bladed boots from Manchester United in 2005 after they were linked to a number of metatarsal and knee injuries but now most manufacturers produce their own versions of the hybrid soleplate as a safer alternative.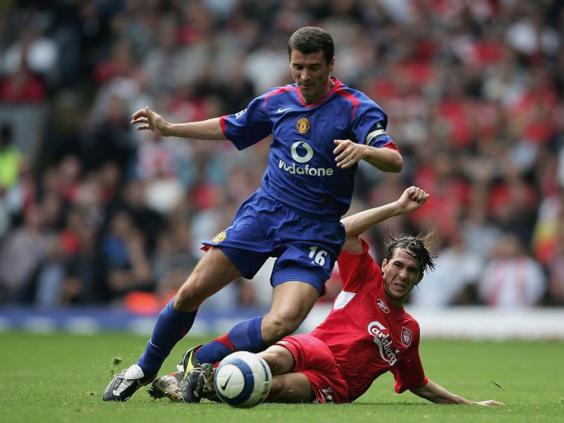 Johnston sold his patents for the Predator and Traxion to adidas in 1998 but still retains an interest in the technology and has repeatedly warned that the new boots are putting players' careers at risk.
"I don't understand why no one has recognised what a big problem this is," he said. "It will only be a matter of time before one of the players sues a boot manufacturer because everyone in the industry knows it's dangerous. The industry and Fifa have to get together and do something about this – people are making hundreds of millions of pounds but nobody is sitting there with any common sense."
The Football Association first raised the issue in 2002 on the recommendation of Alan Hodson from their Medical and Exercise Science Department "in response to widespread concern over injuries sustained from boots with blades". Then-chairman Geoff Thompson wrote to Fifa expressing his concern and despite initially receiving "a favourable response", no action was taken.
Four years later, blades were investigated by Fifa's Medical Assessment and Research Centre (FMARC) but despite recording 61 incidents of "lacerations, abrasions and cuts" over the course of a single season in Europe, they were deemed to be no more dangerous than traditional studs.
Taylor is planning to raise the issue at the next meeting of FifPro – the organisation that represents players on the world stage.
"This is something we have been looking at for 11 years now and it's not going to go away," he said. "I've been amazed there doesn't seem to be any regulations apart from the referees having to check the studs before the game. Boot manufacturers say they test for wear and tear but they can't simulate such conditions as accidents that have happened in the past and will no doubt happen in the future."
A Fifa spokesman confirmed it will re-open its investigations into safety standards if raised by the PFA at the next FifPro meeting.
Reuse content