Former Newcastle skipper Rob Lee has warned the club's fans to be careful what they wish for as they call for owner Mike Ashley to sell up.
Lee admits he is at a loss to understand some of the sportswear magnate's decisions, which have repeatedly put him at odds with large sections of the Magpies' support.
His latest - to sell star midfielder Yohan Cabaye to Paris St Germain and not replace him during the January transfer window - has sparked a fresh wave of protests amid anecdotal evidence of some members of the Toon Army opting not to renew season tickets.
However, Lee is well aware that a sale can only take place if there is a viable buyer, and even then, is not convinced the highest bidder is always the right one.
The 48-year-old former midfielder, an ambassador for the Budweiser Open Trials campaign, which will provide amateur footballers with the opportunity to play at Wembley in front of professional scouts, told Press Association Sport: "He just seems to take one step forward and then two steps backwards.
"He is a very clever man and he runs the club well on the business side, and his other business is booming.
"Is he one of these he is going to plough millions and millions in and make us challenge for the title? No.
"But sometimes, it's better the devil you know. I know the fans are not happy with him, but you look at Birmingham, you look at Cardiff - it could be worse.
"Unless you can find someone who is a Newcastle billionaire who loves football - and they are very few and far between - you are talking foreign owners.
"Sometimes you want to change and sometimes, you can change for the worse."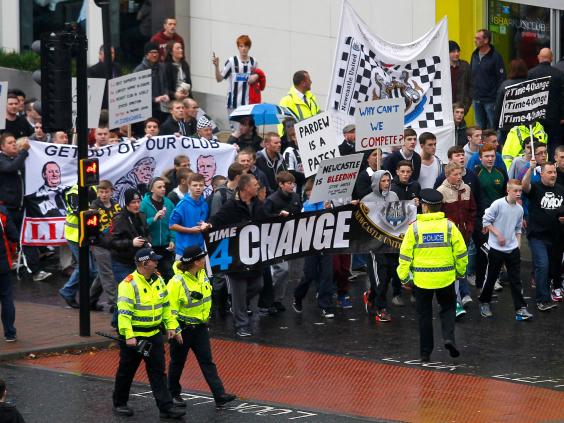 Ashley's reign, which will amount to seven years in May, has been punctuated by controversy - his treatment of managers Kevin Keegan and Alan Shearer angered supporters, as did decisions to sell the naming rights to St James' Park, strike a sponsorship deal with payday lender Wonga and appoint Joe Kinnear as director of football.
But it is events on the pitch which have been brought into sharper focus in recent weeks with Cabaye's departure, coupled with injury and suspension problems, sparking a slump in form which has seen Alan Pardew's men lose each of their last five home games, including the Tyne-Wear derby.
Ashley's business model has made the club largely self-sufficient in recent seasons, but two transfer windows without a single permanent signing and a perceived concentration on consolidation in the Barclays Premier League at the expense of the cup competitions has further alienated some fans.
Lee said: "I'd just like to see him investing more. He just seems to annoy the fans and I don't know why he does it.
"He seems to get back on their side and then he comes up with something like changing the name of the ground.
"It just seems weird. I don't know sometimes what the thinking is behind it.
"He seems to be quite happy with them being a Premier League team. They are not really getting into relegation trouble and not getting near the Champions League or progressing, and he is quite happy with that."
The Budweiser Open Trials, in association with BT Sport, will see six regional trials take place across the country. The trials will culminate in a showpiece match at Wembley Stadium. Those who make the cut will have one last chance to prove it's never too late to achieve your dream as they play in front of professional scouts. Watch the first part of the Budweiser Open Trials on BT Sport on Saturday 8th March as part of its FA Cup coverage and subscribe to YouTube.com/BudweiserUK
PA