Salford is Manchester's dowdy, half-forgotten sister, celebrated in L S Lowry's paintings and Ewan MacColl's song "Dirty Old Town", with its lines about the gasworks' wall and the old canal.
The Pogues' version of "Dirty Old Town" is played before most matches at Old Trafford and, waiting in the tunnel, the core of the Manchester United side that dominated English football for a generation – Ryan Giggs, Nicky Butt, Paul Scholes and the Neville brothers – might have been touched by the song's earthy sentiments. Certainly, they are now more involved in Salford's football than they ever imagined possible.
More than a decade ago, as the Class of 92, as they were known, reached footballing middle age, Giggs and Gary Neville would have lengthy conversations about what they would do once  Manchester United were finished with them.
Ryan Giggs' Manchester United career in pictures
Ryan Giggs' Manchester United career in pictures
1/23 Ryan Giggs

Ryan Giggs has been appointed the interim manager of Manchester United following their decision to sack Davids Moyes. Here, we look at the midfielder's legendary United career.

2/23 Ryan Giggs

GETTY IMAGES

3/23 Ryan Giggs

GETTY IMAGES

4/23 Ryan Giggs

GETTY IMAGES

5/23 Ryan Giggs

GETTY IMAGES

6/23 Ryan Giggs

GETTY IMAGES

7/23 Ryan Giggs

GETTY IMAGES

8/23 Ryan Giggs

GETTY IMAGES

9/23 Ryan Giggs

GETTY IMAGES

10/23 Ryan Giggs

GETTY IMAGES

11/23 Ryan Giggs

GETTY IMAGES

12/23 Ryan Giggs

GETTY IMAGES

13/23 Ryan Giggs

In August 2002 Giggs scored his 100th goal for United in all competitions with the team's second goal in a league game at Chelsea.

GETTY IMAGES

14/23 Ryan Giggs

GETTY IMAGES

15/23 Ryan Giggs

GETTY IMAGES

16/23 Ryan Giggs

GETTY IMAGES

17/23 Ryan Giggs

GETTY IMAGES

18/23 Ryan Giggs

GETTY IMAGES

19/23 Ryan Giggs

Giggs sings along with his team-mates after winning the 2010 League Cup

GETTY IMAGES

20/23 Ryan Giggs

Paul Scholes sits alongside Giggs as they celebrate the 2010-11 Premier League title success - the Welshman's twelfth of his career.

GETTY IMAGES

21/23 Ryan Giggs

Giggs was given the task of captaining Team GB in the London 2012 Olympics, where they went out of the football competition at the quarter-final stage after losing to South Korea in a penalty shootout.

GETTY IMAGES

22/23 Ryan Giggs

Giggs claimed both his and Sir Alex Ferguson's 13th league title last season, when the famous manager announced he would be retiring from the game. Giggs however, agreed a deal to carry on playing for the Red Devils as well as join new manager David Moyes' coaching staff.

GETTY IMAGES

23/23 Ryan Giggs

Louis van Gaal appointed Giggs his assistant after taking the job in summer 2014.

Getty Images
They would mentally kick around a host of possibilities but few of them involved building a hotel next to Old Trafford and owning Salford City – a club seven flights down from United, a thing of corrugated iron roofs, peeling linoleum and the kind of toilets where no Andrex puppy has ever been.
The story of their season in the Northern Premier League First Division North is told in a three-part BBC documentary The Class of 92: Out of their League to be screened next month.
It is a bit like The Hotel Inspector with the little ground on Moor Lane taking the place of a crumbling travel tavern. The Class of 92 engage in coaching sessions, offer advice and pay for the kind of toilets where you would want to wash your hands.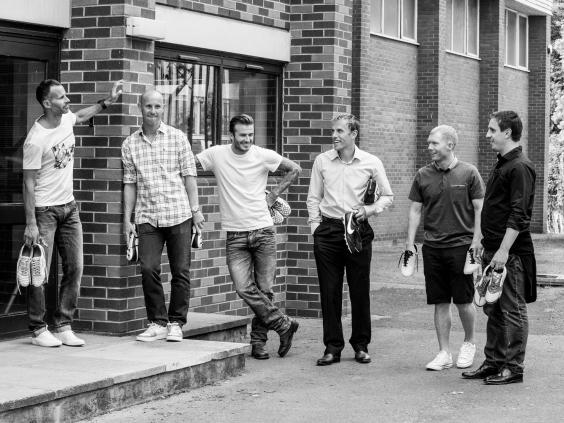 However, Alex Polizzi, the presenter of The Hotel Inspector, does not eject the owners of the hotel from their establishment if they fail to redecorate the lounge in delicate shades of taupe or take moules marinière off the menu.
The Class of 92 prove themselves surprisingly ruthless. The first episode opens with Stuart Rudd driving to the club, where he is assistant manager and sometime substitute. He is a northern alpha male, a good laugh, loves football and a few pints. His daughters are in the back, they clearly adore their dad, who will soon be as out of place in the new regime as someone who plays in long trousers, a cap and a waxed moustache.
Rudd is fired for making an illegal approach to a player, texting to say that Scholes is interested when in fact he has never seen them play. He is sacked on camera, very painfully. You wonder how the Class of 92's mentor, Sir Alex Ferguson, would have felt about it.
"I would find it very hard to sack somebody," says Nicky Butt after a screening in Manchester's newest cinema, Home. "I couldn't do it. Gary will have heated debates with people, he is far more driven, I am not like that, Scholesy is not like that. He likes scouting and has got a really good eye for a player. Phil is very energetic and loves to be involved in the football side of it, we have our own niches.
"There was no point agreeing to do a film and then covering it up. It had to happen, he was telling lies about us, he was using Scholesy's name. If he didn't want it filmed, he could easily have said he didn't want it on camera and that would have been respected."
The man above Rudd, Phil Power, a great name for a manager, is also not long for the brave new world. "I've known Phil for 15 years," says Giggs. "But it had to be done. And the only sense of whether letting him go was right or wrong was whether we got promoted."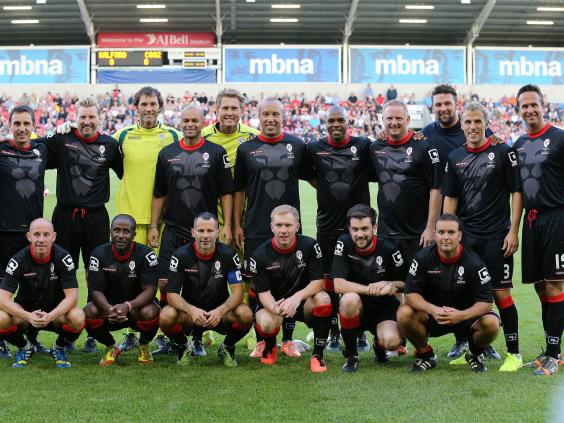 The last time Giggs was involved in a football documentary it was Beyond the Promised Land, a kind of airbrushed advert for Manchester United in the year after they won the Treble. Everyone got on famously, there were no teacups thrown and no player was filmed giving an interview while sat on the dressing-room loo.
Gareth Seddon has that honour in Out of their League. Seddon is one of the stars of the documentary, funny, charismatic and a bit of a leader. He has been brought in from Bury to lead Salford's attack.
 He is on £400 a week, more than double what the rest of the squad earns from football, and supplements his income by being a model, "perfecting the thousand-yard stare" as he puts it. No man since Reggie Kray has had a more adoring mother, who pins photos of Gareth on the inside of her kitchen cupboards.
"It raised the stakes, them coming in," Seddon says. "You would look over to where they were stood in the middle of a game and you would crap your pants. You'd make a mistake and you'd think: 'I hope Scholesy isn't watching that'. But I have to say that the pressure came from ourselves wanting to play at a level they would respect, they didn't demand it."
The most famous member of the Class of 92 was not involved. David Beckham was asked but his priority is creating a soccer franchise by the Atlantic surf of Miami rather than making sure the beer pumps in Salford's little bar have been cleaned out.
But the dynamic among the remaining five is interesting. Were you to place them in order of their football achievements, Giggs and Scholes would be at the front, but in the publicity material for Out of their League they stand behind Gary Neville.
If you had to pick which of Ferguson's footballers most resembled their manager, it would be the older Neville brother. It is his restlessness, pacing the corridors of his house and firing off emails in the small hours of the morning, the need for control acknowledged by his wife, Emma, the sudden bursts of inspiration. The ruthlessness. All are Fergie-like.
One scene in Out of their League shows him imagining how many more Salford could put on the gate if Scholes were to make a comeback in an upcoming FA Cup tie. He makes the call and the laconic reply comes back: "But I'm as fat as fuck." The language throughout is relentlessly post-watershed.
The destination is league football in a 25,000-seat stadium. On the way there may be a delicious derby with FC United of Manchester, the club formed by those United fans who could not stomach the Glazer takeover.
Salford have their benefactor in the shape of Peter Lim, the Singaporean businessman who has, among other things, bought Valencia (where Phil Neville now coaches), Cristiano Ronaldo's image rights and half of Salford City. One of the documentary's tensest moments comes when the fans of Salford realise they are no longer just owned by five good old boys.
"We get accused of a lot," said Butt. "We are accused of paying fortunes, which we are not. We are the fourth-highest payers in the league. We have been accused of bullying everybody, which we haven't. People who own Premier League clubs tend to be distant, unapproachable people. We are different."
Reuse content