It sounds like the moment for England to boycott Fifa, don't you think? World football's governing body has managed a whitewash so breathtaking in its execution that it even managed to twirl the man hired to investigate it, to borrow a phrase from the lexicon of sportswriting's dark arts.
Even the rational people seem to abhor Sepp Blatter and his organisation so passionately that they would like to tell him where to stick his Qatar World Cup. They include David Gill, a man who would cross the street to avoid a rabble of journalists when he was Manchester United's chief executive, but who virtually sought us out in Sao Paulo five months ago to express his disgust at Blatter's preposterous claim that "racism" had inspired The Sunday Times to expose the alleged bribery which gifted Qatar the 2022 tournament. "It was a responsible [newspaper] investigation. It wasn't done irresponsibly," he said. Gill in a mixed zone, praising British journalism. He really must detest Blatter.
Forget all about a boycott, though, because it won't work. Withdrawing from either the 2018 or 2022 World Cups – tournaments which have been awarded to equally dubious hosts – would cripple the Football Association financially. The FA desperately needs the revenue from qualifying games and World Cup merchandising to help subsidise the grass roots.
A boycott would leave the England manager Roy Hodgson's bosses desperately seeking more of the friendlies which are becoming an increasing irrelevance, and perhaps finding that young English players with an alternative choice of country would rather turn out for one offering competitive matches.
Key players in the Qatar World Cup bid controversy
Key players in the Qatar World Cup bid controversy
1/5 Mohammed bin Hammam

The Qatari was the Asian Football Confederation president at the time of the 2010 vote. The Sunday Times alleged that documents showed he made payments to officials as part of a campaign to win support for the 2022 World Cup bid. He insisted he had no "official or unofficial" role with the bid. Fifa imposed a second life ban on him in December 2012, after his decision to quit all his football roles. This came after the Fifa ethics committee investigation found him guilty of "repeated violations" of the ethics code on conflicts of interest, while he was AFC president and while a member of the Fifa Exco between 2008-2011.

AP

2/5 Jack Warner

The Trinidad & Tobago politician was forced to resign as a Fifa vice-president in 2011, after he and Bin Hammam were alleged to have paid bribes of £600,000 to Caribbean associations. He is also alleged to have helped Bin Hammam bribe Caribbean officials in return for support in his aim to oust Sepp Blatter.

Getty Images

3/5 Sepp Blatter

The long-standing Fifa president oversaw the bidding process to award Qatar the World Cup. Has since admitted awarding Qatar the cup was "a mistake". He set up an executive committee task force to look into the World Cup in Qatar being moved to the winter because of the extreme summer temperature.

Getty

4/5 Lord Triesman

Former FA chairman. Alleged that, in exchange for voting for England to host the World Cup, Warner asked for money to build an education centre in Trinidad and to buy World Cup television rights for Haiti, and that Paraguay's Nicolas Leoz asked for an honorary knighthood in exchange for their votes.

Getty Images

5/5 Michael Garcia

Former New York district attorney Michael Garcia was named Fifa's chief independent ethics investigator. He spent a year investigating the organisation, and delivered a 350-page report on the 2018 and 2022 bidding processes in September. Called for greater transparency and culture change in Fifa.

Getty Images
The FA would also find itself with next to no support for its boycott in the world game. That's because hardly anyone takes this English indignation seriously. "Bad losers" is how most others view our indignation, since we lost the 2018 bid.
There are wiser means to bring Fifa down. They include diligent investigation and journalistic endeavour, especially if those inside Fifa become increasingly tempted to blow the whistle on their institutionally rank organisation. Marc Hodler, a member of the International Olympic Committee, simply gathered a group of reporters together in the marble lobby of the organisation's HQ, on a routine December day in 1998, and revealed how voting for the Salt Lake City Games had been corrupted. The scandal changed the IOC for ever.
Michael Garcia could quite conceivably do the same. Blatter was too steeped in complacency to reflect that the investigator would feel a little unhappy about Fifa publishing a corrupted version of his findings, blaming anyone but Fifa for Qatar. When that bomb had been ignited, Fifa then merrily emailed out a press release evangelising about the legacy of the South Africa 2010 World Cup.
Blatter has made himself a dangerous enemy this time: a US attorney, with his credibility on the line, who will not want to be associated with a whitewash and who has ways and means of getting his full report published while not exposing himself to a legal minefield. They include its release through Parliament or select committees.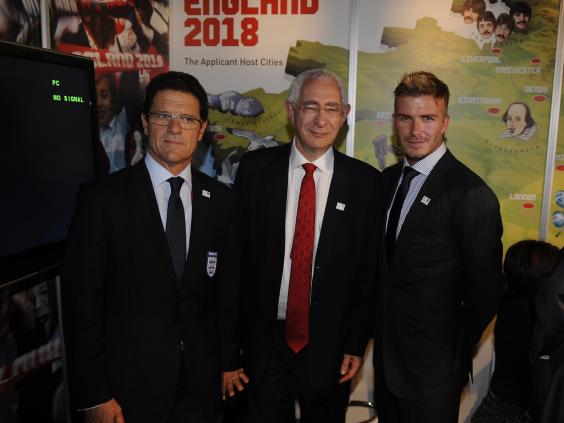 There will be plenty of journalists ready to follow his clues. The indefatigable Andrew Jennings leads the way. There is an irony in the FA voicing indignation about Qatar now, when it branded Jennings "unpatriotic" and "sensationalist" in 2010, after the BBC's Panorama chose the eve of the 2018/2022 vote to tackle the same subject.
The FA does not need to expend too much mental energy with protestations. We are closer to the truth than you might think. Qatar 2022 still has the potential to be Fifa's Salt Lake City moment.
FBI investigation into bidding process continues
The Federal Bureau of Investigation (FBI) is continuing to look into alleged corruption around the bidding processes for the 2018 and 2022 World Cups.
On the day a Fifa report cleared both Russia and Qatar of corruption allegations but heavily criticised the English Football Association for flouting bidding rules in its attempt to stage the 2018 tournament, it emerged that the FBI could uncover far more damning evidence that proves corruption was rife during the process.
Barely four hours after Fifa's report was released, Michael J Garcia, who carried out the two-year inquiry, said the report "contains numerous materially incomplete and erroneous representations".
Initially, the FBI investigation which began three years ago, revolved around the United States bid to stage the 2022 World Cup and whether their interests were undermined by the activities of Fifa Executive Committee members. The investigation now appears to have developed beyond just the 2022 bid.
Central to the investigation is Chuck Blazer – a cooperating witness in the investigation alongside Daryan Warner, son of former Fifa vice-president Jack Warner. The elder Warner promised to release damning evidence against Fifa when they expelled him for corruption in 2011 but it has yet to materialise.
Blazer was a leading Fifa official and general secretary  of the Confederation of North, Central American and Caribbean Association Football (Concacaf) before outing Warner for corruption in 2011. Having been questioned about tax, he then decided to help the FBI and is understood to have compiled evidence through email correspondence and tape recorded meetings with some of the biggest names in football.
Paul Smith
Reuse content