It is a moment to pause, escape from the self-absorption and self-aggrandisement of the football circus and consider those who had no thought for themselves when the moment came to serve.
They include Bob Paisley, a less self-important manager than any you could care to meet, whose four war years in the line of fire included service with the Eighth Army at El Alamein, taking cover on the day a plane sprayed bullets over his hideout. "When the plane had gone, Bob had his hands over his eyes saying, 'I can't see. I'm blind,'" a comrade-in-arms later related. He soon brushed off the terror of his temporary affliction when he made it home. Paisley became Britain's greatest football manager, by a ratio of trophies won against years at the Liverpool helm, and those who knew him best say that he always retained the perspective that those years at war provided.
It would have been the same story with Jimmy Speirs – a richly gifted Scottish striker and surely a manager in the making – if he had only made it home from Passchendaele. An issue of the Bradford Daily Telegraph from 1909 relates and photographs the story of his encounter with some men working on street repairs near Bradford City's Valley Parade, when the overseer approached to say he fancied his job. "I think I could manage yours all right." Speirs responded, throwing off his cap, declaring the swap would "suit me better" and adopting what he described as the "nightwatchman's position," closing his eyes to sleep while standing up. The group evidently dissolved into fits of laughter. The yellowing newspaper image of Speirs, leaning against a club shed, eyes closed, tells why.
That was Speirs for you – never slow to come forward; an individual with entrepreneurial as well as goalscoring nous, who is thought to have made a substantial amount of money by trading shares in rubber before the move which was to define him as a footballer from Clyde to Bradford City in 1909. He had been a player of note before then – a goalscorer for Rangers and Maryhill, who won a Scottish cap in 1908 – but he was a legend thereafter. Speirs was the captain and goalscorer when Bradford beat Newcastle United 1-0 in the 1911 FA Cup final replay at Old Trafford.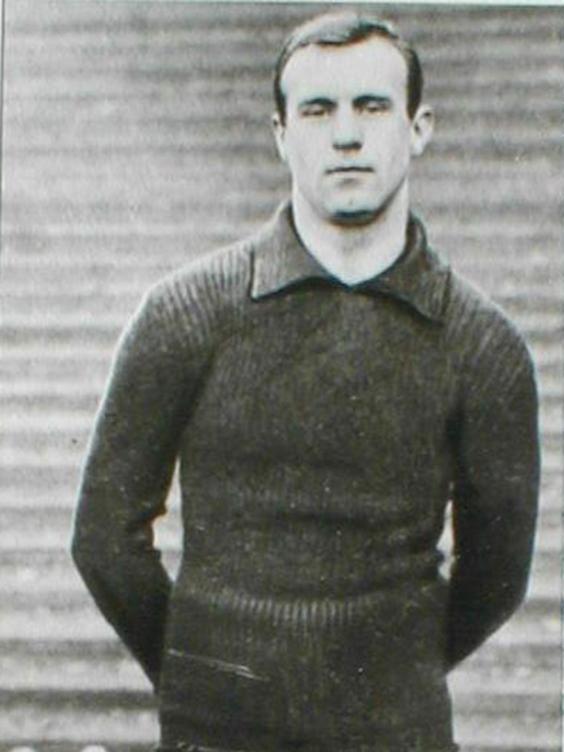 The abiding significance of that win for the West Yorkshire club was monumental. City were only eight years old at the time but there were 66,646 at the replay, with an estimated 30,000 locked out. When they brought the Cup back –a new trophy had just been made by Bradford firm Fattorinis – an estimated 100,000 people flooded on to the streets in welcome. "The Cup has come home and Bradford has gone mad with delight," the Leeds Mercury reported. "In the long history of the city there has never been anything to equal the extraordinary scenes which took place this evening."
It should have led on to legend and lasting recognition for the then 25-year-old Speirs. Herbert Chapman – manager of Leeds City at the time – bought him for the very substantial sum of £1,400, where he became an even more prodigious goalscorer: 73 in 32 games. The Glaswegian treasured every moment of his football journey in a way which seems anachronistic now. He kept his Leeds City player's ticket, and commemorative menus from two dinners held to mark Bradford's appearance in the 1911 final. But he did not flinch when he was asked to put all that aside and serve, enlisting at a Glasgow recruiting office on 17 May, 1915, more than a year before compulsory conscription.
Historian Andrew Pickles, who has created a fine website about Speirs, jimmy-speirs.co.uk – with the help of the player's grandchildren – says the player could have secured an exemption from military service, on the grounds that he was married with two young children. But as those who knew him had expected, Private S/18170 Spiers (the Army spelt his name wrong) was an everyman in the trenches. He excelled, earning promotion from Private to Lance Corporal, Corporal and then Sergeant with the 7th Battalion of the Queen's Own Cameron Highlanders. The leadership qualities he showed on the football field were part of the grounds for the promotions.
In 1916 a newspaper reported him wounded in heavy fighting – shot in the elbow – but declared him "not fortunate enough to be sent to a home hospital. He rejoined his regiment after convalescence." The postcard he found to post to his wife, Bessie on 21 November, 1916, had the words "Until the End" embroidered on the front and his own message scrawled on the reverse: "And I hope it will not be long." At least one major engagement seems to have followed and Speirs may also have been subsequently involved in liberating 400 of his battalion from German captivity. It was in April 1917 that his last communication to his wife included the dreaded "we're going over the parapet tomorrow". His body was found several days later and laid to rest at Dochy Farm New British Cemetery, in Belgium. He was 31 when he died.
Football was a speck amid the broader catastrophe, of course. Speirs was among more than 16 million whose lives the First World War claimed, 10 million of that number being military personnel, and he was by no means the only sportsman who died with rich potential unfulfilled. Nine of that Bradford City Cup-winning team were killed, including the man of the match Robert Torrance, whose body was never found, and the club's first international, England outside-left Jimmy Conlin.
Few clubs suffered so much as City. Heart of Midlothian lost seven men. Six of the Brechin City squad perished. No chronicle of German teams' losses is known, but they were just as grievous. Several members of the nation's 1912 Olympics team – Herman Bosch, Otto Thiel and Adolf Jager – died in battle.
National recognition is about to arrive for Speirs, nearly 100 years on. His story has been virtually untold across those years. The Scottish Football Museum has no exhibit to him and a reference in a Scottish Football Association biography observes that he "never really hit the high spots" during his time at Ibrox.
It is the National Football Museum in Manchester which will finally ascribe the player his rightful recognition, as part of an exhibition, The Greater Game: Football and the First World War, which opens to the public on 19 December. More on this subject, then. But for now, amid the sound and the fury, the propaganda and the preening of another season, football can do worse than to reflect.
Reuse content