The resignation of World Cup corruption investigator Michael Garcia hopefully has inflicted a damaging blow to the re-election prospects of Fifa president Sepp Blatter.
For it is believed to have finally convinced Prince Ali of Jordan, potentially his most credible rival, to challenge him next year.
So far the prince, who at 38 is the youngest member of the Fifa executive, has not confirmed his intention to run but Jordanian sources say his anger at Blatter's initial blocking of Garcia's damaging report, and the ethics committee chief's decision to quit in protest, citing "a lack of leadership", will be the tipping point.
Prince Ali has been a strong backer of American lawyer Garcia and a leading advocate of his full findings being revealed. The fourth son of the late King Hussein of Jordan and brother to King Abdullah II, he is president of the Jordanian Football Association and the founder of the West Asian Football Federation. His half-brother Prince Feisal is a member of the International Olympic Committee.
Many believe that Prince Ali is the ideal figure to clean up the discredited governing body's shabby act, among them Uefa president Michel Platini and Britain's home football associations. Prince Ali could also expect firm support from Asia, the United States and Caribbean nations.
More bad news for Blatter is that his native Switzerland has passed a law demanding closer scrutiny of governing bodies to whom they are a tax sanctuary. These include Fifa and the IOC. Further legislation is in the pipeline to make corrupt acts in sports linked to Swiss-based bodies a criminal offence.
Brits take back seat
Floyd Mayweather Jnr has yet to lay a glove on him and maybe he never will, but Amir Khan has received a stinging verbal slap in the face more hurtful than any punches from the "Money Man", who says there is no point in fighting the boy from Bolton because "no one has ever heard of him".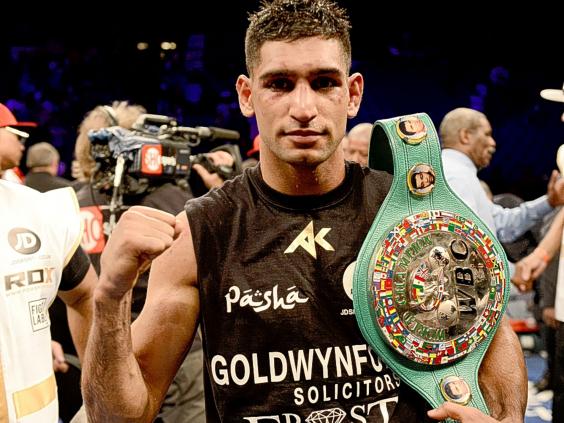 Ouch!  Not true, of course, but Mayweather can cite the fact that Las Vegas's MGM Grand, which has a capacity of 16,800, actually was only a quarter full when Khan produced his masterclass against Devon Alexander last weekend.
The truth is that Khan is not a big draw in the United States. Similarly Tyson Fury's WBO world heavyweight title fight with Wladimir Klitschko is unlikely to happen next year, either.
Not that either world champion is running scared of Brits they would be strong favourites to KO anyway. Mayweather and Klitschko, both 37, have bigger fighting fish to fry in their fistic dotage: Mayweather against Manny Pacquiao, which looks increasingly likely to happen on 2 May, and Klitschko against the winner of the WBC blockbuster between power-hitting heavies Bermane Stiverne and Deontay Wilder. That's blow business for you.
Passing the Test
It may not be quite a level playing field for women's sport on the box yet but at least Sky seem to be going in to bat for them. Next summer Sky Sports will feature live coverage of a women's cricket Test match for the first time, screening every ball of the women's Ashes in the new seven-match multi-format. The satellite network also showed more women's sport than ever before in 2014 – up 30 per cent on the previous year, with some aspect of women's sport shown on over 260 days this year.
a.hubbard@independent.co.uk
Reuse content