J-League side V-Varen Nagasaki have launched two special kits to commemorate the 70th anniversary of atomic bombing of the city.
The bomb, the second and final time a nuclear bomb has been used in warfare, was dropped on 9 August 1945, three days after the first bomb was dropped on Hiroshima.
The bombings by the US ended the Second World War with Japan surrendering on 12 August but killed at least 39,000 in the city, with some estimates reporting 80,000 dead; between 90,000-146,000 were killed in Hiroshima.
The V-Varen 'Pray for Peace' kit has been released as up to 70 per cent of Japanese citizens don't know the date of the bombing.
The orange and blue home shirt features an origami crane - a powerful symbol in Japan - as well as a picture of the statue in the city by Seibo Kitamura.
"The peaceful pray statue in Nagasaki and the folded paper crane are part of the design of this jersey," said the club's head coach Takuya Takagi.
"We can feel Nagasaki from these points. Playing in this jersey at the two matches is very significant. Especially the match on the 8th of August which is the day before the atomic bombing of Nagasaki. We would like to face the match with the mind of pray for peace and convey the preciousness of peace to new generations."
The goalkeeper kit is pink and yellow with the same design.
The best and worst kits from around the World
The best and worst kits from around the World
1/43 Legia Warsaw away

This military green kit with a black sash is certainly eye-catching - although we can't decide if we love it or hate it. The badge, as ever, is a superb piece of minimalist design

2/43 Hamburg away

Looks like a bit of throw away training top. Not working

3/43 Inter Milan away

The sponsor (this will become a theme) ruins what is an extremely smart bit of kit

4/43 Zenit St Petersburg away

The light blue colour is nearly always a winner, but this kit launch stands out for the bonkers Imperial Russian background

5/43 Borussia Monchengladbach away

As if the shades of green weren't hideous enough, they've stuck a big yellow blob right in the middle of it

6/43 Leeds United home

You can rarely go wrong with white and blue trim. Just make sure to keep a sponsor off

7/43 Atletico Madrid away

Their red and white home shirt with blue shorts is as lovely as ever, but the sleek away shirt looks just as nice this year

8/43 Wolfsburg (away)

The home shirt (on the right) is decent without being brilliant, but it's the away kit that is an eyesore. Too many colours

9/43 AC Milan third

The shirt isn't anything too horrendous (it's the dark green) but these shorts are awful. Yellow and green has often been used in tandem, but there are too many shades of green here and a useless use of red

10/43 RC Lens away

Now here is how you use a bit of fluorescent colouring. The moody black and grey diagonal stripes get a flash of colour (plus no sponsor!!). Umbro onto a winner again

11/43 Bayern Munich away

Doesn't seem as if much effort has gone into this one; it's the kind of unmemorable effort that provokes neither love nor hate

12/43 Figueirense third

Not much to add beyond it being drop dead gorgeous

13/43 St Pauli home

St Pauli kits have become a bit of a cult collectors item in recent years, the chocolate brown kits always offering a unique choice. This mostly white kit isn't quite a classic, but has the rainbow stripes on the sleeves

14/43 Rayo Vallecano away

The stripes represent different social injustices and the club will donate money to charity for every shirt sold. Top effort

Rayo Vallecano

15/43 CD Guadalajara home

Another club to adopt the rainbow sash, the Spanish third division side will donate five per cent of sales to an anti-homophobia charity

16/43 V-Varen Nagasaki

It's modelled on a tuxedo to celebrate the J-League club's 10th anniversary. Who knows why

17/43 Everton home

Classic style by Umbro

18/43 West Ham

Umbro with another winner - the shirt was so popular that the website broke

19/43 Barcelona home

Barcelona have dropped the vertical stripes for the first time in the club's 115-year history

20/43 Barcelona third (rumoured)

This Nike template will be popping up quite frequently...

21/43 Juventus home

It's hard to go wrong with black and white stripes

22/43 Juventus away

Juve have had some classic pink kits over the years; this isn't one of them and has too much going on in the mid-section. Plain pink with a touch of red and black would have been plenty

23/43 Crystal Palace

We were delirious when Palace released their kit without a sponsor earlier this summer...

24/43 Crystal Palace home

... and then they went and stuck an online casino on the front. Which one of these two would you wear? Not a hard choice for us here

25/43 Fiorentina home

Old school French brand make a return to football with a classic kit for La Viola

26/43 Sturm Graz home

Oh dear.

27/43 Sturm Graz away

Oh dear, oh dear.

28/43 Sturm Graz third

How did these ever get made???

29/43 Swansea City away

Swansea's home shirt is a classic white with gold trim; this is horrible

30/43 Arsenal home

Another top effort from Puma for the Gunners

31/43 Arsenal away (rumour)

However, this leaked away shirt is much less impressive. The colour scheme is right but it doesn't work

32/43 Troyes third kit

We're not sure what to make of this effort

33/43 Manchester City home (rumoured)

Great effort from Nike if this turns out to be the home kit - lovely white trim and a smart collar

34/43 Manchester City home (rumoured)

What can't be seen on this image is the blue min graphic on the sleeves - undecided on this one at the moment

35/43 Manchester City home (rumoured)

Here's that gruesome template again...

36/43 Real Madrid away

Looks like something one might wear on the way home from the gym or to lounge around in

37/43 Nottingham Forest home

Wow, this is a real beauty from the Midlands club to celebrate the club's 150th anniversary

38/43 Kawasaki Frontale home

The Japanese club have released a smart limited addition kit in tribute to their new main stand

39/43 Evian home

The French club always produce interesting kits - for better or worse - with their pink, white and blue colour scheme. Undecided on this one

40/43 Roma away

You can't quite see it from this image, but look closely and there is a map of Rome embedded on this smart white shirt

41/43 Roma third (rumoured)

Unfortunately, Roma went for that template. Just horrible schemes that lack imagination

42/43 Southampton away

Green and blue is not exactly a classic colour combo and this one just doesn't work. At all

43/43 Porto away

AVERT YOUR EYES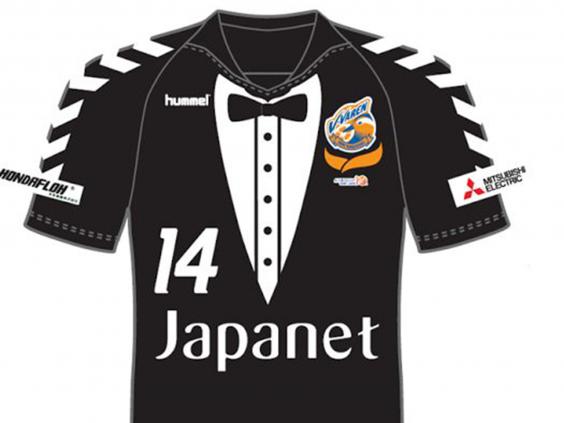 i
The club have previously played in Hummel's infamous 'tuxedo' shirt
Reuse content