There was a lot of that typical talk you tend to get about the over-30s and the need for retirement, when John Terry had been substituted at half-time in Chelsea's match at Manchester City. All defenders of a certain age seem to get that. I know from personal experience that time can catch up on you very quickly. It's not usually a gradual process. The realisation that it's time to pack up your stuff and go. It can hit you like an express train.
But it's not that time for Terry. No way. People were talking about his pace, and the way that Sergio Aguero showed this 34-year-old a clean pair of heels in the first minute of the game, but Terry has never been known as a player blessed with unbelievable pace. Think about it. When have you ever heard anyone say about: "I'm glad Chelsea have got Terry in their side today because they need some pace at the back."
It's precisely because Terry brings other qualities – an unrivalled ability to organise defenders around him and be in the right place at the right time – that he was one of the best, if the not the very best, defender in the Premier League. The very precise reason Jose Mourinho offered in his post-match Etihad press conference for the substitution of Terry actually added up – and more of that in a moment. But for an understanding of why Terry found the going so tough, we need to look further into the story of Chelsea's performance last weekend.
We talked last season about how so much of Chelsea's success was built around Nemanja Matic's role in front of the defence and he remains the key to everything: the most important cog in Mourinho's machine. He is brilliant at protecting that Chelsea defence, also giving Cesc Fabregas license to roam. The problem on Sunday was that Matic became over-run. City's tactics were impeccable: deploying the 4-2-3-1 we've talked a lot about them needing, and as a result of that they managed to get David Silva and Yaya Toure buzzing around that area Matic was looking after. One man simply can't look after two players of that calibre and with Fabregas not doing enough to help Matic, the Serbian was overrun. City always seemed to have one player over in that area in front of the defence and that brought the centre backs into play. It allowed Silva to get into dangerous spaces at the same time that Terry and Gary Cahill were already occupied by Sergio Aguero. What we saw when Manchester City went ahead was Terry having to move out to deal with Silva. It left him out of position when Toure and Aguero interchanged passed for Aguero to score.
Manchester City 3 Chelsea 0 player ratings
Manchester City 3 Chelsea 0 player ratings
1/20 Joe Hart, Manchester City

The goalkeeper had hardly anything to do in the first half, but responded well when called in action particularly for Hazard's second-half shot. 7

Getty

2/20 Bacary Sagna, Manchester City

Did well to pressurise Hazard early on, and also combined well with his defensive partners to stop the Belgian finding space to attack. 6

Getty

3/20 Eliaquim Mangala, Manchester City

Partnered well with Kompany, and had a good chance to double City's lead but headed wide minutes before the break. 6

Getty

4/20 Aleksander Kolarov, Manchester City

The full-back kept finding the space that helped build-up City's attack on the left flank. 7

5/20 David Silva, Manchester City

The Spaniard pulled the strings in midfield and worked small pockets of space well to find his teammates. He also assisted for Fernandinho's goal. 7

Getty

6/20 Jesus Navas, Manchester City

The Spaniard's pace was a constant issue for Chelsea, and he was consistently involved in the home side's attacks. A fine performance from the winger. 7

Getty

7/20 Fernandinho, Manchester City

Could have been sent off for his elbow to Costa but, otherwise, did his defensive duties well and netted a superb strike late on. 8

Getty

8/20 Raheem Sterling, Manchester City

His pace on the left allowed him to skip past Ramires and Ivanovic several times in the clash. City's summer signing showed a really good understanding with Silva, Aguero and the rest of his teammates to cause Chelsea problems. 7

Getty

9/20 Yaya Toure, Manchester City

Played a one-two with Aguero for the opener and his strength proved crucial in preventing Chelsea's forwards from finding a way through the middle of the pitch. 7

Getty

10/20 Sergio Aguero, Manchester City

Got the opening goal and could easily have had more with no less than five shots at goal in the first half. The Argentine gelled well with Sterling and Navas and was easily one of City's best performers. 9

Getty

11/20 Asmir Begovic, Chelsea

Dealt with his early tests well, but could not keep out City's goals. Showcased why he will pressurise Courtois for the No.1 spot this season. 6

Getty

12/20 Branislav Ivanovic, Chelsea

Like last week against Jefferson Montero, Chelsea's vice-captain struggled with pace of Sterling and could not stop Kolarov from using the left flank to drive in crosses into the box. Was beaten by Kompany for City's second goal and had a day to forget. 4

Getty

13/20 John Terry, Chelsea

Could not command and organise his back line as he usually does so well, with Chelsea looking disorganised in defence. 5

Getty

14/20 Gary Cahill, Chelsea

The centre-back was outwitted by Silva's fancy footwork for the opening goal, which ultimately allowed Aguero to gain possession and shoot. He was off the pace although he improved in the second half. 5

Getty

15/20 Cesar Azpilicueta, Chelsea

Navas proved a nuisance for the left-back and Azpilicueta found his compatriot's pace too much to deal with. 5

Getty

16/20 Eden Hazard, Chelsea

Last year's PFA Player of the Year was stifled and could not find the space to make the difference. 5

Getty

17/20 Nemanja Matic, Chelsea

Battled well in midfield, but was unable to stop the physical threat of Toure and the pace provided by City's forwards. 6

Getty

18/20 Willian, Chelsea

Was a source of pace for Chelsea and while he did well to provide crosses into the area for the visitors, was helpless to do much else. 6

Getty

19/20 Cesc Fabregas, Chelsea

Linked up well with his teammates from his slightly defensive position, but couldn't breach City's defence. 5

Getty

20/20 Diego Costa, Chelsea

The striker was dealt with in brilliant fashion by City's defence and while his work rate was good, Costa cut a frustrated figure throughout the game. 6

Getty
As a centre back, you never want to be two-on-two or one-on-one against a striker. That's a sure fire way to get ripped to pieces as a defence unit and that's what happened with Chelsea. It very rarely happens to them in the Premier League, because opposition sides are rarely good enough to create that kind of threat. But there was a subtle process of cause and effect. Fabregas, who does not generally do much defending, has to come back to help out - and that affects the supply line to Diego Costa.
Which brings us to Mourinho's explanation for substituting Terry at half-time. He said he replaced the captain with Kurt Zouma because he wanted to play with a high defensive block. "I have to decide who is the fastest player in our defensive line – [Branislav] Ivanovic, John [Terry], [Cesar] Azpil[icueta] – so when you are going to play with a high block and the fastest player has to be on the pitch," were his words. That explanation actually had a strong ring of truth to it.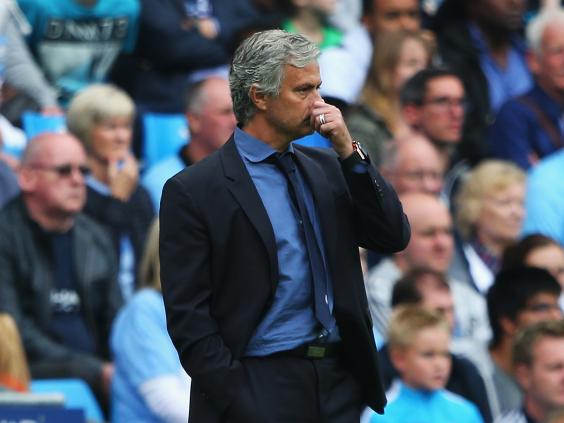 There is always a natural tendency for a defence to drop a few yards when they are fearful of pace in behind them. If I play too high a line against a player like Aguero, then I know I could be in serious trouble. But the most dangerous part of that City side was the way that Silva and Raheem Sterling, coming in from the left, were being given enough space to create a supply line for Aguero. So Mourinho was actually right: Chelsea needed to play the high line to squeeze Silva, starving him of a supply – and that meant having a faster defender like Zouma who could still get back if the line was pierced.
Perhaps Mourinho was also trying to send a message to his club about wanting them to put another bid in to Everton for John Stones. That's the sort of tactics he can sometimes use. But there was a genuine tactical explanation. All of which leads me to argue that the suggestion Terry is suddenly less of a player than last season is rubbish. I expect us to see a lot more of the Terry we have come to know, in the nine months ahead.
Pedro going to Chelsea simply made it worse that Manchester United missed out
What a blow to hear that Manchester United will not be signing Pedro from Barcelona, after all the indications at the start of the week that they would be. One thing that United are crying out for is pace. The Angel di Maria move did not work out, so there is an immense value to having a player attacking with pace down one side of the pitch, freeing up other players. But the biggest punishment United have faced in not pushing through a deal for the Spaniard is that he has been allowed to move to one of their biggest rivals: Chelsea. If he was going to Real Madrid, or Paris Saint Germain, it would be one thing. But Chelsea win twice over: getting their player and depriving United of him too.
No manager wants the doctor on
Eden Hazard isn't the first player to go down on a pitch to buy his team some precious minutes, in the scenes which have created the dispute between Mourinho and the team doctor Eva Carneiro at Chelsea. I've gone down a few times myself, though maybe it's a sign of the clubs I've played for that the motive has been generally to buy my teammates a breather. The aim with situations like that is not to stay down for too long - because what you don't want is the physio coming on. There was the time when I stayed on the pitch when I probably shouldn't – when I did my cruciate in the 90th minute of a match against Chelsea at the Britannia when we were drawing 1-1. No manager wants the doctor on.
Danny Higginbotham's new TalkSport programme, The Players' Lounge, is broadcast from 7-10pm tonight (Friday)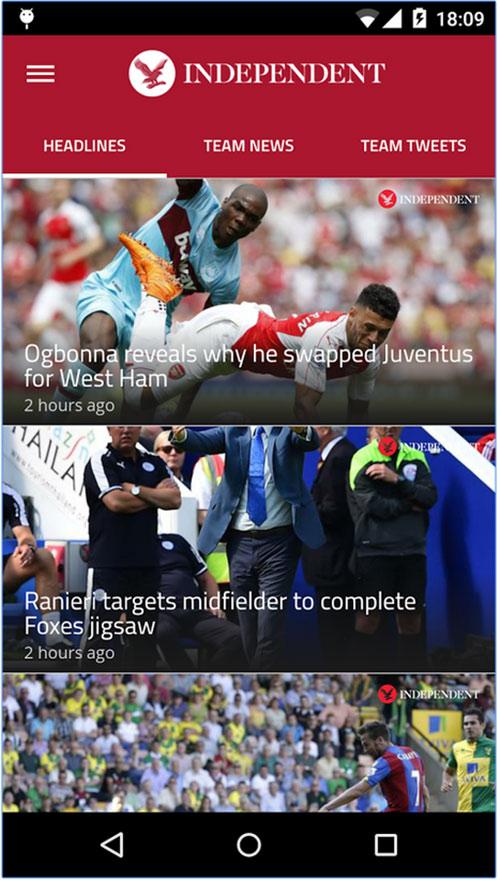 The Independent has launched a new football app! Live scores, in-game stats, breaking news, videos and push notifications are just some of the many features. Use the links below to download and get more from Indy Football...
iPhone
http://ind.pn/iphonefootball
iPad
http://ind.pn/ipadfootball
Android
http://ind.pn/androidfootball
Reuse content