One thing puzzles me about the Cameroon corruption scandal. It's not that a chap called Wilson Raj Perumal was able to forecast in Der Spiegel that Cameroon would lose to Croatia 4-0 and that a player would be sent off; or that during the game the Cameroon midfielder Alex Song lashed out at Croatia's Mario Mandzukic just before half-time, getting himself sent off (and, with 10 men, Cameroon lost the game 4-0). It's not that as many as seven players are thought to have been involved in match-fixing in the group stages. What puzzles me is that the Cameroon football federation – which rejoices in the acronym Fecafoot, which I believe translates as "Crap Football" – has "instructed its ethics committee to probe allegations of fraud".
There's an ethics committee in the World Cup? Seriously? I thought these guys did just what they liked. I thought it was considered pretty normal for players to deliberately play badly, let in goals, fix matches, pretend to be injured and fall over in the penalty area. I didn't realise there was an ethical overlord, a footballing superego, presiding over things that a referee can't see.
When Arjen Robben of the Netherlands admitted taking a dive in the game against Mexico and said, "I'm an honest guy and [the dive] had no influence on the game," he wasn't penalised, was he? Despite being guilty and all. Maybe he should have said, "I'm a dishonest guy when necessary and it could have had an influence on the game if I'd been booked as I should have been. The game might have gone differently and Mexico might not have lost 2-1." But heigh-ho, nothing was said of the ethics involved.
Then a friend explained that there is an ethics committee and it's run by Fifa – a collection of Solomon-like figures (none English) who pass judgement on bad behaviour. In the Robben incident, he further explained, Fifa decided to take no action because it said it wasn't "a serious breach of fair play" to take a dive …
The idea of Fifa being in charge of fair play is like Cardinal Richelieu being in charge of open government. In the wake of the Sunday Times accusations of bribery and vote-swapping in the bidding race for the 2018 and 2022 tournaments, Fifa's ethics committee signed up a former FBI man called Michael Garcia to investigate the bidding process. Almost immediately, committee members allegedly started plotting to have him removed before he turned up anything damning. That's the kind of ethics they seem to practise.
It is time we had a new all-countries ethics committee, with a new mandate, perhaps with eight commandments to which everyone must adhere on pain of expulsion:
1 Players who fall theatrically to the ground feigning injury will be required to spend the next half-hour lying on a stretcher in "recovery" mode, being brought mugs of sweet tea and Get Well Soon cards.
2 Players who bite other players will be allowed to play in future matches, but only while wearing one of those lightshade collars you see on dogs suffering from distemper.
3 Players will be allowed to have therapeutic sex with wives or sweethearts at any time, but not during the half-time pep talk, and certainly not just before a penalty shoot-out.
4 Players who throw a match for payment will be required to go and live in the winning team's country if they're so bloody keen on the place, for the whole of the next season.
5 Players must sing the words of their national anthem with enthusiasm, and without that gormless, faraway look in their eyes, or they'll have to sing it solo, stark naked, during the post-match press conference.
6 The BBC will cease to require that all players must perform that I'm-so-determined, folded-arms posing routine before every match, or its broadcasting licence will be rescinded.
7 Players may complain about the shortcomings, ignorance or blindness of the referee, but may not ascribe negative decisions to the fact that "nobody cares about African/Latin/East European/English teams." You have to grow up.
8 Future World Cup tournaments will be held only in territories where football pitches already exist, and it's not too boiling hot for humans to run around them.
Have we got that now?   
The English are still in Brazil – and backing the underdogs
My man in the Copacabana bodega with the bottle of Sol and the skewer of grilled beef reports: "While every single person on the boardwalk here wears a football shirt, it's very rare to see anyone wearing the England '90 strip; you might conclude all the Brits have gone home – that's until you hear the accents from people wearing colours of other nations. Whichever match is on, the Brits pick a side – generally the underdog – so they have someone to cheer.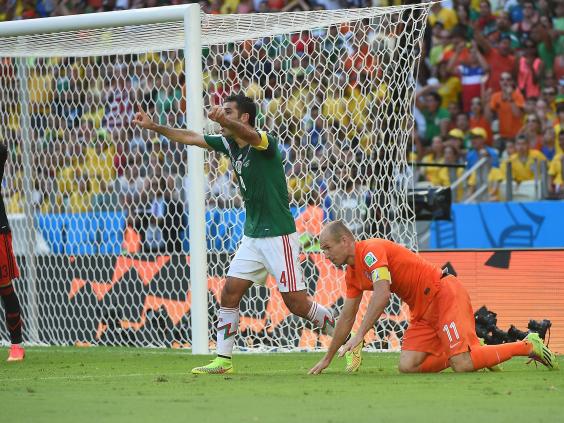 "The Brazilians talk constantly about Suarez (they're worried about his mental health) and worship Messi like a god, forgetting that he plays for a rival team.
"Everyone was sorry to see the Mexicans go. They have the best fans – friendly and able to outdrink everyone else, even with the disadvantage of wearing wrestling masks. The Americans are objects of pity because they whoop at the wrong things – such as half-time – and have the world's worst footie chant: "Ah believe that we will win!"  
Dazzled by divine light in BBC's songs of praise
Shine that heavenly light: in the BBC's studio coverage, they've brought in something new and deeply symbolic. The graphics of footie explanation have taken on a newly religious tone. When Gary Lineker's guests talk us through the tactics of a player in galloping up the field, they employ a circle glowing around the player's feet – a kind of ground-level halo, to assert his saintly status. Now I notice that, when they ask you to look at the assistance of a second player, they pick him out with a shaft of light from above. In other words, the pedic halo is joined by the beam from heaven. Are they slightly overdoing the divine imagery?
Shaqiri, 'the magic dwarf', must not be left in obscurity
A player completely new to me was one of the stars of the Argentina-Switzerland game. Xherdan Shaqiri, 22, is a Swiss-Albanian Muslim born in Yugoslavia, just before it blew apart and forced his parents to emigrate to Switzerland. He's short and terrier-like (fans call him "the magic dwarf" apparently,) fast as lightning on the wing, fearless in attack, hurls his body around like Lee Evans but never takes a dive, takes super-accurate corners and clearly terrifies defenders.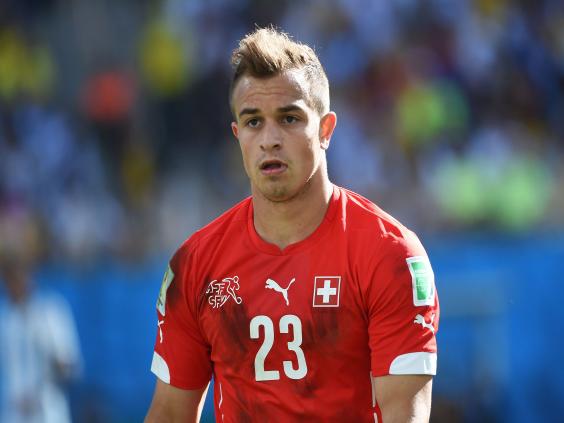 He's a fascinating player. But you know what match commentators seized on to praise? The fact that, in the Switzerland-Honduras game, he became "the scorer of the first-ever left-footed hat-trick in World Cup history". You mean he scored all three goals with his left foot? As a result of being born left-handed? Amazing!
Reuse content