The sense of superiority grows. Six out of Manchester City's last seven Premier League derbies have now brought victories and there are four in a row for the first time since 1970 – a year when no one denied which was the best team in town. 
Yet there is something missing: the swagger and the style we've come to know in City. On this weekend last year they were tearing though Norwich City, 7-0 at the Etihad, four days after beating Newcastle United in the League Cup, with five-goal demolitions of CSKA Moscow and a tally of six against Tottenham Hotspur about to follow on home soil. Memories now. Doubts about the team who have just run out winners in a Manchester derby will always be open to challenge but not even three unjustly denied penalties can disguise that the narrative of this football match was scrambled. The look on the City players' faces when the final whistle blew spoke only of relief. They knew. The City side that won last season's Premier League would have torn asunder a defensive unit as unfit for purpose as United's. This one didn't.
They were the better team, for all Wayne Rooney's claims to the contrary. Marco Rojo versus Sergio Aguero was a battle which had given those United fans not blinded by personal loyalty cause to fear in recent days and the angst didn't prove unfounded. Aguero – the Premier League's top scorer last night – will crucify any defender who grants him a first touch and a yard. Rojo indulged him with that three times, early in the first half. There was also the moment of sublimity which rather got lost in the subsequent mist of controversy: the three-touch triangular movement which forced David de Gea to save when Jesus Navas bore down on him.
Manuel Pellegrini will say there would have been much more of this had David Silva been on the field. The little Spaniard against the 10 men would have been some sight to behold from City's perspective. A really substantial sight had Rojo been dismissed, as he should, for a six-yard box hack on Yaya Touré, reducing United to nine men.
Manchester City 1 Manchester United 0 player ratings
Manchester City 1 Manchester United 0 player ratings
1/23 Joe Hart, Manchester City

Hardly overworked until he had to make a couple of magnificent saves late on from Angel Di Maria and Robin van Persie. Back to his best.7/10

Getty

2/23 Gael Clichy, Manchester City

A late replacement for Kolarov, and became more advanced as the game wore on, playing almost as a left-winger. Fine pass set up the goal. 8

Getty

3/23 Martin Demichelis, Manchester City

Caught out on a couple of occasions owing to his lack of pace but was certainly not overrun against a blunted United team. 6

Getty

4/23 Vincent Kompany, Manchester City

Provided a commanding presence in the centre of the City defence. Made some crucial interceptions but was never really rattled. 7

Getty

5/23 Pablo Zabaleta, Manchester City

The Argentine was his usual dependable self. He kept his compatriot Di Maria quiet for most of the match in a solid display. 7

Getty

6/23 James Milner, Manchester City

Bombed up and down the left, and drew the lungeing foul for which Smalling received his second yellow card. Continued his great start to the season. 8

Getty

7/23 Yaya Toure, Manchester City

Incredible array of passing flummoxed his opponents. Behind all his side's best work and incisive ball to Clichy set City on their way to the goal. 8

Getty

8/23 Fernando, Manchester City

Kept City ticking over in midfield alongside Touré and helped the Premier League champions make sure their neighbours stayed quiet. 6

Getty

9/23 Jesus Navas, Manchester City

Smashed an effort against the post but lost out in his battle with Shaw for most of the match. Not as effective as his manager would have liked. 6

Getty

10/23 Stevan Jovetic, Manchester City

The Montenegrin could not celebrate his 25th birthday with a goal. He was overshadowed by his spectacular strike partner Aguero. 6

Getty

11/23 Sergio Aguero, Manchester City

Unplayable. United just could not cope with the tricky forward. In addition to his goal he could have won his side two penalties. 9

Getty

12/23 David de Gea, Manchester United

Showed bravery and brilliance on a busy day behind a truly makeshift defence. City could have had four goals like last season without him. 7

Getty

13/23 Antonio Valencia, Manchester United

Struggled at right-back in making his first appearance for nearly a month. Could not get anywhere near Sergio Aguero at times. 5

Getty

14/23 Chris Smalling, Manchester United

Lasted just 38 minutes before being given his marching orders. The first booking was stupid, the second well deserved. Can have no complaints. 2

Getty

15/23 Luke Shaw, Manchester United

Settling into life at United, and performed admirably against Navas. One of the few United defenders to emerge with any credit. 7

Getty

16/23 Marcos Rojo, Manchester United

Made some crucial blocks in his role as United's only real defender before he was forced off in the 56th minute with a shoulder injury. 6

Getty

17/23 Daley Blind, Manchester United

Impressive range of passing looked to get his side going but found himself overrun by Touré as soon as United went down to 10 men. 6

Getty

18/23 Marouane Fellaini, Manchester United

Recent impressive form ended with woeful performance. Lucky not to concede a penalty for a challenge on Aguero. Back to the Fellaini of last season. 4

Getty

19/23 Adnan Januzaj, Manchester United

The fall guy because of Smalling's red card. Replaced by Carrick in the 43rd minute, but had been far from effective before then anyway. 3

Getty

20/23 Wayne Rooney, Manchester United

Looked like someone who had not played in three matches… then burst into the game with an astonishing run. No lack of effort from midfield. 6

Getty

21/23 Angel di Maria, Manchester United

Kept quiet as City made their extra number count. Floated in and out of the game in putting up his worst performance in a United shirt. 4

Getty

22/23 Robin van Persie, Manchester United

Hardly got a sniff of the ball until forcing Hart into a late save. It summed his day up when he was replaced by 18-year-old James Wilson. 5

Getty

23/23 Off the bench Michael Carrick, Manchester United

The midfielder came on after Smalling's dismissal and was deployed as a utility centre-half. Displayed the assuredness of a fish out of water. 4

Getty
But none of that can disguise the way that City lost their direction in their 51 minutes of numerical advantage. There are reasons why Chelsea's six-point lead doesn't seem to tell the full story of the Premier League leaders' superiority and one of those is City's defence. We saw why once again. United were winning aerial battles from the game's opening minutes when Robin van Persie was leaping to head down Angel di Maria's chipped ball for Adnan Januzaj, who shot wide as Vincent Kompany made a vain attempt to dive in. There was not so much as a jump from Gaël Clichy when Van Persie leapt to reach a second cross from Di Maria. At the other end of the game, Kompany was on the wrong side of Marouane Fellaini as he missed the header which should have put United level.
But there was something more fundamental to City's malaise than that. Draw a symmetry between this game and the Manchester derby of almost exactly three years ago – the 6-1 win at old Trafford on 23 October 2011 which left Sir Alex Ferguson reflecting on wanting to put his head in the oven – and you see the diminution of City in plain view. United had a central defender sent off around the half-time mark on that day, too: Jonny Evans, only 10 minutes deeper into the game than Chris Smalling's departure here. And Roberto Mancini's City simply went berserk. They were 1-0 up when Evans left the field and had added two more by the 70- minute mark.
Here, their two lines of four – deep-lying from the start; always allowing United 15 yards of territory to advance into – stayed much the same. The lack of the killer touch was down to personnel. James Milner – who is quietly demonstrating through the force of his performances why Pellegrini under-valued him in City's title-winning season – was replaced by an insipid Samir Nasri and the side, frankly, disintegrated.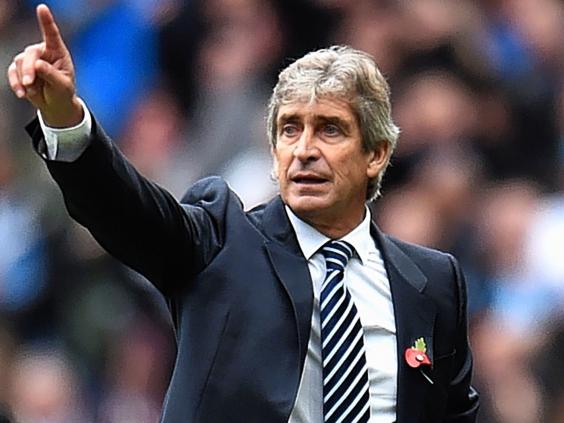 The lack of the killer touch was also down to the manager. The absence of an alternative plan – something of which Pellegrini has serially stood accused – applies just as much to an ascendant position as to a losing one. Smalling's departure, coupled with such a disintegration in Rojo's game that it seemed a blessing for Louis van Gaal that he was taken off on a stretcher, created the chance for City to up the tempo, make the pitch bigger and drive home the advantage. It didn't happen. Aguero's hostile reaction to being substituted – he screamed to the Manchester sky and did not so much shake the hand of his replacement Fernandinho as punch it – told the story of an afternoon that was just not working out.
This side don't seem to have the same hunger this season as last and perhaps it is winning the Premier League title which makes it so. To clinch that prize takes ability. To want to clinch it year after year, as United have done, takes a deeper quality which City also lacked two years ago. It also requires a manager capable of putting a little of the fear of God into a team. Joe Hart, who was called upon to save his side late on, observed last week that not all managers need to "smash up" the dressing room. Well, it feels like some damaged furniture would do City good, glad though they are that the internal strife of the Mancini era is in the past.
The consequences of not smashing this game up could be substantial. Defeat condemns United to their worst start to a season since 1986 and this was City's opportunity to drive home such ignominy and drive the old enemy down into the mire. Instead, when the dust settles, United can allow themselves to look around the place and feel like winners. They will thank City for that.
Reuse content