The small conference room off Manchester United's main Carrington training ground foyer is the place where David Moyes has undergone his weekly inquisitions in this difficult season, but no testimony there was more compelling than Darren Fletcher's on Wednesday.
The Manchester United midfielder was discussing in detail for the first time the debilitating medical condition which for a long time seemed to have finished his career and his voice was cracked and not far from breaking when he described how the grim nature of the illness - bowel disease - led him to lie to his teammates about why he was not himself. For weeks, only Sir Alex Ferguson knew.
"I found it very difficult making up stories; reasons why I wasn't at training, why I was looking ill, why I was rushing off to the bathroom," Fletcher said. "I found that very difficult - making up stories and basically lying to people's faces." His subterfuge also came from the sense that the problem would go, because like almost every professional footballer at the height of his powers, he felt that he was "untouchable", as he put it. "I was a professional footballer, playing in the Premier League, for Manchester United, and felt on top of the world."
But the explanation of the condition given by both Fletcher and Lewis Moody, the former England rugby union flanker and Independent columnist who has also suffered, revealed that ulcerative colitis is indiscriminative and relentless - inflaming the bowel in a way that leaves those suffering the condition seeking out the toilet again and again. "Anywhere between 10 and 30 times a day without much time to get there, losing a lot of blood in the process as well…," as 30-year-old Fletcher described it.
He and Moody could both smile a little, as they launched a United for Colitis charity dinner in in aid of the charity Crohn's and Colitis UK at Old Trafford next month, and an element of their illness might even have seemed comic at the time, were the disease not tearing holes in their lives. It left Fletcher so fearful of being caught out by it with no bathroom in sight that he could not even take his children to the park, or watch them play football. Moody, who hid the condition from teammates for two years, told the story of how he used to live 40 minutes from the training ground and had to plan his route to get there, "because in a car for that long with ulcerative colitis means you can be stopping 10 or 11 times to find a loo." At Leicester Tigers, training was only five minutes away but he still had to stop three or four times en route. He moved nearer the training ground because "being more than two or three feet from a toilet at any given time can sometimes be too far."
For Fletcher, the response when he finally told his teammates was overwhelming. The acceptance - "they've almost been a bit like 'oh right, ok; you're not dying are you? So get on with it.' That sort of thing" - was encouraging. The correspondence from dozens of parents whose children suffer from the condition and feared ridicule in the forbidding world of the playground was overwhelming. Many children do suffer, with 10,000 young people under 25 diagnosed every year. Parents told Fletcher their children could go to school "and, instead of having to explain ulcerative colitis, they can simply say 'I've got the same illness as Darren Fletcher'."
There is no disguising how dark the journey has been, though. It was in 2010, when the symptoms returned to Fletcher with a vengeance, that the battle which he has ultimately resolved by three operations intensified. "A number of times my blood inflammation markers were so high and you're so weak that I ended up in hospital a couple of times on an IV drip," Fletcher said. "That's an extreme case but it does come in different severities as well.  The biggest thing I can say is treat it as seriously as possible and try and get it under control. Don't be blasé. It was embarrassment alone that caused him to leave four weeks before even broaching the subject with a doctor. "I was scared," he said
After the medication which has ultimately contained the problem for Moody failed to do the same for Fletcher, he took six months out of football in 2012. People started telling him "the physical impact of football is making you ill" so he stepped away from United as a last resort. Still the condition persisted, and in a perverse way he was pleased. "When I realised I was exactly the same and the symptoms were the same it was almost like 'yeah, great; that means it's not football that's doing this to me' - which was important because it's a game I love and I never wanted to give up football. So although you're not happy there's a little bit inside of you of relief that it's not football that's causing this - but the disease itself."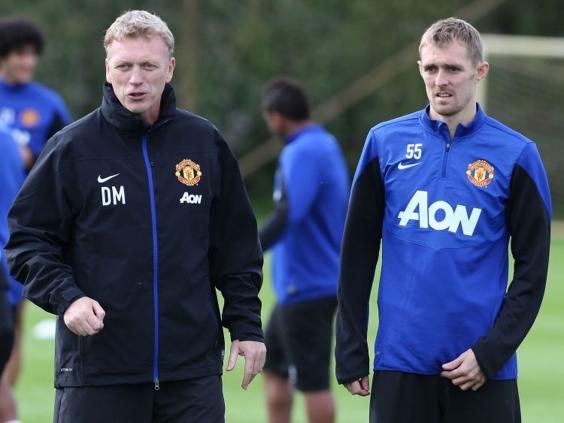 One of the most remarkable aspects of the story both he and Moody tell is that neither one of them has suffered the effects of the condition whilst competing on the field playing. "It meant I was always confident going out there," Fletcher said. "It was 'start the game quick!' because I was going to be alright." This points to the condition being partly psychological. "Maybe blood flow to the bowel is different when you're doing exercise, I don't know because nobody knows," Fletcher reflected. "But it's definitely the psychological part is a big part of the illness." 
Now Fletcher is fully restored - easing his way back and this week was named in United's Champions League squad for the knockout stage. The reception from the players after his comeback game at Aston Villa included them singing and clapping him in the dressing room post-match, before Moyes said a few words about him. The fans' chant at Stoke - "if Fletcher scores we're on the pitch" - was not lost on him either. "It was a nice moment," he said. He described himself as "selfish again and not appreciating where I am" in the sense that "if you want to be successful in sport you can't just be happy being back, being a bit-part player or anything like that." But though the surgery means that he "can't have any relapses now," his awareness of the 260,000 people left behind, living with the condition and its affiliate Crohn's Disease, is acute. Ferguson is among those who will join Fletcher and Moody at the dinner. "It means a lot to me that team-mates want to put their support to something they know means so much to me," he said.
The United for Colitis charity dinner is at Old Trafford on March 27. For details visit www.unitedforcolitis.co.uk
Manchester United v Sunderland penalty shoot-out - in pictures
Manchester United v Sunderland penalty shoot-out - in pictures
1/10 0-0

Craig Gardener misses Sunderland's first penalty by blazing over the bar

Youtube

2/10 0-0

Danny Welbeck follows suit for Manchester United as he sends his effort high and wide

Youtube

3/10 0-0

Steven Fletcher can't break the deadlock as his effort is saved by goalkeeper David De Gea

Youtube

4/10 0-1

Darren Fletcher finally opens the scoring to put United ahead with a calm finish to his left

Youtube

5/10 1-1

Marcos Alonso levels things up as he places his penalty into the right-hand side netting

Youtube

6/10 1-1

Adnan Januzaj sees his penalty attempt saved by Sunderland goalkeeper Vito Mannone

Youtube

7/10 2-1

Ki Sung-Yueng puts Sunderland ahead as he sends De Gea the wrong way

Youtube

8/10 2-1

Phil Jones nearly hits the ball out of the stadium as he puts the Black Cats within a goal of the final

Youtube

9/10 2-1

But Adam Johnson can't take advantage of Jones' miss as he sees De Gea save his effort giving United the chance to level the scores

Youtube

10/10 2-1

It's all over! Mannone is the hero of the night as he saves Rafael's effort to book Sunderland's trip to Wembley

Youtube
Reuse content