"He loves football but he sometimes can't understand how it works and it confuses and upsets him, and when he is upset he does things that aren't brilliant for the football club."
These are the words of the Newcastle United manager, Alan Pardew, talking about the club's owner, Mike Ashley, in October last year on the Goals on Sunday programme. They now feel more relevant than ever.
Ashley fumed at the indiscretion back then, but the nature of Newcastle means that Pardew's point was not addressed. A year later, there is a new, all-engulfing crisis and while Rome burns, Ashley stands defiant. Even his greatest supporter cannot argue that the current situation is brilliant for the football club.
There is an isolation to clubs in the North-east. Newcastle has one football team. Sunderland, 13 miles away, has one football team. Middlesbrough, another 20 miles further south, has one football team, and the sense of remoteness and uniqueness – the next nearest big league side is Leeds United – adds to the significance inside each community. The football club is a symbol of regional pride. With that in mind, this situation cannot go on any longer. Enough is enough.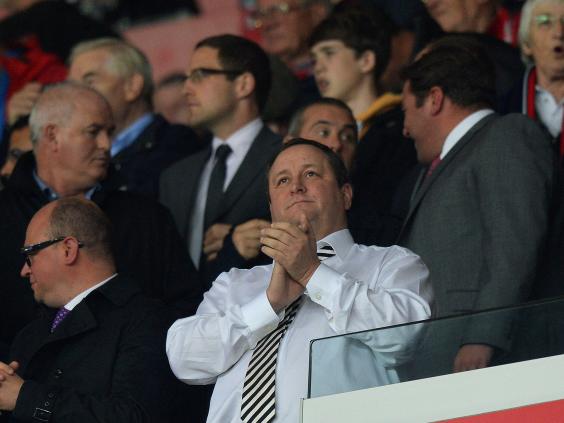 There have been damaging periods in the seven years that Ashley has been in control at St James' Park. This new one, however, has left heads being scratched everywhere. Newcastle's players have forgotten how to play for Pardew. Their record is one win in 14 Premier League games – none this season. Red Adair would usually be expecting a call in such a situation.
There have been admirable shows of support towards the manager from Ashley in the near four years Pardew has been in charge. Ashley was gung-ho on his entrance into football in 2007. Sam Allardyce was sacked after a draw at Stoke and Harry Redknapp had agreed to take his place, only to change his mind and Kevin Keegan came in. Along with the decision to appoint Alan Shearer for the final games of the 2008-09 season, they have been the last two populist calls made by Ashley.
There is a danger here that, as Pardew suggested, the current policy is a bloody-minded approach to defy public opinion. In that, Ashley denies the brilliant instinct that has made his Sports Direct company such a huge and successful business. Within 72 hours of the Tesco profit error last week, Ashley and Sports Direct had agreed a £43m "bet" (a put-option agreement) to buy shares in Tesco through Goldman Sachs (essentially meaning that Ashley believes the share price will rise). There is instinct in retail and there is inertia in football. Tyneside is incandescent as a result.
It has, in all truth, not helped Pardew, who will be stained by this run for the rest of his career, wherever that may be.
What has caused such consternation is the lack of desire at least to identify that there is a problem. Newcastle's bad run started when they sold Yohan Cabaye in January and did not replace him. Everything revolved around the playmaker and loan striker Loïc Rémy. But since Pardew's headbutt on David Meyler at Hull in March they have won just twice. From a possible 48 points they have mustered nine. They have scored 11 goals in 16 Premier League games and have failed to score on 10 occasions. Newcastle's players are no longer hearing Pardew's message. Surely this is apparent.
The only belief now inside the boardroom must be that there are worse sides than Newcastle and that at some point the club's fortunes will turn. Pardew looks likely to remain in charge at Swansea on Saturday. The international break comes next and then they face Leicester at home.
There must be dignity. Ashley and Pardew should be discussing a parting of the ways this week. The current situation is crushing him and will be remembered for years.
Newcastle have had good times under Pardew. There was an unexpected push for the Champions League. It was only two years ago. They finished fifth, Pardew won awards, the club was back on the European stage. They signed just Vurnon Anita, who is still not a regular in a side second bottom of the Premier League. There was no appetite to kick on.
Now there must be a desire to hold on to the Premier League status that sees St James' Park awash with Sports Direct logos. Change will now surely come – that it should be sooner rather than later looks beyond question.
Reuse content