On the day the 2014 World Cup kicks off, Fifa president Sepp Blatter has come in for possibly his most damning indictment yet with Uefa president Michel Platini saying he will no longer support him.
78-year-old Blatter recently indicated he would look to extend his reign at the head of Fifa into a fifth term during elections next year, despite promising he would not stand for the presidency again.
Against a backdrop of corruption allegations relating to the bidding processes for the 2018 and 2022 World Cups, which were awarded to Russia and Qatar respectively, Platini has said it is time for football's governing body to move on.
"I am supporting him no longer, it's finished. I have known him for a long time, I like him, but I'm not favourable to him having another term," the Uefa president told L'Equipe. "I supported him in 1998, but I do not support in 2014. And in the future, I shall not support Blatter. I told him that. I think Fifa needs a breath of fresh air."
That breath of fresh air could be Platini himself, who when asked if he would put himself forward as a challenger to Blatter said: "It is an option. But it is not because of Blatter that Michel Platini would stand. And it is not because of Sepp Blatter that Michel Platini would not appear. My only concern is what I want to do. I am almost 60 years and I need to know what I want.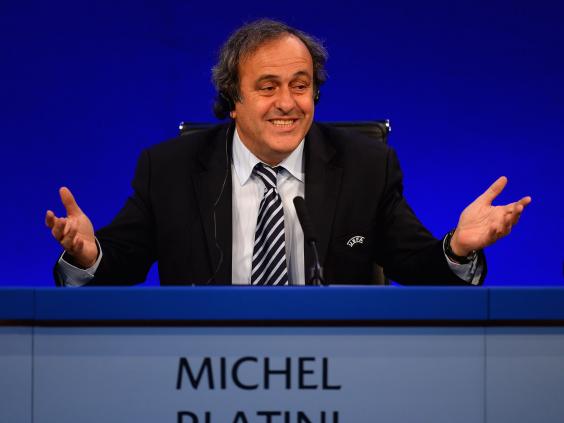 "I just want to be sure what I want to do. In my life, I wanted to be a footballer, it went well. I was asked to coach, and to be president of the organising committee of the 1998 World Cup, I liked it. Then I became a member of the Executive Committee (Fifa). Now I am very happy to be at Uefa. I am loved by national associations. But Fifa is something important."
Platini's criticism of the Fifa president comes after FA chairman Greg Dyke told Blatter at a meeting of Uefa countries on Tuesday that his claim that racism was behind World Cup corruption allegations in the British media was "offensive and totally unacceptable".
Dutch FA president Michael van Praag also told Blatter in blunt terms that he should step down from Fifa next year and not stand for a fifth term.
Blatter responded to the attack from Dyke and other officials by saying they were the "most disrespectful" thing he has ever experienced.
Reuse content