Fourteen years ago I gave a scrawny 17-year-old his professional debut for Sheffield United. Saturday Phil Jagielka will make his World Cup bow for England and outside his lovely family there'll be no one more proud and pleased than me.
Jags deserves everything he gets in the game. He's got a great attitude and a wonderful demeanour. The highest compliment I can pay him is if my son, William, grows up to be a professional footballer I hope he becomes one like Jags.
He's always had a terrific temperament, nothing fazed him, and that will stand him in good stead in Brazil, as it has all his career. I knew early on he'd be a good player. I used to say to him, "You'll play for England and I'll enjoy watching you do it." I'm not sure he believed me at the time. He'd been released by Everton, but as I told him, "It's not the end of the world being released by a top club, they get so many players they will make mistakes."
When he came through at Sheffield United the coaches were not sure whether he would turn out to be a right-back, centre-back or midfielder. He was good at all of them but I settled on centre-back as he read the game well, didn't flap, and saw trouble before it developed. He also lacked a yard of pace – though he has worked on that – and I didn't see him being quite quick enough for the role of a modern full-back. He played alongside Chris Morgan, a real old-school centre-half, and was the perfect foil picking up the scraps.
He gradually became a Rolls-Royce for me and after he went to Everton in 2007 he developed even further with quality players around him. I'd told David Moyes and Arsène Wenger that, if we went down, they should make Jags their first signing. David took some persuading to come up with the money, but he bought Phil eventually and I thought it ironic when, a few years later, Arsenal offered to more than double Everton's money but they refused to sell. If Jags had gone to Arsenal he would have solved a lot of Arsène's defensive problems over the last few years.
I always have a "favourite" at a club – it is a way of adding a bit of humour to the dressing room. At Sheffield it was Jags. If it was raining when I needed to walk out and interrupt a training session I would take an umbrella, stand next to Jags while talking to the players, and make sure it covered his head as well as mine. Or I'd get out some chewing gum, offer him some, but no one else.
Morgs and the others would rib him and say I was his dad. I'd hear snatches of conversation from the dressing room – "Where's the gaffer's son?" "He's fetching him a cup of tea" – it was all good-natured.
It has been a bit unfair, all the talk about John Terry he has had to put up with, and I expect he'll be waiting for the games to start so he can put that to bed. You only had to watch the Ecuador game, when Jags wasn't playing, to see how important he has become for England.
Barkley is a terrific talent but needs the right support
Ross Barkley also played for me, on loan at Leeds United, and I expect he is giving Roy Hodgson more food for thought than anyone else in his squad because, while there is no doubting his talent, Ross is not the easiest player to fit into a team.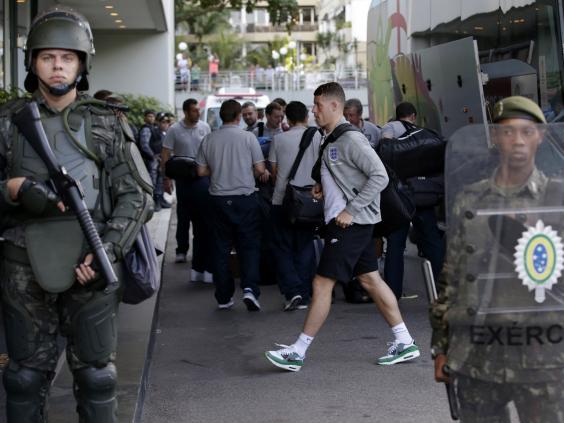 You have got to play him off the front man, in the hole, and without any responsibility defensively. He plays off the cuff so he is difficult to plan around. You have to tell Ross to go out and run at people in the other half and if he loses it, he loses it. It was the same with Adel Taarabt at Queen's Park Rangers. I had to build the team around him to cover his lack of defensive work, and I had to ban the other players from giving Adel the ball in our half because if he lost it there we would be in trouble. I wanted him high up the pitch, turning and going at people.
At Leeds I couldn't find a regular place for Barkley. I had Ross McCormack, who was the fans' hero, and I found it difficult to fit both into the same team. Roy has a similar problem with Barkley and Wayne Rooney. McCormack is a similar player to Rooney. He's not as good, but both have clever movement without being able to go past people in the way Barkley can.
In the end Barkley went back to Everton as we couldn't guarantee him a game. I remember telling David Moyes he could only play in the hole with no responsibility but David had Marouane Fellaini there at the time. Credit is due to Roberto Martinez, because he persevered with Barkley in that role.
Now he's Roy's dilemma. Roy likes players who give him nine out of 10 every game, not someone who is 10/10 one game, and 6/10 the next. The media will want Ross in the team but I think he will play Rooney and keep Barkley for when he needs someone to come off the bench to get a result. It is nice to have that option, we haven't always had that in the past.
I'd like to add you couldn't ask for a nicer or more dedicated lad. He would come in with bright boots – fluorescent orange one day, turquoise and yellow the next – which had the lads talking. But he would come in early, get changed and straight on to the training ground playing with the ball. Then he'd stop and do free-kicks. He gave 100 per cent every session.
When England kick off I'll spare a thought for another player I had who's a real gem, Kyle Walker, who would have been out there but for injury. I think they will miss his pace.
It can be a great summer, even the agents are staying quiet
I've enjoyed having my summer off, there's not been one agent ring me. Actually, there was one who sent me a text asking "What kind of players are you looking for?" He's obviously got his finger on the pulse.
I'm back at my media work now. As well as this column I'm doing Alan Brazil's breakfast show Mondays and Fridays. TalkSPORT could not resist sending Brazil to Brazil, but with the time difference it does mean an early start for Alan. The programme begins at 6am UK time and it is hard enough getting up that early in Cornwall. In Rio it starts at 2am. Which, come to think of it, is ideal for Alan as he's normally getting in then and is quite lively.
I'm tipping Argentina. As well as Lionel Messi and Sergio Aguero they have a coach who learnt playing for Sheffield United, Alex Sabella. Who could stop that  combination?
Reuse content