"70,000: Where are you?" read the banner raised by Oldham Athletic fans at the Chadderton Road End, and if a fraction of that number who signed their name in protest at the notion of signing Ched Evans turned up in support then this would be a far less impoverished place indeed.
The half-built new main stand looked very exposed as a fierce Pennine wind whipped around the weather-beaten stadium and intermittent hailstorms threatened to give way to snow. The circus had moved on out of town and Oldham were left to do something they are very familiar with: survive.
It took half an hour or so for a small, intellectually challenged minority to beginning chanting "one Ched Evans" and "sign him on". A fan in his sixties stood up to urge stewards to shut them up but, since singing the name of a convicted rapist is not a criminal offence and the offenders liked causing offence, the man took up his possessions and walked out of the ground.
"We did what we could," the steward said. The incident revealed the deep unease which the League One club's six weeks of amateurish flirtation with Evans have left in their wake. Heading off to watch the side play Doncaster Rovers yesterday was no ordinary experience.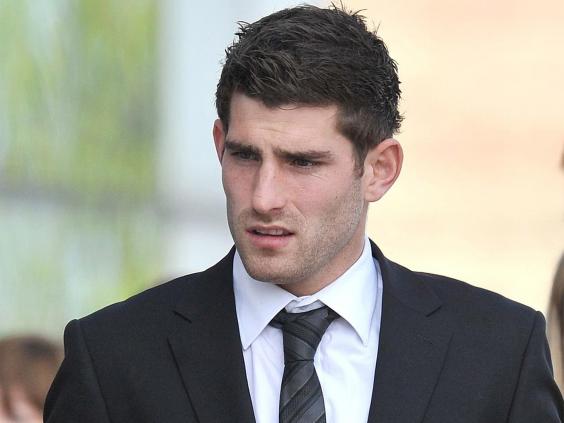 One supporter, Paul, told his daughter not to put on her club top "because you don't know what abuse you will get" and said he would have walked away from the club if they had signed Evans. But some felt the weight of being an Oldham fan even before leaving their front doors.
Sarah, a 45-year-old, found herself being lumped in, on Facebook, with the 2,000 people who signed a petition in support of signing Evans. "By the end of the week I was ready to have a go back about that," she said. "The insinuation is that not to oppose buying him is the same as supporting it. I object to that."
She was by no means alone among women in the fan-base to feel neutrality about the plan to sign Evans, rather than be set against it. "I think that's because I read about the case," she said, sheltering in the lee of the tea hut. "You get to know the details when it's in the public eye. It's the club I care about and it's the club I blame for this business. They are a small club. They don't have what it takes to deal with a controversy like that. They should never have put themselves in that position. Or us."
Chris, 45, whom she stood with, said that the barometer of Facebook suggested that views of supporters were far more mixed than the broader opprobrium over Evans had suggested. "I'd say 50 per cent were for it, 50 per cent against, and among women it was 50-50 too."
Norma, 74, did not demur. She had her own concerns about the court case. "Where are all those protestors today?" she said, echoing the banner's sentiment.
Their quiet thoughtfulness was a contrast to the sound and fury of the week just past and a straw poll of 20 fans by your correspondent suggest that 70 per cent fans would actually have taken Evans. The men were not the only ones who had allowed themselves to contemplate his goals. "Lee Hughes scored when he signed," Sarah said of the player who was controversially brought in eight years ago after causing death by dangerous driving.
The advertising hoardings inside and outside the stadium revealed the names of financial backers whose future unease with an Evans storm would have been understandable. A company called Sports Identity, another ethically enlightened outfit called Greencare, plus Oldham's "well-being partner" Intersystem. George Hill Timber was probably not accustomed to controversy either, you fancied.
The club's young manager, Lee Johnson, is in that category too, and for 75 minutes against Doncaster here his players seemed to have proved that Oldham did not need to hire a convicted rapist.
The game brought them up against a team who were their equals on points – managed by Paul Dickov, whom Oldham sacked to make way for Johnson last year – and they looked comfortable. The goals which had dried up in four successive defeats came: first from Jabo Ibehre – strong and impressive as he span and shot a little more than 20 minutes in – and then George Elokobi, who headed home a corner eight minutes after half-time.
The night had set in when the reminder of Oldham's fragility came. Defender Joe Mills was sent off. A scrambled Doncaster goal by substitute Nathan Tyson quickly followed and at the death Doncaster's James Coppinger cut in from the right to make it 2-2.
A discussion of the week's challenge had to be dragged out of Johnson last night. "It is a very unique potential signing. It divided opinion [and] individual families," he said. "I have to be careful what I say."
His real challenge – the reason why Oldham were tempted to sign Evans in the first place – is keeping his club's head above water. It will go on, quietly and inexorably.