It was supposed to be a party, instead it was a wake. Chelsea Ladies had just completed the best season in their history but there was no champagne flowing as the players and staff sat in Rio Ferdinand's Rosso restaurant in  Manchester last October.
On the final day of the season the FA Women's Super League title had slipped from their grasp, and it hurt.
A football-related venue must have seemed a good idea when it was booked, with Chelsea needing a point from their final game to win the fifth WSL title, and their first. But the leaders froze. A 2-1 defeat at Manchester City allowed Liverpool to leapfrog them by a goal difference of two and retain the crown.
Sitting with her staff, away from the players, Chelsea's manager, Emma Hayes, replayed the match in her mind over and over again. As the main courses were cleared away she decided it was time to start looking ahead. She turned to assistant Paul Green, reached for a napkin, and the pair started drawing up a list of players who could ensure next time champagne would be on the menu.
"I hope the heartache of that day, the disappointment of not crossing the line, never leaves me so it spurs me and everyone on, but you have to look forward," said Hayes, as she prepared for a new WSL season that starts tonight with Liverpool hosting newly promoted Sunderland.
"The off-season was painful. It will live with me like any disappointment in my career, but more with those here who have not had that before. You almost feel they had to have it to understand what they lost.
"It is a profession of setbacks, you don't win trophies every year. But look at the progression we have made in 12 months. Two years ago we were an amateur department. Finishing second and getting in the Champions League has secured us a full-time budget, so there were major victories. Would a trophy have been nice? Of course it would, but I have a much more motivated department. I can see it in their habits, in their training."
Hayes took over at Chelsea in June 2012, having worked successfully in America and on Arsenal Ladies' staff  during their all-conquering era. Her first full season ended in a terrible run of defeats as she blooded young players. The club, which had decided to make a serious investment in their women's team, stood by her. Last season was the reward.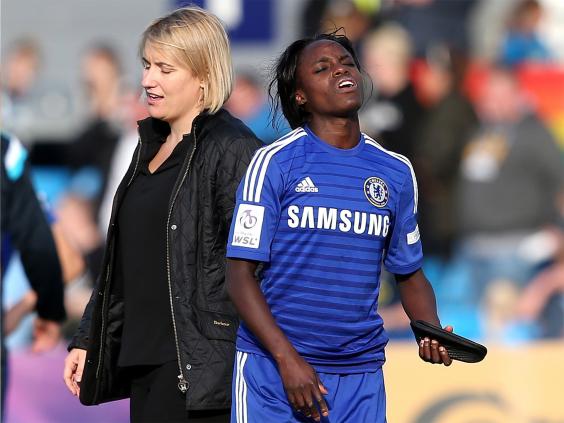 Going full-time means Hayes has stepped back from her family's foreign exchange business – "my sisters run it, but I still go in once a week". It also results in higher expectations, though, sounding for once like her male equivalent a couple of football pitches away at the Cobham training base all Chelsea teams use, she pushes that on to Manchester City.
"A lot will be expected of them and it should be for the investment they have made, but we'll be competitive. We have England's centre-forward [Eniola Aluko], South Korea's No 10 [Ji So-yun, last season's WSL players' player of the year], Sweden's No 1 [new signing Hedvig Lindahl]. The spine of the team has improved. We're tougher."
As well as Lindahl, that impromptu recruitment session in Rosso produced Liverpool's England winger Gemma Davison, Arsenal defender Niamh Fahey, and two youngsters in Doncaster's Millie Bright and Swedish striker Marija Banusic.
Several squad members left, too. One of the features of WSL is the high turnover of players as the league rapidly matures. Six of the eight WSL clubs are now full-time.
Among them is Notts County, who are Chelsea's first league opponents on Sunday at Meadow Lane. Also on the horizon is a Women's FA Cup quarter-final tie away to Arsenal, a fixture given added spice by the Football Association's decision to stage the final, for the first time, at Wembley.
"It is what everyone in women's football has dreamt about," said Hayes. "It is really important. Everyone in the dressing room feels that way. What an occasion it will be. The timing [1 August] could not be better, especially if we do well in the World Cup."
The World Cup, in Canada in June and July, is another reason this could be a landmark season for the women's game. England matches will be on BBC and a good showing might provide the boost in attendances the club game badly needs.
Chelsea could have as many as five players in the squad and Hayes said: "The girls are confident and should be. With the level of investment we put into the game reaching the quarter-final, semi-final, should be the basic minimum. I'm sure [manager] Mark [Sampson] feels the same. But in terms of winning you have got to beat Germany and the US."
The WSL will break for nearly nine weeks for the tournament, but even in non-tournament years it is only 14 games apiece. Too short for Hayes. "We should play until November, playing each other three times. It is not enough games to develop players. It would also be a truer reflection of who is the best team."
Hayes is the only female manager in WSL (Reading's Kelly Chambers is the lone female of 10 managers in WSL2). She is proud to be a standard-bearer, but does not think about it on a day-to-day basis. "I just go to work,"  she said.
Certainly, watching her interact with her players and coaches there is no evident difference to watching a male coach at work. She is no soft touch – at one point she said, "the great thing about [the players] being full-time is they have something to lose." The women's game at this level is no longer a hobby.
Hayes added: "I want this team to be tough to beat. We shed too many goals last year. If you want to win championships you have to have the best defensive record. That has been a big part of our objective pre-season."
That is now over, the campaign is upon us, and Chelsea believe they are ready. "I am excited," said Hayes. "I like the team. We're tougher, much tougher."
FA women's super league: team-by-team guide
Arsenal (last season, fourth)
Perennial champions overtaken as other men's clubs began to invest but still won FA Cup. Have their fourth new manager in six seasons.
Home ground Meadow Park, Borehamwood
Manager Pedro Martinez Losa
Key signings Lianne Sanderson (Boston, US), Natalia Sanchon (Bristol), Vicky Losada (Barcelona)
England players* Sanderson, Alex Scott, Siobhan Chamberlain, Casey Stoney, Jordan Nobbs
Birmingham City (third)
Fine campaign last year, at home and abroad, despite turmoil at men's club. May be hard to repeat despite good core group.
Home ground Damson Park, Solihull
Manager David Parker
Key signings Freda Ayisi (Arsenal), Alex Windall (Bristol)
England players Karen Carney, Jade Moore, Jo Potter
Bristol Academy (seventh)
Only WSL1 team not affiliated to a men's club and slipping behind financially. Lost six players in winter. Also only club with own ground.
Home ground Stoke Gifford Stadium, Filton
Manager Dave Edmondson
Key signings Christie Murray (Arsenal), Sharla Passiarello (S Florida), Nadia Lawrence (IBV, Iceland)
England players None
Chelsea (second)
Best campaign marred by losing title on last day, having been leaders. Since gone full-time and revamped squad.
Home ground Wheatsheaf Park, Staines
Manager Emma Hayes
Key signings Gemma Davison (Liverpool), Niamh Fahey (Arsenal)
England players Eniola Aluko, Claire Rafferty, Katie Chapman
Liverpool (first)
Back-to-back champions. Could make it a treble but have lost key players in Lucy Bronze and Gemma Davison. Asisat Oshoala is first African in WSL.
Home ground Halton  Stadium, Widnes
Manager Matt Beard
Key signings Oshoala (River Angels, Nigeria), Satara Murray (UNC, US)
England players Fara Williams, Natasha Dowie, Gemma Bonner
Manchester City (fifth)
Big expectations after gelling towards end of last season and winning the Continental Cup. Will play in City's new 7,000-seat academy stadium.
Home ground Academy Stadium, Manchester
Manager Nick Cushing
Key signings Lucy Bronze (Liverpool), Natasha Harding (Bristol), Demi Stokes  (S Florida)
England players Bronze, Karen Bardsley, Steph Houghton, Jill Scott, Stokes, Toni Duggan
Notts County (sixth)
Last year was a settling-in season after controversial move from Lincoln. Will be stronger this time.
Home ground Meadow Lane, Nottingham
Manager Rick Passmoor
Key signings Laura Bassett, Rachel Williams, (both Chelsea), Alex Greenwood (Everton)
England players Bassett, Carly Telford, Greenwood, Jess Clarke, Sophie Bradley, Ellen White, Amy Turner
Sunderland (first, WSL2)
Produced six current England players but none at club now. New manager in Carlton Fairweather. Likely to scrap with Bristol to stay up.
Home ground Hetton  Centre, Hetton-Le-Hole
Manager Carlton Fairweather
Key signings Victoria Williams (Doncaster), Suzanne Mulvey (Rangers)
England players None
*England players = played in last 12 months
Reuse content