The comeback game after my original retirement was a Manchester derby, an FA Cup third-round tie at the Etihad in January 2012, and I can still remember the words that Mike Phelan muttered to me as I walked towards the touchline to come on for Nani after an hour.
"Well, Paul," Mike said. "This is what you wanted." Mike had a wicked sense of humour, and he could detect a certain concern on my part. I was 37 years old. I had last played at the top-level eight months previously. This was City against United, in an era when City were actually competitive. What was I doing?
I had been training with Warren Joyce's Under-21s squad for three weeks before then but my return to the side was kept a secret. The day before the game, Sir Alex Ferguson told me that I was in the squad and would be on the bench – but not to tell anyone. Even to the extent that when I joined the squad at the hotel the night before, I was told by him to sit on the staff table rather than with the players.
When I came on, we were 3-1 up at the time against 10 men, although I gave the ball away for City's second goal. We won 3-2. The Manchester derby was always a huge occasion for me, as a Manchester boy, even when City were an afterthought for some United fans. One of the very best moments of my career was scoring in the last minute against City at the Etihad to win the game in April 2010, as we chased Chelsea in the title race.
I was temporarily retired when United lost 6-1 at home to City in 2011. I was at Old Trafford that day and it made me feel ill watching that defeat. But this is football, life goes on. Even so, beating City – as United's new group of players should know by now ahead of Sunday's game – is a vital part of life at the club. City are the defending champions and, although they had a bad result last weekend, they are a very tough test for any side, especially at home. Players like David Silva and Sergio Aguero are very important, but for me Pablo Zabaleta is a crucial part of the way City play. He has been the best full-back in the Premier League for the past two seasons.
As far as United are concerned, on Sunday a lot will rest on how Luke Shaw handles Zabaleta down that left side. There is no full-back better at bombing on than Zabaleta. If United are to be successful, Shaw needs to stop him – and push back the other way.
I have always rated Zabaleta highly. From a more personal point of view, it was telling that he never made a meal of the challenge that got me sent off in the 2011 FA Cup semi-final at Wembley (a challenge that looked a lot worse on television than it really was). He is one of those tough Argentinian players. In the last derby I played in, which City won 1-0 in April 2012, Zabaleta was excellent. He kept getting in behind us and causing problems. As a team it was a poor United performance that night.
It will be interesting to see who Manuel Pellegrini plays down the right side of midfield. If it is Zabaleta and James Milner, that will put a lot of pressure on Angel Di Maria to support Shaw when United don't have the ball. If United are not alive to the threat, Milner – or whoever plays on the left side – could push on to Shaw, while Zabaleta makes runs off Di Maria.
Manchester City vs Manchester United combined XI
Manchester City vs Manchester United combined XI
1/11 Goalkeeper - David De Gea

Manchester United might have conceded more goals than City (13 to 10) but De Gea hasn't been to blame. The Spaniard has been making crucial saves this season, such as when Eden Hazard got in one-on-one last weekend and his superhero-esque save late on against Everton. It's led to talk of a move to Real Madrid for the former Atletico stopper and sees him get in ahead of Joe Hart.

GETTY IMAGES

2/11 Left-back - Gael Clichy

Luke Shaw is starting to show glimpses of why United paid so much money for a 19-year-old, but not enough to be selected ahead of the much more experienced Clichy. The Frenchman is doing enough to keep out Aleksandar Kolarov more often than not and looks assured at the back and is always a threat going forward.

GETTY IMAGES

3/11 Centre-back - Vincent Kompany

Whilst Louis van Gaal struggles to work out what his best options at centre-back are, Kompany has been looking his usual assured self. The captain has been gobbling up strikers and continues to put in exquisitely timed tackles with incredible regularity.

4/11 Centre-back - Martin Demichelis

The Argentinian was something of a laughing stock last season but has now settled and continues to look like Kompany's best partner at the back despite the big-money arrival of Eliaquim Mangala. Demichelis has made nine appearances to the summer signing's six so far this season. Marcos Rojo would be the stand-out challenger from United for the position, but he doesn't look comfortable at centre-back and recent performances suggest he's at risk of ending up a bigger laughing stock than Demichelis was.

GETTY IMAGES

5/11 Right-back - Pablo Zabaleta

Rafael has been the regular starter at United when fit but the Brazilian continues to ask more questions than he answers with sporadic performances that at moments make him look like the next Gary Neville, but in others more like Phil at Euro 2000. That's why Zabaleta has little trouble being selected as our right-back.

Getty

6/11 Holding midfielder - Daley Blind

Manchester City provided three options for this position but none of them warrant a place ahead of Blind. Yaya Toure has looked nowhere near his best whilst Pellegrini can't seem to work out if Fernando or Fernandinho is a better option alongside him. Meanwhile Blind has made a great start since joining from Ajax. Sitting deep, the Dutchman's sharp passing provides the base for attacks whilst his even sharper tackling stops opponents in their tracks. His late equaliser in the 2-2 draw with West Brom proved he can operate further forward as well if required.

Getty Images

7/11 Midfielder - David Silva

The little Spaniard is a class act that would probably get in any side. An eye for a pass and ability to deliver it ensure he is always among City's chief threats from the centre of the park. His goal in the recent defeat to West Ham was pure class. Silva manages to keep his fellow Spaniard Juan Mata out of the side. The former Chelsea player has been decent this season but not done enough to ensure he should be a regular in the United side when everyone is fit.

8/11 Midfielder - James Milner

He's not the most fashionable player, but as The Independent's Paul Scholes wrote earlier this season, every team should have a Milner. Scholes said: 'I would say he is an excellent attacking player in his own right. Milner's team-mates will be very glad to have him around, even if he does not always get the acclaim elsewhere.' The England international keeps Ander Herrera out, but only just because the Spaniard has impressed since arriving at Old Trafford.

GETTY IMAGES

9/11 Forward - Angel Di Maria

Manchester United paid a British record transfer fee to bring Di Maria in from Real Madrid and thus far he's looked worth every penny. The Argentina international has brought back that width and pace so much associated with United and despite concerns over his goalscoring record has netted three times in his seven games for United so far. Playing on the left-hand side, he keeps out Stevan Jovetic, despite the Montenegrin looking better than he ever has done since signing for City.

10/11 Forward - Sergio Aguero

Aguero or Robin van Persie? It'd be a nice conundrum for a manager to enjoy but based on the season so far, it goes to the Manchester City striker. The Argentinian has 11 goals from 12 games - despite only looking half-fit for most of it. Aguero is quite simply the best striker in the Premier League. In contrast, Van Persie has struggled this term despite the presence of his international mentor Van Gaal. His shirtless celebration after scoring a late equaliser against Chelsea showed his relief at getting back among the goals, and highlighted how frustrating a season it has been up to this point.

Getty Images

11/11 Forward - Wayne Rooney

Edin Dzeko has impressed in a City shirt this term but not as much as Rooney. And as well as keeping out the Bosnian, the Manchester United captain also keeps team-mate Radamel Falcao away from our combined XI. The arrival of the Colombian was supposed to signal the return of the good times at Old Trafford, but between being jet-lagged and not match-fit, Falcao has failed to make an impact with just one goal so far. In contrast, prior to his suspension Rooney had looked in strong form with six goals in 10 appearances for club and country. However, the temperament that got him a red card means the armband goes to the City captain Kompany in this XI.
Silva is a brilliant creative player. Aguero can score a goal in a yard of space. Above all, Zabaleta epitomises City when they are at their best. He is relentless getting forward and a great defender too. For Shaw it will be one of the major tests of his first season at United, and one that he will wish to come through strongly.
My view of City overall has not changed. After a week which has brought defeats to West Ham and Newcastle there is something about them – you might even call it a touch of arrogance – that they do not have to take their opposition into consideration.
I realise that it is a point I have made before, but I don't think the central midfield is right, and that they are getting the best out of Yaya Touré. He still looks laboured to me, you might even say he looks a bit bored. He has the ability to step it up when he wants to, and that could be the case on Sunday.
My view is that the better midfield partner for him is Fernandinho rather than Fernando. Fernandinho just seems to have more to his game. Equally, in defence I think that United will see the position next to Vincent Kompany as a weakness.
As for United, my key change would be Wayne Rooney back in for Juan Mata. I cannot see Louis van Gaal doing any different. The Chelsea game just seemed to pass Mata by on Sunday and that is what will count against him. He seemed to be overpowered. Rooney has a great record against City and he just has to play.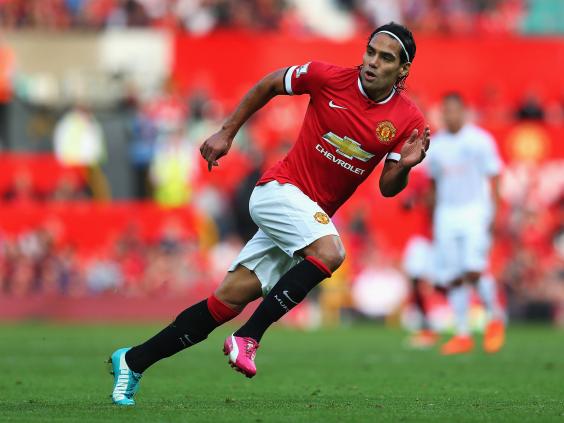 Lastly, from United's point of view, they will be concerned with Radamel Falcao. He has not been able to get that run of games together to get match-fit and start scoring goals consistently. He scored against Everton, was taken off and did not start against West Bromwich Albion. Then he was injured for the Chelsea game. It has been a stop-start beginning to his career at United. He needs that run in the team to build his confidence, his performance levels and his fitness.
These are the kind of games that get remembered for a long time by supporters, on either side of the city's divide. For players like Shaw, Falcao and Di Maria, it is their first taste of playing against their local rivals. From my experience, it is not a game you want to lose.
Some Liverpool players are getting away with it  while Balotelli  gets all the stick
Another week of Mario Balotelli stories and I cannot help thinking he is an easy target. There are some players at Liverpool getting away with murder while Balotelli cops a lot of the stick.
His name, his reputation, even his body language on the pitch, they all add up to the kind of player who attracts criticism. It does not detract from the reality that Liverpool lost Luis Suarez, their best player and key goalscorer last season, and their next best striker, Daniel Sturridge, has been injured for so long. It is a basic truth that good forwards make the whole team look better.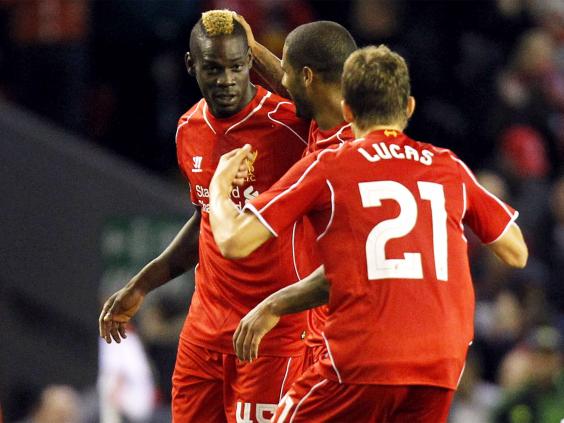 Sturridge will give Liverpool that when he returns. He is a top-quality player who can take defenders on and score. I also think he will make Balotelli look a better player. I don't think Balotelli scores highly when it comes to the basics you look for in a striker – movement, finishing, work rate – but his form, the goal against Swansea aside, is just part of the problem at Liverpool.
Balotelli has taken the spotlight off some of the other summer signings. Dejan Lovren has struggled. Lazar Markovic has not scored and he cost £20m. Alberto Moreno is quick but is yet to convince as a defender. Adam Lallana is the only one who looks like he is comfortable with the shift, and at £25m he was overpriced.
I recognise Brendan Rodgers needed a bigger squad, but they should have gone for fewer players and greater quality. Balotelli cannot take the blame for all of that.
At last! Some credit for Sam Allardyce
Sam Allardyce seems to be getting the credit he deserves at last, with another excellent result for West Ham last weekend. I have played against Allardyce's teams many times and knocking the ball long has always been one of their options, but by no means the only one. When his Bolton team was at their best, the games against them were some of the hardest of the season.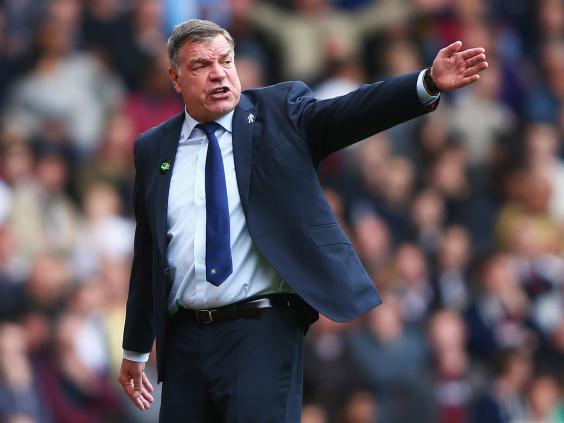 The sides that included Jay-Jay Okocha and Youri Djorkaeff could play football as well. What Allardyce has always done is make the best of what he has at his disposal. As a result he keeps his clubs in the Premier League.
He has always been receptive to changes too. I have no doubt if he was at one of the big clubs, he would be just as comfortable coaching them to play good football.
My player of the week: Luka Modric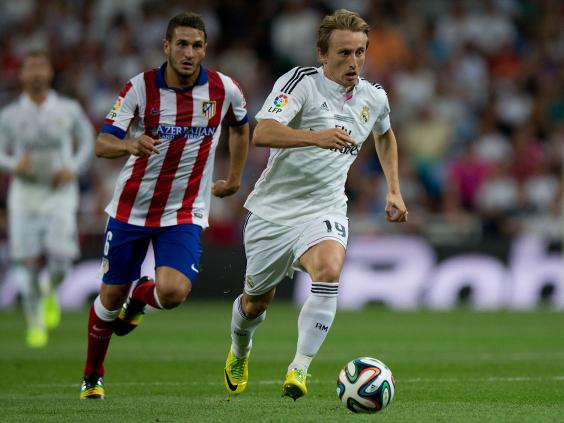 My player of the weekend (and the previous week) was Luka Modric. His performances for Real Madrid against Liverpool and Barcelona were the perfect example of how to control the middle of the park. Not easy teams to do it against, but he was brilliant in both games.
Reuse content