English football fans are to follow the lead of their German counterparts and show their support for the thousands caught up in the refugee crisis.
A new Twitter account, @RefugeesEFL, has called a 'day of solidarity' on September 12, to be observed by supporters at all grounds nationwide.
The event, which now has its own Facebook page, has been timed to precede Theresa May's meeting with European Union leaders on the 14th September and hopes to influence government policy on the crisis.
Refugees Welcome: Supporters back The Independent's campaign
Refugees Welcome: Supporters back The Independent's campaign
1/15 Sean O'Grady

Twitter

2/15 Jamie Merrill

Twitter

3/15 Mollie Goodfellow and Marie Le Conte

Twitter

4/15 Naomi Westland

Twitter

5/15 DJ Kooper

Twitter

6/15 Zuhura Plummer

Twitter

7/15 Christine Gingter

Twitter

8/15 Andy Kavanagh

Twitter

9/15 Martijn van Calcar

Twitter

10/15 Dan O

Twitter

11/15 Kerry F

Twitter

12/15 Eulette

Twitter

13/15 Sarah

Twitter

14/15 Barefoot Mower

Twitter

15/15 Swim Deep

Twitter
Dena Nakeeb, one of the campaign's founders, started the campaign after seeing the images of Bundesliga supporters last weekend.
"The momentum we've built shows the power of social media. I've had messages from Hull fans, AFC Wimbledon supporters, Norwich City fans are tweeting about it," she said.
"My idea is to make it even broader by getting the footballers and all 92 clubs involved. Let's go all out.
"If you have seven people holding a banner in a massive stadium, the whole crowd sees that banner, and you're going to get your message across to thousands.
"We to get across that these people don't want to be migrants. They are fleeing from war-torn areas and they need our support."
Jay Collett, a Swindon Town fan who runs the club's crowd displays and banners, was among the first to offer his support.
"I saw the campaign and thought it was unbelievable, so I wanted to do what little I could and get involved," he said.
"Originally, the plan was to raise £40 for material and paint to make the banner, but I've actually raised over £150, meaning I can do the banner just as cheap and donate the rest to a charity."
Other fan bodies are preparing to discuss their involvement and plans of action during the current international break.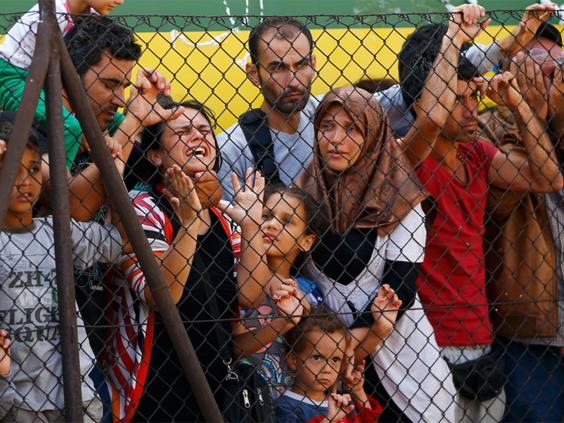 Away from the 'day of action', supporters of Dulwich Hamlet, who currently play in the seventh-tier of English football, will be holding collection on the turnstiles before their home fixture against Billericay Town this weekend.
Duncan Hart, chair of the club's supporters trust, explained the motivation behind the club's decision to help.
"We're a team in South London. Our longest away trip this season is in Leiston and Calais is only a few miles further away," he said.
"This is not a political issue, it's a humanitarian one, and it's on our doorstep.
"It's not hard to set up a collection outside the ground and ask people to bring unwanted items, to dig an old coat out the back of the cupboard, and help these people who are in desperate need."
Dulwich Hamlet, which is renowned for its socially-conscious fanbase, will be collecting shoes, food, toiletries and other items that are in desperate need on the continent.
According to the club trust's website, trust board members Jack Spearman and Dave Rogers will personally travel to the French port to deliver the supplies where they are needed most.
You can donate to the trust's campaign via their GoFundMe page.
Reuse content