Towards the end of a Q&A session with the teenage boys at the Francis Barber pupil referral unit in Tooting this week, Rio Ferdinand is hit with a perceptive question that strikes a chord. One of the young men asks how a south London boy like him prevents people making snap judgements about who he is and what he represents.
"That question took me straight back to when I was a kid," Ferdinand says later as we sit in the staff room to reflect on his 18 years in professional football. "I would go to Middlesbrough or Norwich, even West Ham – I had never been to east London before. When you go there people say 'Where are you from?' And you mention Peckham – and people say, 'Woah, flipping heck'. People take exception straight away."
The answer he gave the boys was clear. Ferdinand said that it was up to them to change the way they presented themselves and that it was not a betrayal of their roots to do so. "I would have arguments with my mates," he says. "They would say: 'I heard so-and-so speaking the other day and he talked like an idiot, like he is posh'. I said: 'But if he wants to get a job he is going to have to adapt'."
Needless to say, it is a rapt audience that Ferdinand addresses, having participated with the boys in an hour of touch rugby exercises, run by the Dallaglio Foundation. The foundation is backed by BT Sport's charitable initiative, The Supporters Club, which itself is launching a Christmas volunteering campaign  #myextratime. Ferdinand is one of the elder statesmen of the game, with six Premier League titles, a Champions League, 81 England caps and a starring role in the story of the modern English game.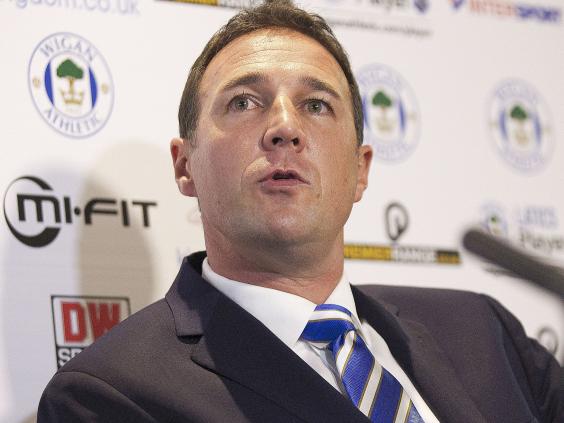 It is never dull where Ferdinand is concerned. He has a new autobiography out, #2sides, a good read which has, among other things, the most insightful analysis yet of David Moyes' nine months at Manchester United. There are his 5.9 million Twitter followers and there is always the controversy. This weekend, Ferdinand comes back for Queen's Park Rangers from a three-game suspension imposed by the Football Association, the first for a comment posted on Twitter.
We are back at that point again about adapting language for different situations. Ferdinand is clear that he has not said he was right to use the slang "sket" – a derogatory term for a woman – in a reply to a critical tweet, it was just that the response from the FA has been so draconian.
"They have many, many bigger issues going on that needed a lot more attention than my ban. I have got used to being made an example over the years when it comes to the FA. I didn't speak to one person who said they agreed with the sanctions – and I never said I was right. I just think the severity of the ban and everything else to do with it was crazy. There was no realism with what they did. Someone has got to be made an example and the FA thinks it is good to make me that guy. I am used to it now."
He hopes to be in the side against Leicester City, with QPR bottom of the league and in desperate need of a win. As a United player he says he barely looked at the league table before Christmas but now finds himself immersed in the forthcoming fixtures.
He is right, however: there are bigger issues afoot. Not least the question of Dave Whelan's FA charge for racially aggravated comments and whether the Wigan chairman's new appointment, Malky Mackay, will be charged over his text messages while at Cardiff City.
This would be the point when a lot of professional footballers would ask to be excused the difficult question. Ferdinand, however, feels a responsibility to his profession and to the younger generation of players, as well as his own beliefs, to speak out.
On Whelan he says: "I just think it is a generation problem. He is from a generation where there is a certain way of talking about things and saying things – and it just doesn't sit well in today's society and the way that society has developed and moved on. That comes down to maybe the environment he is in and the generation he is from. And the education, about moving on and moving on with the times.
"It's not acceptable and that's the biggest problem. He is from a generation when things were said and things were accepted in a different way and we have moved on from those times. He and others have to understand there is a new way of dealing with things and talking about things. It is a touchy and difficult subject to deal with.
"My biggest problem with it was that there was no one from the FA, no one at Wigan who would have gone to him and said 'Woah'. And then he did an interview afterwards trying to back himself up and dug a bigger hole. If someone had gone to him and said, 'Listen, it's a bit different now, we speak in a different way, address things differently'. [If they had] educated him a little bit he might not have been in this position he is now."
On the question of Mackay, and the racially charged, homophobic and sexist text messages he is alleged to have exchanged with his former head of football recruitment, Iain Moody, Ferdinand has this to say: "If I am the benchmark [his three-game ban for the Twitter comment] I don't know what he is going to get. He better beware. If I am the benchmark then Malky Mackay better beware of what is coming down the lane – if you are going off what I have been charged with. I will leave it at that. I wouldn't want to add any more petrol to the fire."
Ferdinand never set out to be a spokesman on race but the issue has sought him out, especially in recent years. The Whelan case has raised the obvious questions about racism in English football. Has the game got to grips with it? "Things are obviously better on the terraces," Ferdinand says, "because there is not as much that went on with people like Viv Anderson, John Barnes and the players before. It is not as crazy as it was then.
"But these situations you just mentioned make me believe that what football has done is say to people who are like this [racist]: 'Leave it at the gates. Come in, act accordingly, when you leave continue to be the way you are'. And that is the feeling I got after the Luis Suarez and John Terry episodes. I think it is a bigger issue than football, it is education, teaching kids in the homes and educating people to be able to act in the right way. I don't think it is a quick fix. It will take time but it needs the right people backing it."
Today it is back to what he loves the most: the football itself. His last few years have been a process of adaptation from the remarkable athlete who, in his prime, relished opposition midfielders playing hopeful balls into the channels for the chance it gave him to outsprint the forward.
"No one is built to last forever, I understand that," he says. "It is part of the game and you have to play a different way. My last two years at United, I had to really adjust the way I played and play off different senses. I used to want to race forwards... my position will be different now. I will be trying to tell the guy on the ball not to play it into the channel. There are different ways of adjusting."
He sees himself as a manager one day, although after 14 years out of London he does not want to move now he is back near the city with his family settled. Like so many of the stars of his generation he is looking for some time out of the "pressure cooker" of playing when he does at last retire. The "perfect job", he points out, is Gary Neville's role with England that allows him to continue as a television pundit without the pressure of being a manager.
"A lot of players look at it like, 'I have just come out of the pressure cooker, do I really want to go back in there?' What's the life expectancy of a manager [in a job]? Twelve or 13 months? And you get grilled all the way through. You lose your hair, you go grey. Do you really want that? That is the question a lot of players ask themselves. The coaching badges take a lifetime to get through. Some players can't be arsed with that so there are a lot of things that go against them wanting to be coaches these days.
"I think it [Neville's role with England] is a great job to have. You see all the talent coming through. You are helping coach them – there is no pressure on him. He's not the manager. He hasn't got to go to the press to speak about it. He's just got to go out there and put the cones out, so to speak! The perfect job. Especially coming out of playing and into coaching – a great place to start."
On the issue of black coaches, and the question of a Rooney Rule, he points to all the players of his generation who are – as he himself is now – gaining their coaching badges. "The more people who do that, the more opportunities they are going to have. If we see that there are 50-100 black [former] players who have their coaching badges and none are getting jobs then we can say, 'There could be a problem'.
"But if there are not enough black people who have their coaching badges the numbers aren't going to be reflected in jobs. We are at the point where there are not enough people qualified yet to be warranting the Rooney Rule."
It has been a whistle-stop tour through the game's major issues and you can see why, at 36, Ferdinand has already lived enough life to fill two autobiographies. "I am comfortable in my skin," he says. "I know myself and I feel free to speak on any issues. I will do it in mind of the younger players, hoping they don't feel threatened to speak out.
"When I was a younger player I wished a couple of older players had spoken more – to give me that comfort that I could do so, knowing I had someone to lean on. If I can help in that way, then great. As the years have gone by I have felt more comfortable doing that."
Rio Ferdinand is among the BT Sport ambassadors backing a campaign by BT Sport's charitable initiative 'The Supporters Club', inviting people to pledge their time this Christmas and beyond to charities and sports clubs. Rio spent his afternoon volunteering at Francis Barber pupil referral unit in Tooting. Try something new by pledging your extra time to sports volunteering opportunities in your local area via www.btsport.com/myextratime
Reuse content