Samuel Eto'o has penned a touching goodbye to letter to everyone at Sampdoria after leaving the club after seven months, a touching letter that looks remarkably similar to the one he wrote for everyone at Everton when he left Goodison Park last year.
The 34-year-old striker will now join up with Turkish side Antalyaspor.
It has been spotted by many on social media that Eto'o has somewhat of a leaving letter template, and it has been a copy and paste job.
He writes: "Dear *nickname of team*"
"I've been blessed to spend these past few months with you."
"To my pleasure, I have discovered here a crowd of warm, passionate, affectionate and supportive fans."
"It's time for me to leave but wherever I go *insert sentence about good memories*."
Then a thank you to the staff and manager.
See the letters here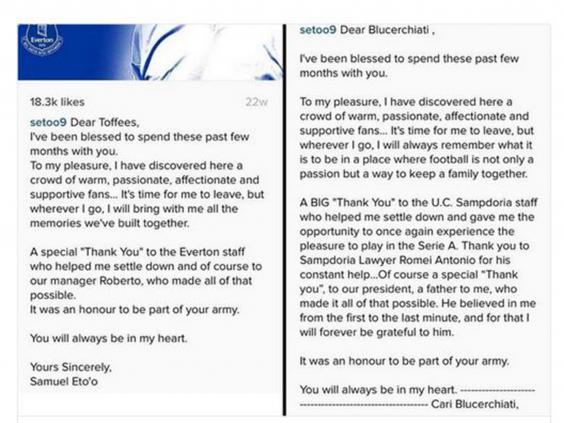 Including loan spells, Antalayspor are the 11th club of the veteran striker's career.