It is a victory for those whose work does not always attract the profile and the mass following that football journalism can often bring.
People like Andrew Jennings, whose mesmerising door-stepping of Sepp Blatter for the Panorama documentary The Beautiful Bung lives in the mind's eye even now, five years on.
The story Jennings related last Sunday of how he had been ushered into an office block off London's Berkeley Square to meet three smartly dressed FBI officers and be told they wanted him to help them nail Sepp Blatter and his patsies captured the sweet sense of justification he must have felt. These were the people who brought down Mafia bosses Al Capone and John Gotti.
Unpatriotic, Jennings was called – by British politicians and some newspapers – for calling out Fifa, the organisation whose bare-faced channelling of $10m from South African football development funds into one of its executive's offshore bank accounts – that's theft, to you and me – came into plain view on Tuesday.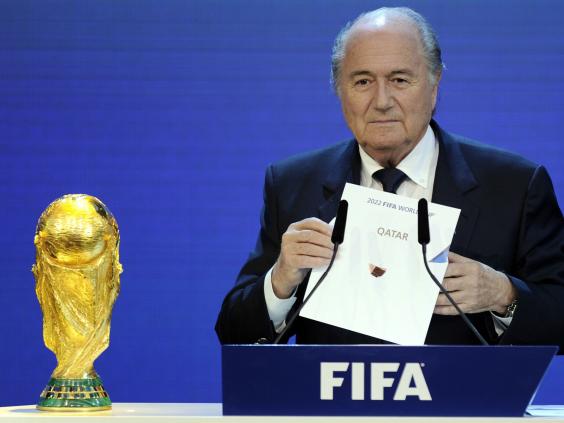 We travelled the length and breadth of South Africa to cover the World Cup five years ago. God knows, we know how they could have used just a fraction of that money in the backwoods of those barren, soulless lands between Rustenburg and Johannesburg. It was the South Africa we came to know best; a place where they clustered around taps for water and kicked Coca-Cola cans around in the dust.
It was those lost souls you thought of when you read the typewritten letter from the South African FA (SAFA) asking Blatter's No 2, Jérôme Valcke – asking him – to hold back $10m of the country's money and route it instead to the creatively named slush fund which enters the lexicon of Fifa criminal deceit: the "diaspora legacy programme".
Sounds vaguely altruistic, doesn't it? How those executives, cushioned in the depths of Fifa's £166m HQ, must have laughed at their powers of imagination when they signed off that money into the hands of Jack Warner, the colleague who was as steeped in this slime as any.
"Bombshell" was how that SAFA letter was described by the Press Association's Martin Ziegler, another of those whose indefatigable journalism has brought us here, when he published it this morning. It is hard to avoid the sense that Blatter felt the explosion too, sheltering as he might have been in the dark, subterranean boardroom at Fifa House in Zurich. "Places where people make decisions should only contain indirect light… the light should come from the people themselves," Blatter once told a German broadcaster.
"Yours faithfully," ended the SAFA letter, and its emergence after seven years gathering dust seemed to change everything, by putting this scandal closer than is comfortable to the man from whom this culture has flowed.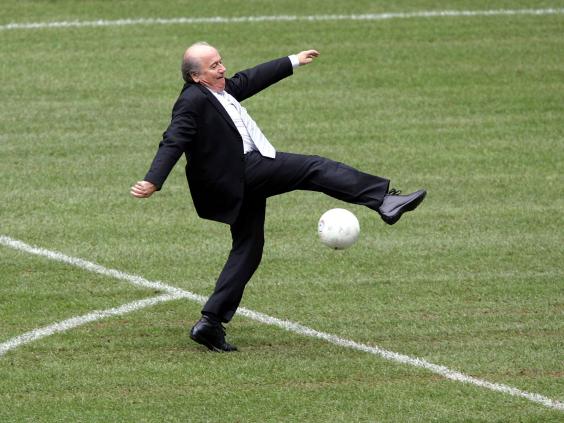 "Tick tock," someone tweeted. The Blatter who blithely told Swiss TV on Friday: "Why would I step down? That would mean I recognise that I did wrong…" was suddenly ordering Walter de Gregorio to call a press conference. De Gregorio was the communications stooge whose stuttering defence of the boss was part of last week's dismal choreography.
Suddenly, there was Blatter, dark suit and new brown suede shoes, unapologetic to the bitter end, but signalling his departure all the same. Why? Tyrants don't leave without good reason. "There must be a smoking gun," was how the FA chairman, Greg Dyke, put it. A David Gill resignation is as peripheral to this type of decision as those troublemakers from the English newspapers.
And that is why, as euphoric as football might feel about what Dyke appropriately described as "the start of something new; something brilliant for world football", this moment should be considered just the start. Only one more staging post in the process of reaching into the slime which, across the course of 25 years, has come to drown football's world governing body. Just the start of the task of exposing the perpetrators.
Contenders to replace Sepp Blatter as Fifa president
Contenders to replace Sepp Blatter as Fifa president
1/6 Michel Platini

Current president of Uefa. Voted for the Qatar World Cup, which makes position somewhat difficult. Asked Blatter to resign before elections.

Getty Images

2/6 Prince Ali Al-Hussein

The Jordanian was the only contender against Blatter when the elections took place. Managed to pick up 73 votes from the Fifa executive committee to Blatter's 133. Has already confirmed he will stand again.

PA

3/6 David Gill

The former Manchester United chief executive refused to take up his place on the Uefa executive committee after Blatter's re-election. 'My professional reputation is critical to me and I simply do not see how there will be change for the good of world football while Mr Blatter remains in post,' he said at the time.

Reuters

4/6 Luis Figo

Former Real Madrid and Barcelona player announced himself as a candidate for the most recent election but pulled out in protest at how it was being run, saying the process was 'anything but an election'.

AFP/Getty Images

5/6 Jerome Champagne

Also announced himself as president contender but failed to gain the minimum five nominations required. The Frenchman is a former Fifa deputy general secretary and has been a fierce critic of Uefa.

GETTY IMAGES

6/6 Michael van Praag

Dutch FA president was also a contender for president before pulling out in order not to split support between himself and Price Ali.

GETTY IMAGES
The risk, where Fifa is concerned, is that Blatter goes, the stables are cleaned and, in the rush to put this in the past, everyone sails off into the sunset. That was a point made by Chris Eaton, ex-Interpol, Australian Federal Police and Fifa head of security throughout the South Africa World Cup, who wisely declared that no-one should get carried away just yet.
"Protection of all records and sources is now of paramount importance," Eaton warned. "Close oversight of the transition." Eyes might glaze over when all we want is this first flush of euphoria but something like a truth and reconciliation commission is needed. An "interim period oversight committee" as Eaton, now director at the International Centre for Sport Security, calls it.
Remember the numbers as we herald a new dawn: the FBI is already investigating more than £97.5m of graft, bribes and money-laundering and there will be more as those they collar squeal. As Jennings described the FBI's 164-page indictment on Sunday: "Many are not yet named, only identified as 'co-conspirators'. Others can't stop talking – and that's why more of Fifa's leaders have cause to worry." If the Swiss investigations into the awarding of the 2018 and 2022 World Cups reveal the same kickbacks, a re-vote is, needless to say, imperative.
The question as football begins to look ahead is how the Blatter culture might be eradicated from deeper recesses of the organisation. It was a measure of the dismal list of possible successors that our old friend David Ginola was somehow touting himself as a new leader on LBC radio, despite the joke candidacy which exposed him as a fool six months back. But not such a fool that he didn't take £250,000 for his trouble.
Cast around the other suspects and you see a moribund landscape. All that commended the Jordanian Prince Ali bin al-Hussein when he challenged for the presidency last Friday was that he was not Blatter. His stumbling, uncharismatic and deeply unimpressive speech suggested that this is not the man to take Fifa to a different place. Neither is Uefa's Michel Platini, who could not even secure the French vote for the reform candidate on Friday and whose obsequious, pansy words about Blatter's forced exit – "a difficult decision, a brave decision" – reinforced the impression that we need incalculably more moral substance than this.
Someone from the fraternity of those who have played the game of football would be welcome. Few have spoken out against Blatter more powerfully than Gary Lineker these past days. An African leader would be welcome; someone to dispel the notion on parts of that continent that what Blatter has presided over is acceptable and to negate the idea that the whole Fifa corruption story is something promoted by the moralistic English press.
There has been much talk about Fifa's Salt Lake City moment this week, but this is the Lance Armstrong moment for football, too – one commensurate with Brian Cookson arriving at the Union Cycliste Internationale and beginning to dismantle so much.
When the euphoria has subsided, football should give pause. A rehabilitation of such proportions – this mighty and wonderful opportunity for the game we love – will take time.
So long, Sepp: Resignation reaction
"Blatter has resigned. Can't quite believe it. Fifa always appeared to be such a fine upstanding organisation."
Gary Lineker
"Blatter wasn't sole responsible, more have to follow. Transparency and voting reform, then we move on and bring back ethics. #Fifa"
Vincent Kompany
"Haven't found a single negative reaction to Sepp Blatter's resignation. Weird. #rejoice"
Stuart Holden
"Got to get Sepp Blatter on MNF next season!"
Jamie Carragher
"What kind of garbage is coming out for #blatter to step down as just elected president of Fifa?????"
Ruud Gullit
"Why now, Sepp?"
Gary Neville
"Good news is Blatter is gone. Bad news is I've heard he's after the Newcastle job!!!"
Alan Shearer
!Nothing to celebrate yet. All those who voted for him need to justify why and show their open books All the  ingredients here for a Hollywood blockbuster or HBO drama. Danny DeVito is made for role of Blatter. But what title? #Fifa!
Graeme Le Saux
"Told you common sense finally prevailed at @Fifacom"
Edgar Davids
"YEEEESSSS!!! Good riddance @SeppBlatter !! The Feds have something. Viva Football Libre!!"
Stan Collymore
"Surely we have to go back in with our bid for 2022!!!"
Ian Wright
"I welcome Sepp Blatter's resignation but it is only the beginning of the process to reform Fifa"
Tracey Crouch, Sports  Minister
"David Gill ... do the honourable thing & please step forward"
Rio Ferdinand
"Finally Blatter resigns –  opportunity for Fifa to rebuild trust in the beautiful game"
Sir Richard Branson
"It feels now Sepp has gone England will win the World Cup... Think he has been the only thing stopping us!!!!!"
Michael Vaughan
"Change is finally coming. Let's find a solution to start a new era of transparency and democracy in Fifa!!!"
Luis Figo
Reuse content