While most of the talk has focused on Manchester United's hapless display in Greece, one Olympiakos player did manage to cause a bit of stir himself, at least on social media.
It was not Alejandro Dominguez, scorer of Olympiakos' first goal. Nor was it Joel Campbell, the on-loan Arsenal striker who doubled their advantage. It was in fact a second half substitute by the name of Paulo Machado.
Who, you ask? If you watched last night's game, you'll remember him as the man with the most fantastic moustache in football.
Likened to Borat and Freddy Mercury, the sight of the central midfielder was perhaps the only thing that may have managed to raise a smile from Manchester United fans.
You can check it out, plus some other brilliant beards and moustaches seen in sport over the years, below...
Murray, Machado and the best facial hair in sport
Murray, Machado and the best facial hair in sport
1/17 Andy Murray

The Scottish tennis player has thankfully ditched what can only be described as a 14-year-old's attempt at a beard

GETTY IMAGES

2/17 Paulo Machado

The Olympiakos player was likened to Borat when TV pictures showed him warming up in his team's victory over Manchester United

GETTY IMAGES

3/17

Mohamed Al Fayed threatened to chop this particular moustache off if his successor as Fulham owner, Shahid Khan, dared take down the statue of Michael Jackson at Craven Cottage. The American millionaire went ahead and took it down anyway

GETTY IMAGES

4/17 Joey Barton

The former Newcastle midfielder sported a classic moustache that made him look a little bit like a contestant on Bullseye

GETTY IMAGES

5/17 Mark Lawrenson

The former Liverpool defender was one of a number of Liverpool legends to sport the moustache, along with Ian Rush and Alan Hansen

GETTY IMAGES

6/17 Theo Walcott

The pencil chin beard found on the face of the young Arsenal winger hints that he's not yet ready for a full one

GETTY IMAGES

7/17 Dibril Cisse

The former France striker is not a natural blonde

GETTY IMAGES

8/17 Australian rugby team

In support of Movember, which involves not shaving to raise awareness of men's health issues, the Australian rugby team grew moustaches

GETTY IMAGES

9/17 Sebastien Chabal

The French rugby star doesn't need an excuse to grow a beard

GETTY IMAGES

10/17 WG Grace

Another great beard in the world of sport could be found on the face of cricket legend WG Grace

GETTY IMAGES

11/17 Graham Gooch

The England cricketer is pictured here with a fan in 1990

GETTY IMAGES

12/17 Andy Fordham

Where the darts player's chest hair ends and beard begins is anyone's guess

GETTY IMAGES

13/17 Alexi Lalas

Back in his playing days the US footballer sported a goatee that made him look like a country and western singer - which incidentally was a side line he used to indulge in

GETTY IMAGES

14/17 Rollie Fingers

The baseball player had a moustache befitting of such a name

GETTY IMAGES

15/17 Michael Jordan

The basketball legend was lambasted for what some described as a 'hitler moustache'

GETTY IMAGES

16/17 Scott Pollard

Pity the fool who pictured here back in 2003 had a moustache that Mr T would have been proud of

GETTY IMAGES

17/17 Craig Stadler

When your facial hair earns you the nickname 'The Walrus', you've done something right

GETTY IMAGES
Roy Keane, who has sported facial hair himself in the past, must have been impressed, even if not much else dazzled him in the 2-0 Champions League defeat for Manchester United.
Former Sky Sports presenter Richard Keys was among those to razor glass to Machado on Twitter...
Now we know where Graeme Souness's tash went. Paulo Machado is wearing it!!!

; Richard Keys (@richardajkeys) February 25, 2014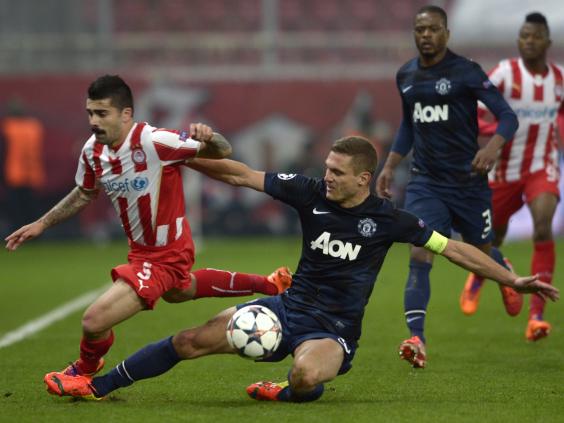 Aside from growing a perfect moustache, Machado has six caps for Portugal and has had spells at Porto and Toulouse before joining Olympiakos in the summer of 2012.
Reuse content