They called him The King. At the end of his descent into incoherence he could not remember the names of his daughters and grandchildren. He was 59 when he died but, according to his widow, he "looked and behaved more like a man of 109".
At 3.09 this afternoon, in the incongruous setting of West Bromwich Albion's Premier League game at the KC Stadium in Hull, they remembered him with a minute's applause. The "Justice for Jeff" campaign was under way, and the Football Association had reason to reconsider their reticence.
Jeff Astle scored 174 goals in 361 games for Albion, including the winner in the 1968 FA Cup final. He represented England in that summer's World Cup. The coroner concluded he died in 2002 of an "industrial disease", caused by heading heavy leather footballs.
Like his original partner, Tony Hateley, stripped of his dignity by Alzheimer's before his death last month, Astle's instinctive bravery will be his epitaph. The FA offered his family two tickets to an England friendly as a symbol of their sympathy, but reneged on a promise to complete a 10-year study into the neurological dangers of the game.
They contend they have apologised; the family, mobilised after more than a decade waiting for progress, insist otherwise, and are calling for a parliamentary inquiry. Parallels with brain injuries suffered in American sport, and US studies which suggest heading a football 1,000 times can lead to "untreatable" problems, are increasingly compelling.
Every case is an acutely personal tragedy. We forget the family man who happened to be a footballer. We concentrate on the importance of the issue rather than the humanity of the victim. Astle's example informs us of what we have lost in more ways than one.
He died on his daughter Dawn's birthday. When she visited the Chapel of Rest she promised to profess his truth until her dying day. Her mother worries she sometimes goes to "very dark places". When we speak she apologises, needlessly, for "sounding angry".
There are emails to send, to football clubs and former-player associations, asking for support and information about dementia cases. There are consciences to prick. There is a timeless story to tell about a local hero whose death is evidence of a global problem.
Jeff's father died when he was an infant. Jeff was brought up by his elder brother, James. They didn't have a football, and lingered to join pick-up games in the street. He played in borrowed boots when selected for Nottingham Schools.
The Astles lived in a semi- detached house throughout his career. He made a living from industrial cleaning after retirement and struggled to see the start of an Albion match; so many waited for him at the players' entrance to the Hawthorns, for a kind word or an autograph, that he routinely needed an escort to his seat 10 minutes after kick-off.
He was loved. They named a local tram and a retail park after him. The Primrose Bridge, which spans a canal in the heart of the Black Country, is his shrine. The legend "Astle is King" was painted by fans and obliterated by the local council so often down the years that they agreed on the unwritten compromise of a grey commemorative plaque.
The paradox, that he was killed by the characteristic which made him so cherished, is insoluble. Take away the percussive header from a defender or forward and the game loses a dimension. But three generations of the Astle family were at Hull yesterday, when both sets of fans paid their respects. They deserve to be heard, understood and encouraged.
Charade of what Sepp calls 'being transparent'
It is business as usual at Fifa. Annual profits are up to $1.39 billion (£840m), and so-called "key management personnel" have been given a collective $36.3m bonus.
Sepp Blatter speaks of transparency and independence while he filibusters at press conferences to avoid renewed questions about corruption allegedly involving our old friend Jack Warner.
The Fifa president finds time, however, to limit the political power of his rival, Michel Platini, by announcing a reduction in the number of Uefa representatives on the organisation's executive committee.
The most depressing thing about the charade is its predictability and lack of impact. The murkiness at the highest level of football has no novelty value. All disenfranchised idealists can hope for is the law of diminishing returns to kick in.
Qatar is using sport to garner global acceptance. Yet it finds itself stigmatised as a repressive state, where many migrant workers die while working on vanity projects like football's World Cup. In the long term, constant association with bribery scandals is unsustainable. 
Blatter's artful refusal to speculate about the possibility of Qatar being stripped of the 2022 finals merely adds to the intrigue.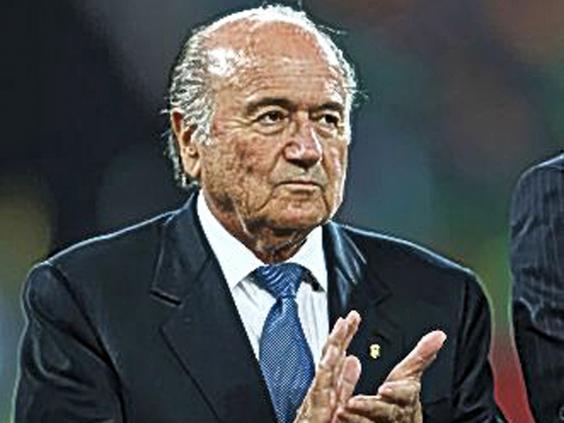 Downton shopping for more trouble
English cricket's new managing director, Paul Downton, popped up on a corporate video to hail new sponsors Waitrose as a "terrific" connection for the women's team. That is patronising, faintly sexist and consistent with the ECB's status as a shambolic organisation mired in spin.
Reuse content