Next Saturday, Dean Court in Bournemouth will be the scene of the latest remarkable chapter in an unlikely Roy of the Rovers success story. A lowly, small-time club that came close to extinction less than 10 years ago will play its first match in English football's top flight, the Premier League. AFC Bournemouth will do this in front of just 12,000 fans, in by far the smallest stadium in the division, under the management of a local-lad-done-good.
That at least is the romantics' version. For cynics, the Vitality Stadium, renamed after its sponsor, will be the site of the latest iteration of a depressingly familiar tale: foreign billionaire acquires a club, throws money at it and buys success.
The true story of the club is more complicated and interesting than either of these simplistic narratives. The tale is also something of a fable, since the rise of both town and club reflects the values and aspirations of a nation. You could call it the English Dream.
On the face of it, AFC Bournemouth's arrival at football's top table is a classic yarn of the battling underdog, as mythologised in the evacuation from Dunkirk, Passport to Pimlico and The Great Escape. I saw my first professional game at Dean Park in 1975, when the team lost 2-1 to Darlington, in the then fourth division, the bottom rung of League football. For most of the club's history that was pretty much par for the course.
Football Value Index top 10 and Englishmen
Football Value Index top 10 and Englishmen
1/11 16) John Stones (Everton)

£12m

GETTY IMAGES

2/11 19) Calum Chambers (Arsenal)

£10.6m

Getty Images

3/11 9) Luke Shaw (Manchester United)

£18m

Getty

4/11 8) Jose Gaya (Valencia)

£18.3m

Getty

5/11 7) Mateo Kovacic

£18.5m

GETTY IMAGES

6/11 6) Hakan Calhanoglu (Bayer Leverkusen)

Getty Images

7/11 5) Jose Gimenez (Atletico Madrid)

£21.4m

Getty Images

8/11 4) Domenico Berardi (Sassuolo)

£21.6m

Getty Images

9/11 3) Memphis Depay (Manchester United)

£23.8m

Getty Images

10/11 2) Marquinhos (PSG)

£27.8m

Getty Images

11/11 1) Raheem Sterling (Liverpool)

Getty Images
The past 25 years has seen a tortuous ownership story off the pitch and a torturous sporting one on it. In 1996 the club came within 15 minutes of being closed down and was only saved by a supporters' trust fund, which led to the creation of one of Europe's first ever community clubs. In 2008 Bournemouth again went into administration, and only narrowly avoided relegation from the Football League. And yet the club rebuilt, and to everyone's surprise rose from the fourth tier of English football to the top one, in just five years.
Clearly a vital factor in this success has been the largesse of the Russian businessman Maxim Demin, who became co-owner of the club in 2011, and bought the remaining 50 per cent share last year. But this is no wholesale foreign takeover. The club retains a manager, Eddie Howe, who was born in the town and who, like the assistant manager, Jason Tindall, used to play for the club. Chief executive Neill Blake and club secretary Neil Vacher are also locals. And although most of the summer signings have been overseas players, success so far has come from an unusually home-grown squad.
Perhaps there is something in the Dorset air that made AFC Bournemouth ripe for its apparently sudden success. This might seem unlikely given its image as a sleepy "bath chair town", God's waiting room on the Costa Geriatrica. Even chairman Jeff Mostyn once joked that the club could provide a park and ride, but with ambulances instead of buses. But look beyond the caricature and you can see why Bournemouth is the perfect location for this very English success story.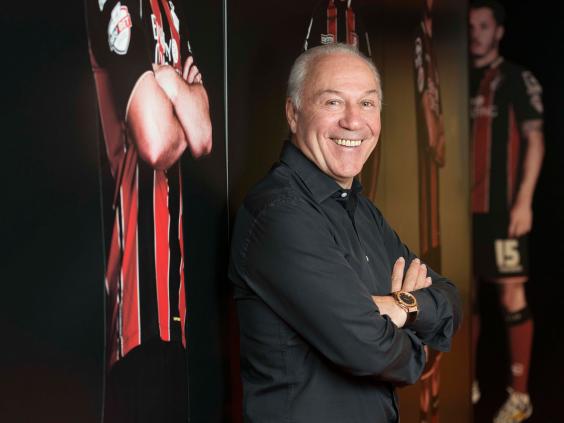 This most traditional of seaside towns is actually a relatively recent invention. There was little habitation there before the 19th century, with just the occasional smuggler or turf cutter passing through. Then a retired army officer, Lewis Tregonwell, saw the potential of the area as a health resort. In 1810 he began building cottages and planting pine trees, whose scent was believed to be as therapeutic as the sea water. Bournemouth retains an unusually large number of trees for a town, almost as though the forests were never completely cleared but buildings and roads were built within them. The town was given the motto "Pulchritudo et Salubritas" – beauty and health – a neat piece of advertising copy that defined its attractions for generations. By the end of the 19th century the town was established as a major spa resort.
Unlike many seaside towns, Bournemouth has never experienced a serious decline. "In 50 years I've never seen a day in Bournemouth that isn't busy," a local barber tells me as he runs his clippers through my hair. The key to the town's progress seems to be that it has changed with the times, but always slowly. In the best English tradition it has embraced a gradual kind of evolution that never disrupts a sense of continuity.
The result is that over the years this once quiet town has quietly changed. With the growth of all-year-round language schools in the 1980s, and then a further, massive increase in student numbers when the College of Technology became a university in 1992, Bournemouth lost its sleepiness.
Not that it was ever quite as staid as its reputation. Yes, The Mike Yarwood Summer Spectacular played twice nightly at the Pavilion Theatre in the mid-1970s, as the signed programme my parents brought back for me proves. But that same venue also played host to the Who and Eric Clapton. Still, only recently have "vibrant", "buzzing" and "youthful" become words frequently used by locals to describe their town. The football club's commercial director, Rob Mitchell, grew up in trendy Brighton, but like many of his colleagues who went to Bournemouth University, he stayed on after graduation "because it's such a great place to be".
Despite the increase in hen and stag parties stumbling drunkenly off the trains, the president of the town's tourism management board, Mike Francis, says "there is an element of wanting to keep a family-oriented town."
And indeed, the growth of youth-centred nightlife hasn't displaced the town's more traditional visitors. There are still more retirement homes than you can count. One word people repeatedly use to describe the town is "safe". And as Francis points out, although the town now has a Hilton, it still has a lot of small hotels and guest houses that many visitors favour, especially for some reason the Swiss.
"There something for everyone here," my barber tells me, citing bars and restaurants; the theatre, beach and pier; the New Forest; and the Bournemouth Symphony Orchestra. He's says he's been to Australia and America but they don't compare: "After four days they're taking you to visit a dam or something."
Nor does the town die in the off-season. Restaurateur Graziano Piovan says that business is "quite steady throughout the year, probably only about 20 per cent less in the winter".
The town seems to have an ability to assimilate new influences so thoroughly as to be almost imperceptible. This is particularity evident when you look at the demography. In describing Bournemouth, my barber said to me, "Don't take this the wrong way, but there are no ethnics here." In fact, this isn't true, as the poster for the Bollywood film Bajrangi Bhaijaan at the Odeon attests. The last census showed Bournemouth to be 91.9 per cent white, which is less than for towns such as Colchester, Guildford and Rotherham, and a lot less than Dover and nearby Plymouth and Poole. Although the national average is 86 per cent, outside of a few large cities, Bournemouth is close to normal.
The truth behind the barber's claim is that unlike some towns which are less ethnically diverse, Bournemouth's minorities are not heavily concentrated in any particular areas and so are almost invisibly integrated. That's why AFC Bournemouth can be as much Italian-born Piovan's club as it is anyone else's. Piovan came over to England in 1977 and opened La Piccola Italia in 1981, making it one of the longest-established restaurants under continuous ownership in the town. Piovan is a great supporter of the club. He saw Eddie Howe's first game for the team and has even fed the players for free during some of the hard times.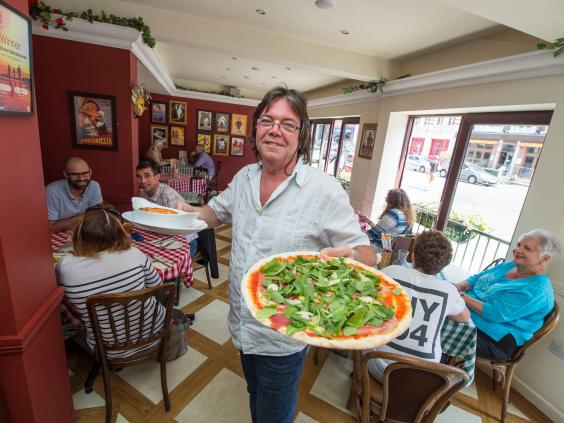 That a Bournemouth institution was created by a man born in Padua reflects the extent to which the town's contemporary cosmopolitanism is rooted in a much longer tradition of openness. Piovan says the town now is "more European than English", but I think it is rather that it has always possessed an authentically europhile form of Englishness. A great contradiction of the English is that they are as suspicious of strange foreign ways as they are adoring of assimilated imports like fish and chips, curry and pizza. It reminds me of a story told to me by some pub landlords whose customers weren't impressed by the introduction of a Thai menu. "Why can't we have traditional English food," one asked, "like lasagne?"
Affluent Bournemouth is undoubtedly conservative, both large and small c. Its two constituencies have only ever returned Tory MPs, with 50-68 per cent of the vote in the pre-Blair years and nothing less than 41 per cent since 1997. But the impression of Bournemouth I got is one of small-c conservative Englishness at its best. This is about not just retaining old traditions but allowing outside influences to create new ones. It's also about embracing innovation and entrepreneurship, just so long as each change it brings is in keeping with what was there before. And it's also about a kind of cosmopolitanism that welcomes foreign influence just as long as it doesn't overwhelm the status quo. This is a far cry from the closed, parochial kind of conservatism that is associated with rejecting change and keeping outsiders out.
Whereas the town has been gradually, unspectacularly successful, the football club's rise has been more sudden and dazzling. But in other ways AFC Bournemouth's story mirrors that of the town. On the one hand, the club has been open to all sorts of changes. Most notably, on the pitch the club has embraced a Continental style of play based on fast passing rather than the old English way of hoofing long balls up the park.
But what allows it to retain the affections of the local community and to now be winning the affections of the nation is that foreign input has not resulted in a crass takeover, aimed at creating some kind of international brand. The local heart of the club has been left beating.
Take groundsman James Lathwell, who grew up in the adjacent town of Christchurch. He joined the Cherries in 2009, when they were in League Two. Prior to him the club didn't even have its own groundsman. Last year, Lathwell was runner-up in the Championship groundsman of the year awards, only to see his lovingly tendered turf ripped up so that under-soil heating could be installed in readiness for the Premier League. But once this job is completed, life will be pretty much as it was. "My match-day team has been the same from when I started back in League Two," he says . "They're all local groundsmen and greenkeepers."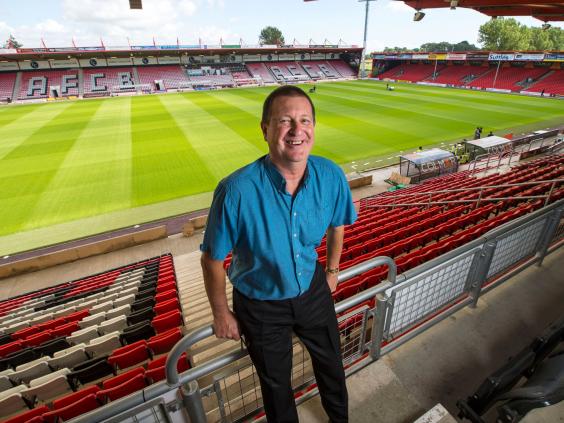 Down in the club shop, manager Harry Evans says they have "probably increased business sixfold in the last four years". But Evans, who was born a stone's throw away, on the other side of King's Park, is still carrying on with the "same old staff". "It's always been a friendly club," he says, praising the "big team ethic we all have". This spirit of joint endeavour has been distilled into a kind of unofficial motto of the club – "Together, anything is possible" – which has been printed on the inside shirt collars of the new season's kit. Less then three weeks before the start of the season, however, these shirts are not yet on the shop's racks. This is a small club running at maximum capacity to get > ready for its big day, and it's not surprising that the odd squeak is heard amidst the unmistakeable buzz.
Like the town, up until now the club has been able to balance progress, innovation and growth with stability, continuity and tradition. But will it be possible to keep this going when the Sky cameras, and the money that comes with them, move in? For example, will the advertising hoardings for local businesses such as "E Brown Butchers, purveyors of quality Meats" become a thing of the past?
Rob Mitchell insists they won't. "In the dark days when we struggled even to get people in to watch the team play on Saturday, these businesses were here supporting the football club." Nonetheless, they will be pushed out of many prime spots. It's going to cost "tens of thousand of pounds" to advertise on the new pitchside LED boards, because these will be seen by a global television audience. Mitchell still insists the club will find space for existing, local advertisers. "We're in the Premier League now,"he says, "but six years ago we were in League Two – and we just don't know where we could be in the next six years."
Everyone at the club seems deeply aware of the dangers of getting too high and mighty. Latham has already seen a change. "I must admit when I started and we were was down in League Two there was a more of community feel. We were reliant on fans and volunteers to do bits and bobs, particularly myself because I was on my own." Match-day volunteers still help with tasks like flattening divots, but with more professionalism comes more separation.
Bournemouth-born Vacher has lived his life amid the club's grassroots as, among other things, a Tannoy announcer; fund raiser; retail supervisor; kit man; and organiser of the lottery and of the team coach; all before finally becoming club secretary. "I've been coming here since I was a lad in the early 1960s," he said. But even he sees that it's going to be difficult for the club to remain down-to-earth. "Everybody here has always been very accessible; the players are greeted by supporters in the car park before the game. We want to remain that way but we're also conscious that there are certain measures we have to put in place on a match day to protect the players we now have and who will be visiting us."
Mostyn is also aware that the club is potentially facing a fork in the road, where the path to glory could lead away from the ordinary streets of the town. He is optimistic that the club can "manage the two roads simultaneously", largely because of its commitment to community work through its very active trust, which reaches 3,000 youngsters every week. "I take the point that the more successful the club becomes and the higher up the food chain you become, the harder it is to be all things to all men and women," he says. "All I can say is it's in our heart, it's in our DNA that we continue to do what's right."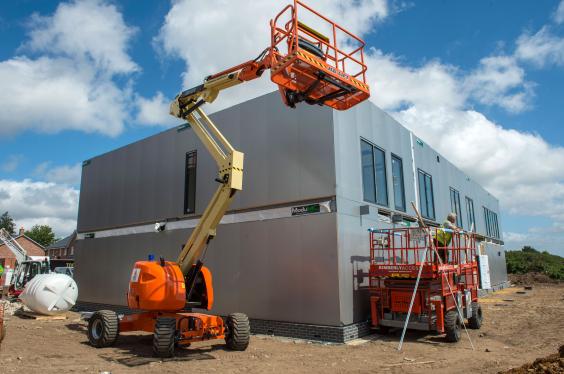 Success is bound to change the club to some extent. But will it also change the town? Many I spoke to were doubtful. Russ Craven is landlord of the Queen's Park, the closest pub to the ground, and the traditional meeting point of home fans. Asked if recent results have changed anything, he says, "To be fair, not a lot. On match days, you can't move in this place. It's always been the same." He adds that the biggest differences from previous years have been the ban on away fans in the pub and an increase in women and families.
What the football team's ascent has changed is the town's perception of its club, helped by its growing community work. "At the worst of times we were perhaps considered to be a bit of a liability, because we were always losing money," says Vacher. "Now the public and the council have seen that it's a valuable asset to the town." Many I spoke to echoed Mostyn's observation that whereas in the past "everybody had a different Premier League shirt on, now the whole town is full of AFC Bournemouth shirts".
Outsiders' perceptions of the town have also changed, and that will have knock-on effects. Rob points out that such is the international reach and appeal of the Premier League that towns with clubs in it are known to attract more foreign students.
But perhaps the biggest effect could be on the nation and how it views itself. If a quintessentially English town like Bournemouth defies the stereotypes, perhaps the same is true of the country as a whole. Bournemouth could provide an alternative ideal of what the English aspire to be, neither brashly abandoning the past to follow the money, nor chasing an unattainable, nostalgic vision of warm beer and village greens. A place where the old can be old, the young can be young, and families can continue the process of linking both together. A country where internationalism is compatible with nationalism, continuity in harmony with change, and where anyone can become a local.
Perhaps this is a fanciful dream, but then again so is a fourth division club rising to the top tier of English football. As Vacher says, "Those of us who were there in those days and before are just going to be sitting out there on the 8th of August pinching ourselves, thinking, is this really true?"
In time reality might bite, but right now the fairytale lives.
Julian Baggini's books include 'Welcome to Everytown: A Journey into the English Mind', published by Granta
Reuse content