Some choose to shed a tear when one of their heroes call it a day, while others will simply stand and applaud. Manchester United decided to rename one of their stands at Old Trafford after Sir Alex Ferguson, but one fan chose to get a tattoo of the United legend's name – and he'll regret it for the rest of his life.
The picture above is doing the rounds on social media after it appeared on Thursday showing a tattoo in tribute to the former United manager, who retired from the game he had dominated for so long in the summer of 2013.
The fallout of his retirement at United has been nothing short of extraordinary, but this tattoo certainly tops it. After all, the old saying 'Think before you ink' is there for a reason.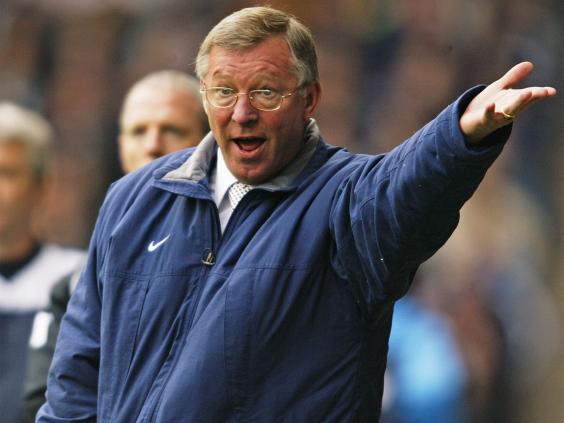 The United fan – we hope he supports them, otherwise his decision is beyond catastrophic – had inked permanently on his forearm "Manchester United. Sir Alex Feguson. The Impossible Dream. 1986-2013."
And no, that isn't a typo. Take a closer look at the picture.
The Worst Tattoos in football
The Worst Tattoos in football
1/14 Daniele de Rossi

Midfield dynamo Daniele De Rossi kindly alerted opposition players of his sharp-tackling reputation by brandishing a bright yellow warning tattoo that looks more like a slipping hazard sign than anything else (perhaps Arjen Robben should book himself in with the same artist). Sadly, however, the ink is on his calf and gets hidden by his socks during games. As a result, the joke is somewhat wasted.

Getty Images

2/14 Mauricio Pinilla

Why would the Chile striker want to re-live this moment, every single day for the rest of his life? In the 119th minute of the World Cup last-16, Pinilla smashed ha shot against the crossbar against hosts Brazil. Had it gone in, Chile would have made the quarter-final against Colombia. The inscriptions reads: 'One centimetre from glory'.

3/14 Wayne Rooney

England striker Wayne Rooney has the title of the Stereophonics third studio album etched on his arm, although the tattoo has also been interpreted as a humorous personal reflection of his own academic failure. Rooney famously didn't achieve any GCSE's, but given his £300,000 a week contract he probably doesn't care too much.

Getty Images

4/14 Mario Balotelli

The Italian troublemaker had a quote from the Mongolian war-machine Genghis Khan written on his chest to celebrate his first goal of the 2012/13 season for Manchester City. It says "If you had not committed great sins/ God would not have sent/ A punishment like me upon you". While the behaviour of the Italian could indeed be seen as a "punishment" to those around him, comparing himself to one of the greatest war leaders in history seems excessive… yet completely in-character.

Getty Images

5/14 James Rodriguez

Arguably the player of the tournament so far, James Rodriguez's sweet left foot has no doubt been inspired by the strange image of Jesus on his lower leg. With five goals and two assists already, the Colombian winger will be praying that his religious icon can smite Brazil in the quarter-finals and propel Columbia to the title.

Getty Images

6/14 Arturo Vidal

The midfield ace, strongly linked to Manchester United this summer after his impressive performances at the World Cup, has a selection of body art that is equally as eye catching and somewhat perplexing. He a tattoo on his arm showing his skin tearing away to reveal a Spiderman costume beneath, which confusingly inverts the whole idea of a superhero disguise. Unless Peter Parker is dressed as Spiderman dressed as Arturo Vidal that is.

Getty Images

7/14 Lukas Podolski

The German striker probably rues the day he got a large tattoo of the Cologne crest on his bicep before making a big-money move to Arsenal soon after. Especially since he has hardly been a hit for the Gunner's since joining two years ago. If Robin van Persie did the same before his move to Manchester United he would never see the end of it, nor will Podolski, as he is now stuck with it for life.

Reuters

8/14 Raul Meireles

Tattoos generally carry some sort of emotional meaning; be it to celebrate the memory of a loved one or commemorate an important date (as without a constant bodily reminder, we would of course forget important life events). With that in mind, the symbolic dragon etched across the whole of Raul Meireles' back represents the six happy years of his life he spent at Porto who are nicknamed "The Dragons". This seems a bit excessive given his Champions League victory with Chelsea only merited the word "LOVE" written across his right knuckle with the "O" assuming the Champions League logo.

Getty Images

9/14 Nigel de Jong

The former Manchester City hard-man has shown his soft side with an intricate butterfly effect pattern that wouldn't look out of place on a church floor. The design itself is rather tasteful, but the way it has spread like wildfire from his chest onto his neck and hands makes you wonder where it will stop. If rumours linking him to Manchester United are to be believed, expect a more ornately decorated Nigel De Jong than the one who left City two years ago.

Instagram

10/14 Lionel Messi

He may be the world's best with the ball at his feet but the Argentine's tattoo choices leave much to be desired. The portrait on his back of Julia, his mother, is probably the last thing his wife would want to see if he rolls over in bed. Also, the picture of his son's handprints on his left foot is frankly bizarre. It looks like something is reaching out of the ground and is trying to drag him to hell.

Getty Images

11/14 Lionel Messi (again)

The world's most precious left leg features a football, a sword, some wings and the No 10. Out of ideas that day, Lionel?

Getty Images

12/14 Wesley Sneijder

No-one knows whether the disembodied head on Wesley Sneijder's ribcage is actually Michael Jackson or not, but whether intentional or otherwise, it really is an incredibly likeness. The Dutch international scored a vital goal against Mexico to seal a place for Holland in the quarter finals which keeps alive the possibility of Sneijder's Champions League tattoo being joined by a World Cup one in between the "Thriller" singer.

Getty Images

13/14 Sir Alex Ferguson(ish)

A Manchester United fan didn't put enough preparation, research and attention at school into this tattoo, as he emerged from the parlour with 'Sir Alex Feguson' permanently inked on his forearm.

Getty Images

14/14 Carlos Tevez

The former Manchester United and City striker already had a full sleeve on his right arm, but added to that by covering the whole of his back with various figures, with a sun near the top. The work, done by famed artist Piotrek Taton, is impressive up close, but looks like a giant black smudge from afar.

Tiwtter
We're in no doubt that Fergie himself would have been infuriated with the lack of preparation and execution that had gone into the tattoo.
Reuse content