As a former professional footballer, there is one thing above all that I feel when I look back on the managers I played for. I learnt more about the art of coaching from Roy Hodgson than I did under any other manager – and I played for some good ones, Kenny Dalglish, George Graham and Harry Redknapp included. I played for some bad ones, too.
Before I took the Tottenham job in December I spoke to Roy to get his advice, as well as Harry and Kenny. The one thing you knew as a player at Blackburn Rovers under Roy was that not a single minute of training would be wasted. He knows as well as anyone how to prepare a team. He would build up to the game at the weekend. It started with him working with the back four, then the midfield and then at the end of the week he put it all together.
I enjoyed the training. I was at that stage of my career where I wanted to learn. There were some players who didn't. You hear a lot of hot air from some managers about how to play the game and players can see straight through that. But when it came to organising a team there was no one better than Roy. As a manager I have tried to do the same. I regard myself as a coach and at Spurs I had a hand in every training session.
People seem to regard Roy's time at Blackburn as a failure, but we finished sixth in the Premier League in his first season. What you have to remember was that this was a club on the way down. We had won the Premier League in 1995 and people still had expectations of repeating that success. The reality was that at the end of Roy's first season Rovers sold Colin Hendry and never properly replaced him.
The problem was that the club had lost so many good players like Hendry, David Batty and Alan Shearer. Shearer, in particular, was irreplaceable. He was as important to Blackburn then as Gareth Bale was to Tottenham before he left last summer. Rovers lacked foundations too. They had signed players quickly and at a price, and those players were all looking for their next move as well.
If there was one thing that did not go right for Roy, it was some of his signings. He bought Kevin Davies for £7.5m, a move that never worked out, although Kevin went on to have a great career.
Roy signed a defender from France, Patrick Valéry, who spoke little English. As a result, Roy would have to speak French to Valéry in the dressing room. There was one half-time when Roy was getting stuck into him in French and Valéry was giving him a bit back. The rest of us just sat there in silence. At the end of it, Roy turned to us and said, in English: "I told him to put the ball in the fucking channels!"
England World Cup 23-man squad numbers
England World Cup 23-man squad numbers
1/22 1. Joe Hart - Goalkeeper

Age – 27 Caps – 41 Goals – 0 The Manchester City No 1 suffered a dip in form mid-season that saw Manuel Pellegrini drop him for understudy Costel Pantilimon. But Hart has recovered superbly to dismiss any talk that he won't be Roy Hodgson's first choice in Brazil.

GETTY IMAGES

2/22 13. Ben Foster – Goalkeeper

Age – 31 Caps – 7 Goals – 0 Having retired from international football, Foster was persuaded to make himself available for his country once again. Played the full 90 minutes against Ecuador last week.

GETTY IMAGES

3/22 22. Fraser Forster - Goalkeeper

Age – 26 Caps – 2 Goals – 0 Forster made his debut in the Wembley defeat to Chile in November last year, but his form with a strong Celtic side north of the border has seen him force his way into consideration for some time. Saw of the challenge of Norwich's John Ruddy to make the squad.

Reuters

4/22 2. Glen Johnson – Right-back

Age – 29 Caps – 52 Goals – 1 Johnson has cemented the right-back berth as his own this season, with his main rival Kyle Walker suffering an inconsistent season that has been disrupted by injury. Has a tendency to forget his defensive duties when he marauds up the pitch, which will be a worrying sight in Brazil against the world's best.

EPA

5/22 12. Chris Smalling – Centre-back/Right-back

Age – 24 Caps – 12 Goals – 0 Smalling's versatility in defence stands him with a good chance of playing in Brazil, although he has not pushed on as much as was hoped when Manchester United signed him in 2010. Unlikely to start if Hodgson's preferred back-four are fully fit.

GETTY IMAGES

6/22 16. Phil Jones – Centre-back

Age – 22 Caps – 10 Goals – 0 Jones' inclusion had been put into question after he suffered a shoulder injury that required him to go to hospital during the victory over Hull last week. But after getting the OK for Brazil, Hodgson has decided to include the young defender, who offers a similar versatility as his club colleague Smalling as well as fulfilling a role as a holding midfielder.

GETTY IMAGES

7/22 5. Gary Cahill – Centre-back

Age – 28 Caps – 24 Goals – 3 Cahill was a part of the standout defence this season as Chelsea's back-four conceded the least amount of goals by a considerable margin. He has solidified his selecting in the starting XI in recent years and has pace to get the side out of trouble if needed.

GETTY IMAGES

8/22 6. Phil Jagielka – Centre-back

Age – 31 Caps – 26 Goals - 2 Worryingly for England, Jagielka missed a considerable number of games in the run-in to the end of the season, but the Everton captain made a timely return after two months out for the narrow defeat to Manchester City at the beginning of May. Likely to partner Cahill at the back as he offers experience and calmness to a young-looking defence.

GETTY IMAGES

9/22 3. Leighton Baines – Left-back

Age – 29 Caps – 24 Goals – 1 The set-piece master has battled past the long-serving Ashley Cole to assume the left-back role under Hodgson, and he is expected to continue in Brazil after a solid season with the Toffees which saw them challenge for the top four.

Getty Images

10/22 23. Luke Shaw – Left-back

Age – 18 Caps – 2 Goals – 0 The Southampton teenager has enjoyed a tremendous year that has led to calls nationwide for his inclusion in the World Cup squad, despite his inexperience. Made his debut in the March victory over Denmark, and looks to be the ideal replacement to Ashley Cole, with the 107-cap veteran missing out on a fourth consecutive World Cup and announcing his international retirement as a result.

Reuters

11/22 4. Steven Gerrard - Central midfielder (Captain)

Age: 33 Caps: 110 Goals: 21 The captain of the side has enjoyed a brilliant but ultimately disappointing season with Liverpool. The Reds managed to remain in contention for the Premier League title until the last day of the season but ultimately missed out. Gerrard's costly slip in the 2-0 defeat to Chelsea is quickly becoming the defining moment of their season. Deployed in a deeper role this season.

Getty

12/22 8. Frank Lampard - midfielder

Age - 35 Caps - 105 Goals - 29 The Chelsea midfielder will be one of the older heads in the England squad. While unlikely to be a starter in Brazil, should he get opportunity he will want to atone for the injustice of his 'ghost goal' at the last tournament in 2010 when he scored against Germany but it wasn't given.

GETTY IMAGES

13/22 7. Jack Wilshere - Central midfielder

Age: 22 Caps: 18 Goals: 0 Arsenal midfielder suffered a foot injury playing for England on 5 March, but returned for the Gunners on their final game of the season. Arsenal manager Arsene Wenger claimed he would be ready to go for the start of the World Cup.

Getty Images

14/22 20. Adam Lallana - Central midfielder

Age – 26 Caps – 5 Goals – 0 He may be relatively inexperienced at international level, but the Southampton captain has had an extraordinary year that saw him named in the PFA Team of the Year as well as breaking into Hodgson's side. His ability to utilise both feet could prove a real threat in Brazil.

GETTY IMAGES

15/22 21. Ross Barkley - Central midfielder

Age: 20 Caps: 6 Goals: 0 The Everton midfielder has burst out of the traps at Goodison Park this season, resembling Wayne Rooney in his pomp. Barkley has made 34 league appearances for Roberto Martinez this season, scoring six goals.

GETTY IMAGES

16/22 17. James Milner - Midfielder

Age: 28 Caps: 47 Goals: 1 Mr Dependable for both club and country. Could win his 50th cap in Brazil if England get past the group stage.

GETTY IMAGES

17/22 15. Alex Oxlade-Chamberlain - Midfielder

Age: 20 Caps: 15 Goals: 3 Suffered a knee injury in the friendly against Ecuador but manager Roy Hodgson hopes the Arsenal midfielder will return against Uruguay on 19 June.

18/22 19. Raheem Sterling - Midfielder

Age: 19 Caps: 4 Goals: 0 Despite Liverpool's faltering end to the season, Sterling has excelled this term for Brendan Rodgers, impressing down the wing and also through the middle. With Theo Walcott missed the finals because of injury, Sterling will offer some badly-needed pace.

GETTY IMAGES

19/22 11. Danny Welbeck – Striker

Age – 23 Caps – 24 Goals – 8 While Welbeck's form for Manchester United this season hasn't been the best, he remains a favourite of Hodgson's and tends to shine on the international stage, having scored in the 3-2 victory over Sweden in the 2012 European Championships with a deft back-heel flick. Has a tendency to be deployed on the left, and could be overlooked in the starting line-up for the in-form Sterling.

EPA

20/22 9. Daniel Sturridge – Striker

Age – 24 Caps – 11 Goals – 4 Sturridge has flourished this season in his partnership with Premier League top scorer Luis Suarez, netting an impressive 21 league goals in helping Liverpool to finish second. Hodgson has shown a preference to start Sturridge in the striker role with Wayne Rooney playing off the Reds frontman, and is likely to be one of the first names on the team-sheet come 14 June.

GETTY IMAGES

21/22 10. Wayne Rooney – Striker

Age – 28 Caps – 91 Goals – 39 Rooney will head to Brazil as one of England's most experienced squad members, and the United striker will once again have the weight of a nation's expectations on his broad shoulders. The forward has been given licence to roam in the Three Lions shirt, although he is yet to produce his brilliant best at a World Cup, having been to the 2006 and 2010 tournaments.

GETTY IMAGES

22/22 18. Rickie Lambert – Striker

Age – 32 Caps – 6 Goals – 3 Aiming for a successful tournament in Brazil on the back of his "dream" move to Liverpool.

Mike Hewitt/Getty Images
One Tuesday a month, Roy would have people in to watch training. There would be lots of them observing the sessions and taking notes. They weren't watching us; they were watching him and they had come to learn. He was always happy to help young coaches and, looking back, there were probably some faces among that crowd who have since become famous managers.
I liked the way that Roy opened up the training ground at Blackburn. I could never understand why everything was so closed off at Spurs. What do people think goes on in there? It is not a top-secret laboratory. We used to have security guards prowling around the perimeter fences and I would ask why we needed that. It's not like we were going to let a bunch of hooligans in. I wanted it to be a friendly place, where coaches and former players could come in and watch sessions.
It always seemed to me when England were looking for a new manager after Fabio Capello that Roy was the perfect man, according to their job spec. He is ideal for St George's Park and coaching the coaches. He has been doing that his whole life. When the Football Association invited him in for a chat, I am sure it was more a case of Roy interviewing them than the other way around.
When it comes to organising a team, Roy knows better than anyone what is needed. He is less likely to give a player the freedom to do what he wants, as someone like, for instance, Harry would. I think someone like Daniel Sturridge is better playing off the cuff. Wayne Rooney is more workmanlike and sticks to a plan. Rooney knows when his team are under the cosh and he needs to thicken up the midfield. I see him making tackles for Manchester United a lot, sometimes at the expense of getting into goalscoring positions.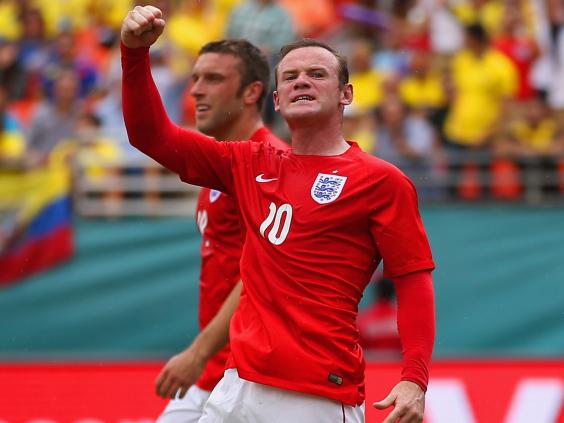 I would play Adam Lallana and Raheem Sterling in England's starting XI. Lallana is a free spirit with a lot of ability and he is one of those whom the opposition will have to worry about. I like teams that pose opponents problems rather than constantly worrying about what the other side can do.
Lallana has more technical ability than Sterling and brings players into the game more while working in a team framework. Raheem, by contrast, plays like the best player in the school playground, dribbling around his mates. Every time he has been asked to step up a level he has done it. He is a maverick.
I would pick Jack Wilshere alongside Steven Gerrard for the first game. Jordan Henderson has great energy and power but Jack is better suited to the job that needs to be done in Brazil. England are playing in their first game against Italy in the jungle so they need to keep the ball. Jack is a clever passer. Stevie has a better range. Jack can play the ball in between the lines. Stevie is the best at getting in around the ball and breaking up counter-attacks.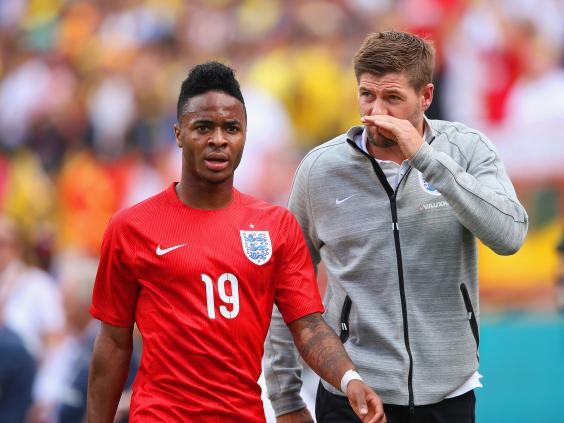 Another thing we noticed at Spurs about Lallana and Sterling was their fitness stats. They are incredible. They are two of the fittest players in the Premier League. They keep going all game and it is not just attacking areas but covering back as well. I always felt at Spurs that Aaron Lennon was one of our best defenders. The reason I played him so much was that I knew the work he did going backwards would allow the likes of Christian Eriksen and Emmanuel Adebayor freedom.
England can't treat the ball like a hot potato in Manaus. We need players like Wilshere who are comfortable in possession. Footballers can smell it when someone doesn't like having the ball  played into them in tight situations. You  see opponents take a risk and leave players further up the pitch to hunt for a mistake.
England cannot afford to hit long balls forward. It is not going to be end-to-end like a basketball match. Rooney will need to get around Andrea Pirlo to prevent him from setting the pace of the game. The team that keeps the ball better in Manaus will win the game.
Tim Sherwood will be writing for The Independent throughout the World Cup. He'll be joined by Champions League winning former Liverpool manager Rafael Benitez, Newcastle manager Alan Pardew, England and Arsenal footballer Alex Scott and writer and broadcaster on all things Brazil Alex Bellos.