A footballer in Brazil has been suspended by his club after he stopped mid-game to make an obscene gesture to his own fans, before wrestling with his own team-mates and storming off the pitch having been shown a red card.
Fabricio has been banned by Internacional after a video showed him becoming involved in an argument with a section of his own fans. While it wouldn't be the first time this has happened, the bizarre incident came when Fabricio had the ball at his feet while the game against Gaucho League rivals Ypiringa was live.
Fabricio reacted to taunts from his own fans by making an obscene gesture to them, holding up the middle finger on both hands while shouting at them.
Referee Luis Teixeira had no option than to produce a red card, but the extraordinary circumstances didn't stop there.
Watch the video below...
Fabricio then proceeded to try and remove his Internacional shirt, only for some of his team-mates to try and intervene by grabbing him around the head, prompting the left-back to start struggling and lashing out at them as he slowly made his way off the pitch.
As Fabricio made the long walk towards the tunnel bare-chested, the Internacional fans could be seen celebrating the dismissal.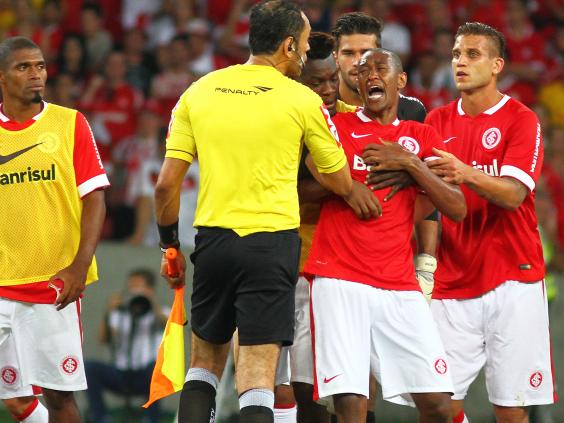 Internacional president Vitorio Piffero said, according to newspaper Estadao: "It's an unfortunate attitude. Fabricio was hot-headed. We will not take action now, only after Easter. He is suspended until then."
Reuse content