Earlier this week a dozen or so athletes gathered at BT Sport's studios in the Olympic Park to film videos, pose for photographs and conduct interviews about the new season. Nothing odd in that, not in the modern sporting world, but you could see some thinking "one day I'm going to wake up and find this is all a dream".
The athletes were women footballers, and for the more senior it is not so long ago they could barely interest their families in a new season, never mind national media. They paid to play, like male parks' footballers, and played in a similar vacuum. Karren Brady was the only woman connected to football most people could name and she only wore football kit to pose for the cover of her autobiography.
Now girls' football is the fastest growing sport in Britain and youngsters coming into the game can dream legitimately of a professional career. Some players are earning more than £60,000 a year, plus endorsements, both of which were unthinkable a decade ago. If the professional game is still largely played in the margins every now and again it bursts onto centre stage, such as in November, when 45,000-plus braved transport chaos and freezing conditions to see England play Germany at Wembley.
It will be back in the spotlight in June when the Women's World Cup opens in Canada, with England among the contenders, but first there is the fifth season of the FA Women's Super League (WSL).
 Division Two launched, somewhat under the radar, last week, but the First Division starts on Wednesday with rather more fanfare.  Champions Liverpool host newly promoted Sunderland in the first of BT Sport's live televised matches. The channel, and the FA, will be hoping for a similar finish to last season when three clubs contested the title on the final day and there is every chance of a repeat as the competition is wide open.
This is as hoped by the FA when they created WSL. Previously talent had been concentrated at Arsenal who ran a semi-professional team in a largely amateur era and Hoovered up trophies. This was no good for anyone, including Arsenal players who were rarely stretched enough to develop. "We'd go there just hoping to keep the score down," said Claire Rafferty, who has seen the game transformed during her decade at Chelsea.
Arsenal won the first two titles, but have since finished  third and fourth. A salary cap prevented them hoarding stars and other men's clubs began to invest in women's teams.
Liverpool led the way, bringing in dedicated back-up staff as well as luring several England internationals. They have been rewarded with back-to-back titles. Manchester City followed suit, winning last season's Continental Cup (the equivalent of the Football League Cup), then upped the stakes. While most teams rent non-League or rugby league stadia, City's ladies will play at the club's new 7,000-seat academy stadium.
This investment has led to the creation of a transfer market (especially in England players) and an influx of foreign recruits. What is yet to happen is for the national team's drawing power to spread to the club game where gates remain below Conference levels despite cheap admission. It is also unfortunate that only two of the 18 coaches are female: Emma Hayes at Chelsea and, in WSL 2, Reading's Kelly Chambers.
But the sport is still maturing. Many teams are part-time, especially in the second division – though Doncaster Belles' players tweeting pictures of their post-match ice baths this week underlined that part-time no longer means an amateur outlook. Going full-time can cause problems. Chelsea had to let Midlands-based England internationals Laura Bassett and Rachel Williams join Notts County having switched to full-time training, while Sunderland's promotion-winning manager Mick Mulhearn had to step down due to his job as a police officer (he has been replaced by Carlton Fairweather).
Such teething problems are inevitable, but the key aspect is the standard is improving rapidly. Should the World Cup provide a spike in interest, Sunderland youngster Beth Mead is convinced people will like what they see. "People are pleasantly surprised when they watch games," she said. "I think they enjoy the fact we don't fall over. It is a bit more real, women's football."
--
THE PUNDIT - LUCY WARD
To her chagrin, Lucy Ward played before the women's game took off. "It's nice to be regarded as a pioneer, but you want it to happen while you are playing. People kept saying it was going to explode, each time it didn't happen. But now it has and the commitment of BT and BBC is incredible. It gives it credibility."
Ward combines being a pundit for both channels with a long-time role at Leeds United Academy, where she has helped bring up a generation of players who saw nothing odd about women in football. Ward, who joined in training and even played in Lucas Radebe's testimonial, said: "We had several women on the staff. We'd go to clubs where they were all male and they'd make jokes about blondes. Our players, the likes of Alan Smith and James Milner, would wonder what they were on about."
--
THE SENIOR PRO - SIOBHAN CHAMBERLAIN
At the age of 31, England goalkeeper Siobhan Chamberlain's career spans the sport's progression from hobby to job, but when she started playing it was not even accepted as a pastime.
Like many players of her generation she began because her brothers played the game but, as she pointed out, "at primary school I was told I couldn't play because I was a girl.
"I thought that was hypocritical since the manager was a woman."
Chamberlain went on to play for several clubs while going to university and then into work.
It was then that the FA brought in central contracts, but on the condition that the players worked part-time, so she had no choice but to change careers.
Now at Arsenal, football is her job, but, as she is only too aware, it will not last for ever. "We're not going to make millions and be set up for the rest of our lives," she says.
 "So we have to prepare for life after football."
--
THE MANAGER - EMMA HAYES
WSL managers need a Uefa A Licence, which limits the talent pool, but there ought to be more than one woman coach in the flagship division. Emma Hayes is the undoubted trailblazer, taking Chelsea within a goal of the title last season.
A director of the family's foreign exchange company, Hayes coached extensively in the US working both with boys' teams and women's superstars, such as Brazil's Marta.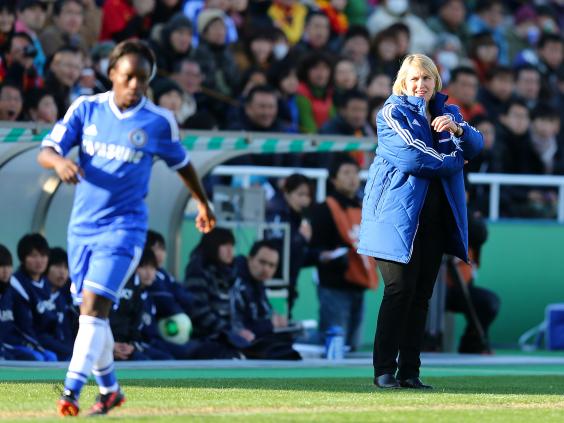 --
THE RISING STAR - BETH MEAD
With almost 70 goals, at nearly one a game, teenager Beth Mead is one of the reasons for Sunderland's promotion to WSL1. Mead, part of the first generation of girls who can envisage a career in football, began at six. "There was a Saturday morning club for boys and my mum wanted me to burn off some energy. The coach said 'they are quite rough, the boys, will she be all right?' My mum said I'd be fine. When she came back she was told 'she's like a little bulldog, she's worse than the boys'."
Mead, a student at Teesside University, said that boys and parents laughed when she arrived to play, but "by the end they would apologise. I gave as good as I got."
--
THE REBEL - LIANNE SANDERSON
Lianne Sanderson's beautifully taken winning goal in the Cyprus Cup final against Canada earlier this month, her seventh goal in her last nine international starts, underlined how much England missed this effervescent player during her self-imposed exile. Sanderson quit England in 2010 after falling out with authoritarian manager Hope Powell to carve out a career in the United States. A change of manager prompted a return to the colours and, this summer, to these shores with Arsenal.
It was not an easy decision. Sanderson missed her family (father Jeff was on the books at Crystal Palace and Southend) but loved the attitude in America.
"The mentality is so different. I know a lot of people give Americans a hard time for being outgoing and loud, but I prefer people, when you walk down the street, saying 'good morning, how are you' and acknowledging each other. In England people think 'what's she after', and think you have an agenda."
Sanderson feels she matured as a player and a person in the States, becoming more professional as an athlete and accepting the responsibility of being a gay role-model to young fans. Her contentment is shown in her football and the 27-year-old's return is a coup for an Arsenal side keen to restore their pre-eminence. England, as they plan to head across the Atlantic to Canada, are also glad to have her back.
--
THE SISTER - ENIOLA ALUKO
"I grew up in Birmingham, playing with my brother and his mates," said Eniola Aluko. "But girls playing football wasn't normal then and there were times when I said I played other sports, like tennis, as I'd be scared of what people thought. But it never stopped me playing."
Those kick-arounds in Kings Norton must have been a high standard as Aluko now plays for Chelsea and England, while her brother, Sone, plays for Hull City and Nigeria.
Eniola, who played for GB in the Olympics, is also a lawyer.
"I wanted to have something to fall back on," she said. "Until five years ago you couldn't make a living and plan for the future as a woman footballer. It was tough to combine the two but my university and employers were understanding and I am now qualified."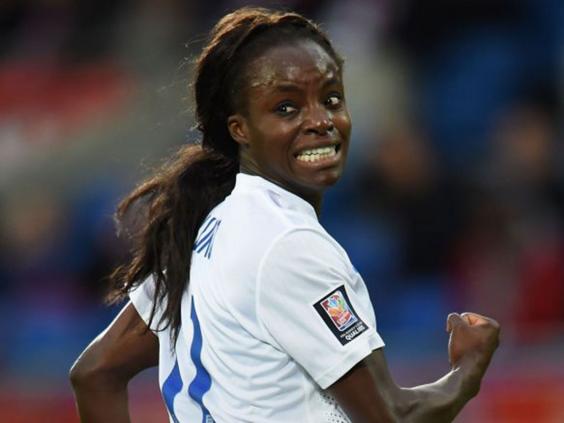 --
THE MOTHER - KATIE CHAPMAN
There are few mothers in elite football. This is partly because the players tend to be young, but also because pregnancy and childcare are even less conducive to career-building in football than in other walks of life. Katie Chapman is one of the exceptions.
"She has three children, and a husband with a full-time job. I don't know how she does it, she's Superwoman" said Emma Hayes, Chapman's manager at Chelsea. "She says when she goes away on England camps she is bored as she's so used to chasing after the kids."
In 2011 that ceased to be a problem as Chapman fell out with Hope Powell after a dispute about the support she received juggling football and parenting. Now 32, she is set to go to the World Cup.
--
HOW THEY COMPARE - MEN VS WOMEN
History
The Premier League began in 1992 but men's league football dates back to 1888. The women's game flourished during and after the First World War, but was deliberately suffocated by the FA. Not until 1969 was the women's FA founded. Progress was slow until a more enlightened FA took over in 1993, establishing the Women's Super League in 2011.
The Leagues
The Premier League has 20 teams, with a 72-team Football League feeding into it. WSL 1 has eight teams, WSL 2 has 10, though each will have 10 in the next two years.
The national team
England's women travel to the World Cup in Canada this summer and are expected to make at least the last eight, as they did in 2011.
The money
The top English women can make around £60,000 a year. The leading males are paid in millions, but there will be some in the lower divisions who would be happy with £60,000.
The coverage
Sky pay £760m a year to broadcast 116 Premier League games . BT Sport will broadcast live WSL matches, beginning with Liverpool v Sunderland on 25 March.  The channel also produces the FA WSL Review Show on Sunday nights at 10pm. England World Cup matches will be shown live on BBC.
The gates
The average crowd in WSL last season was 728, with a top attendance figure of 1,292 at Manchester City v Chelsea. The  average men's Premier League attendance in 2013/14 was 36,695.
Reuse content