The circus has long gone but the scars have not. Six months on from the Brazil World Cup, football wastelands pockmark the country, each with empty cathedrals to excess and greed. If only it hadn't all been so predictable.
When it was all over back in July, there was a warm glow emanating from a tournament that was by and large seen as a success. There were few dissenting voices. But that's the problem with judging a World Cup in its immediate aftermath. It's like the queen thinking the world smells of paint because every room she walks into has been given a fresh lick. But the effects of the event last far longer than a month and now the glitz and glamour are done, there's a lot of rubbish piled high awaiting a costly clean-up.
As early as 2003, the nation knew it would be hosting last summer's event but when the then head of the football confederation, Ricardo Teixeira, looked at his power base he saw that it lay with the country's states rather than the country's clubs. With the government wanting eight host cities, Teixeira lobbied the former president, Lula da Silva, for 12 to keep more of his supporters happy. It was agreed and it's these football husks that now dot the country. London planned its legacy extensively after its 2012 Olympics but this is the legacy Brazil is left with after its own World Cup.
World Cup 2014: Protests before opening ceremony
World Cup 2014: Protests before opening ceremony
1/10 World Cup 2014 protests

A masked man throws a stone towards riot policemen in Sao Paulo, Brazil, 12 June, 2014, hours before the first World Cup match was to be played.

AP Photo/Rodrigo Abd

2/10 World Cup 2014 protests

Masked anti-World Cup protesters rip apart a Brazilian national team soccer jersey during a demonstration, in downtown Rio de Janeiro

AP Photo/Leo Correa

3/10 World Cup 2014 protests

Masked men work to uproot a street sign to add to a makeshift barricade during a protest by people demanding better public services and against the money spent on the World Cup in Sao Paulo

AP Photo/Rodrigo Abd

4/10 World Cup 2014 protests

A protester is detained by police during a demonstration by people demanding better public services and against the money spent on the World Cup

5/10 World Cup 2014 protests

The protester is restrained on the ground. Brazilian police clashed with anti-World Cup protesters trying to block part of the main highway leading to the stadium that hosts the opening match of the tournament

AP Photo/Nelson Antoine

6/10 World Cup 2014 protests

A protester holds a sign that reads in Portuguese "There won't be a Cup!" during a demonstration demanding better public services in Sao Paulo

AP Photo/Nelson Antoine

7/10 World Cup 2014 protests

A masked protester returns a tear gas canister to riot police during a demonstration by people demanding better public services and against the money spent on the World Cup soccer tournament in Sao Paulo

AP Photo/Rodrigo Abd

8/10 World Cup 2014 protests

A protestor argues with police during the demonstration in Sao Paulo

AP Photo/Rodrigo Abd

9/10 World Cup 2014 protests

Passengers await their flights during a partial work slowdown at Rio de Janeiro's Santos Dumont airport on 12 June

REUTERS/Lucas Landau

10/10 World Cup 2014 protests

Construction workers listen to a protest leader speak during their demonstration against the World Cup outside the hotel where the media is staying in Fortaleza, Brazil

AP Photo/Fernando Llano
There is now a footballing infrastructure which is largely missized and completely misplaced. Indeed, the club season here finished late last year and statistics across 2014 show the irony of it all. What began in January with hysteria that many stadia wouldn't be completed in time ended in December with figures showing many of those stadia aren't needed any more.
Take the Estádio Nacional Mané Garrincha in Brasilia, which cost £490m – making it the second-most expensive football stadium ever constructed after Wembley. It was obvious why it cost so much, as anyone who went there was taken aback from a distance at the sight of its 288 giant pillars and blown away at the sheer scale once inside. But while a total of 478,218 fans rolled in during the World Cup, only 13 club games have been played across 2014, attracting just 320,199 with gate receipts totalling a mere of £2.26m. The bigger clubs occasionally dragged there to play "home" games from footballing heartlands absorbed a lot of that, as did maintenance, leaving Bon Jovi and Beyoncé concerts and a mass wedding to chip away at debt like a toothpick scratching at steel.
That's repeated across much of the country. With no teams in the top two flights to call their own, Cuiaba and Manaus hosted 16 different club teams last year, usually for one-off nights based on the notion that what's seldom is wonderful. Only it's not. Combined, and outside of expensive running costs (the upkeep of the Arena da Amazonia where England lost to Italy is estimated at between £120,000 and £240,000 a month), they have made back less than two per cent of what they initially cost and have been hosting anything and everything from football to gospel concerts to keep pace with the bills.
In fact, in the case of Manaus, the government is already looking for a buyer so they can offload what has been a waste of £145m in a place where 20 per cent of houses don't even have proper plumbing.
In Salvador's stunning Fonte Nova, during the tournament there were stories about the four-mile stretch of rail that would take you there but had taken 12 years to build – and shifting demographics meant it didn't really leave from anywhere useful. But it was a joke either side of the tournament too. There were 24 league and cup games there in the whole of 2014, with one of the city's two top-division sides, Vitoria, only pitching up once, preferring their own stadium due to the cost of renting the new arena.
With a capacity of over 50,000, it has averaged just 12,000 this club season and with both Bahia and their cross-town rivals relegated to the second tier for 2015, income will fall further behind costs and the taxpayer will again pick up the tab.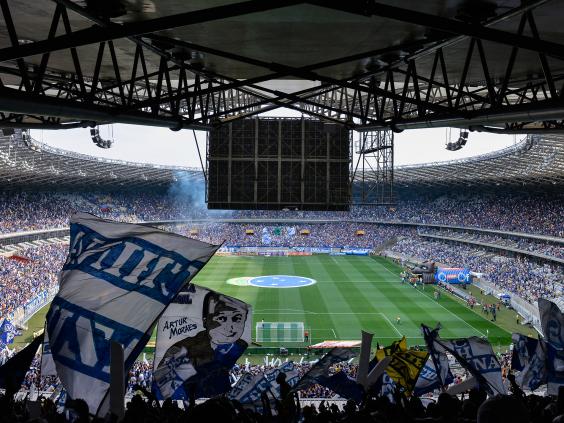 Sport Recife's strong season finale combined with a brief move to the Arena Pernambuco for a handful of games upped the average attendance over the course of 31 games to 12,153 but this is only a quarter of capacity and, as the only top-flight team in the city, they have preferred to use their own stadium as the location of the World Cup arena is seen as too far out of town and poorly linked to its working-class strongholds.
It's equally bleak in Natal, where they barely averaged 10,000 even on the back of America and ABC going on unexpected Copa do Brasil meanders. That's unlikely to happen again and second-tier America, who played 22 of the 30 club games there, were relegated to Serie C.
Even the privately owned stadia have struggled and they aren't free from the corruption that has plagued state-run grounds either. Sao Paulo giants Corinthians, who play at the Itaquerao, have the highest average receipts of £500,000 per game but it has been suggested they could struggle with paying back the government loan when it kicks in next year, as they already owe over £40m to the government in taxes according to 2013 research. Meanwhile there were murmurs earlier in the year that part of the stadium loan received by Atletico Paraenense was used for a transfer fee.
There are exceptions, of course. In Belo Horizonte, Cruzeiro winning the title made the revamped Mineirao seem somewhat worthwhile, even if it was only sold out on a single occasion across the whole league season. Meanwhile in Rio, the 55 club games hosted by the Maracana have kept money coming in with over £11m in gate receipts. But the hard and fast rule is to be found elsewhere.
Those defending what has been left behind will point to temperamental fans whose attendance is based on everything from last week's result to the weather, to a neighbour's barbeque. But even with the curtains drawn, the fraud is far from over.
As for playing the blame game, it won't make any difference now. Teixeira retreated to Florida, resigning his position saying he had poured so much into the country's football, his health had deteriorated. As for the man he convinced when it came to the scale of stadia construction, Lula is likely to be president again come the next election.
Meanwhile, the people of Manaus still have no running water but do have a shiny, empty stadium.
--
Money well spent? The World Cup stadiums
Maracana, Rio de Janeiro
Capacity 78,838
Cost £290m
Home teams used 4
National and continental games in 2014 55
Average attendance 27,777
Gate receipts, national and continental games £11.4m
Mineirao, Belo Horizonte
Capacity 58,170
Cost £167m
Home teams 3
National/continental games 30
Average attendance 33,191
Total gate receipts  £13.4m
Mane Garrincha, Brasilia
Capacity 72,788
Cost £480m
Home teams 9
National/continental games 13
Average attendance 24,640
Total gate receipts £2.2m
Arena Fonte Nova, Salvador
Capacity 51,708
Cost £141m
Home teams 2
National/continental games 24
Average attendance 12,692
Total gate receipts £1.9m
Beira Rio, Porto Alegre
Capacity 50,128
Cost £72m
Home teams 1
National/continental games 20
Average attendance 26,658
Total gate receipts £3.8m
Arena Pernambuco, Recife
Capacity 46,160
Cost £120m
Home teams 3
National/continental games 35
Average attendance 12,153
Total gate receipts £1.7m
Castelao, Fortaleza
Capacity 67,037
Cost £125m
Home teams 2
National/continental games 28
Average attendance 18,461
Total gate receipts £2.3m
Arena da Baixada, Curitiba
Capacity 43,000
Cost £87m
Home teams 1
National/continental games 15
Average attendance 16,951
Total gate receipts  £886,355
Arena das Dunas, Natal
Capacity 31,375
Cost £96m
Home teams 2
National/continental games 30
Average attendance 10,323
Total gate receipts £1.7m
Arena Corinthians, Sao Paulo  
Capacity 47,605 (WC 68,272)
Cost £232m
Home teams 1
National/continental games 18
Average attendance 31,034
Total gate receipts £8.8m
Arena Pantanal, Cuiaba
Capacity 27,000 (WC 42,968)
Cost £155m
Home teams 9
National/continental games 12
Average attendance 17,671
Total gate receipts £1.9m
Arena da Amazonia, Manaus
Capacity 41,000
Cost £145m
Home teams 7
National/continental games 10
Average attendance 23,213
Total gate receipts £3.3m
*figures include 2014 league, cup and continental games
Reuse content