PSG forward Zlatan Ibrahimovic is regarded as one the best players in the world, and he now has his own search engine, over on zlaaatan.com.
The search engine, works (and looks) exactly like Google, but every search will automatically link in the word Zlatan too.
Like Google, there is a "I'm feeling lucky" section, though this one is simply "I'm feeling Zlatan". This button, however, takes you straight to the mercurial Swedish striker's wikipedia page.
Since its launch last Thursday, the Zlatan search has been used by over 100,000 people worldwide.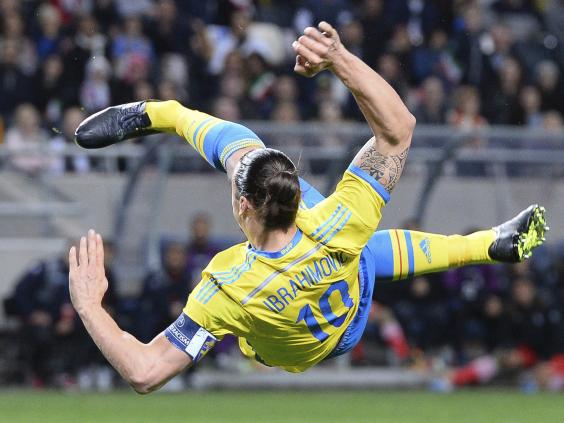 "Our search engine is linked to Google but all searches are Zlatan-related," Andreas Killander, creative director at SweetPop, explained to L'Equipe.
"If you type Ferrari you find information on the Ferrari Zlatan. If you are looking recipe, you have Zlatan Burger. Zlatan is an idol. He is known to the world, which is why we chose him.
The players Arsenal nearly signed
The players Arsenal nearly signed
1/7 Harry Kane

Arsenal supporting Harry Kane was on the books at Arsenal but aged eight was allowed to leave, making his breakthrough season at local rivals Tottenham all the more harder to take.

Getty Images

2/7 Zlatan Ibrahimovic

A fee had been agreed for the then 19-year-old but then Wenger requested that the Swede play in a trial match. The mercurial striker replied he didn't 'do auditions' and went on to win league titles with every club he ever played at.

GETTY IMAGES

3/7 Didier Drogba

Now a Chelsea legend, Wenger revealed that he could have signed the Ivorian for just £100,000 when the striker was playing for Le Mans. Drogba was watched many times before eventually being overlooked.

Getty Images

4/7 Angel Di Maria

Wenger had the chance to sign Angel Di Maria for absolutely nothing when the Argentinian was a 17-year-old. But work permit issues got in the way and he ended up at Manchester United for £59.7, via Benfica and Real Madrid.

GETTY IMAGES

5/7 Yaya Toure

With his brother Kolo at the club at the time, the Ivorian featured for Arsenal in a friendly against Barnet. But work permit issues got in the way and the winner of multiple African player of the year awards eventually ended up at Barcelona and then Manchester City.

Getty Images

6/7 Cristiano Ronaldo

The three-time winner of the Ballon d'Or was apparently shown around Arsenal's training camp at London Colney and even given a shirt with his name on the back. But Manchester United stole in after seeing Ronaldo rip them apart during a friendly with Sporting Lisbon.

GETTY IMAGES

7/7 Petr Cech

Arguably the most consistent goalkeeper ever to play in the Premier League was heavily scouted by Arsenal but when the possibility of signing him from Sparta Prague was raised work permit issues got in the way. Cech also claims that Arsenal's chief scout at the time had reservations about his ability.

GETTY IMAGES
"We did not ask him for his permission, but we hope that he will see it as a fun experience."
Reuse content