Adam Lallana is the one who was left behind. When Southampton plunged from the Premier League to League One, enduring administration and the threat of bankruptcy, the club sold the youth academy silver. Theo Walcott and Gareth Bale left; Andrew Surman, Nathan Dyer and Leon Best went; even after fortunes picked up, Alex Oxlade-Chamberlain departed. As his friends and team-mates headed for the top flight, Lallana stayed behind at St Mary's.
It was not that he lacked ability, Lallana lacked fitness. He had been struck down by the same condition, a bowel disease, that has put Darren Fletcher's career on hold. Lallana's was a much milder case, but it still set him back, enough that when the top-flight clubs raided Saints' renowned academy they let him stay.
Saints' balance-sheet loss then is their gain on the field now. Lallana has been a fixture as they climbed back up through the divisions and is now a proud club captain of one of the Premier League's most progressive clubs.
"I had a tough two years during my scholarship," he said as we met this week at a marina near Saints' Marchwood training ground. "I was diagnosed with ulcerative colitis, which is the same condition as Darren but a lot milder. It's a very nasty condition to have and my thoughts are with Darren. I think his is at the extreme level.
"I also had an irregular heartbeat, which was frustrating because I felt fine, but I wasn't able to play for three, four months until it was sorted out. I did get left behind a bit in my development – though I think the likes of Gareth, Chambo and Theo have the X-factor. They are different, they had pace and that's probably why they moved on and got that chance. I've had to bide my time, develop, and get better with the coaching here.
"It's worked out. I'm 25, I'm captain and it's special. I love the club and feel like I've grown with it from League One to Championship to now playing week-in, week-out in the Premier League. It's a great feeling, I'm really enjoying it."
Being at Saints during the dark times means Lallana appreciates their current exalted position all the more. "I remember getting a phone call and being told we weren't going to get paid. This was in the summer after we had been relegated to League One and we had minus 10 points [after a deduction for going into administration].
"Because I was quite young I was probably quite naïve and not worried too much about not getting paid. Kelvin Davis was here, a father of two at the time and probably had a mortgage, and it must have been worrying times for someone like that.
"It's amazing how far the club have come since [executive chairman] Nicola Cortese and [late owner] Markus Liebherr came in. If somebody had said then we'd even be half as successful as we are now, I wouldn't have believed it. And to have players coming in for the amount of money they are. It just proves how far the club has come, and how ambitious Nicola and the club are."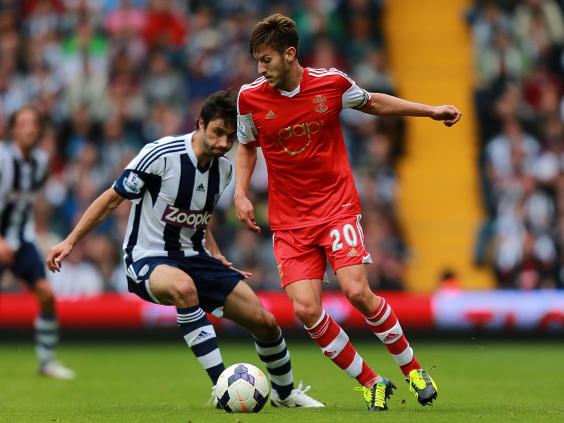 When Southampton won promotion back to the Premier League in May 2012 their transfer record dated back to 2001, when Stuart Gray paid Derby £4m for Rory Delap. Saints have since broken the record four times, for Jay Rodriguez (£7m) and Gaston Ramirez (£12m) last summer, Victor Wanyama (£12.5m) last month and last week Dani Osvaldo, the controversial Italian-Argentine, for £15m. Some of these players have threatened Lallana's place in the side but, so far, he has held on and started last weekend's win against West Bromwich Albion playing as a second striker off new England cap Rickie Lambert.
"The manager likes to have options and there is nothing better than to have freshness in and about the team. I've heard great stuff about [Osvaldo] and it will be great competition with Rickie, Jay and myself. But there is a core of the team that has been there since League One: Rickie, myself, Jose [Fonte] and Morgan [Schneiderlin]. It is nice to have that. The manager is building his own team around the core, and the club seems to be flourishing with all these nice, new additions."
Lambert has been the toast of the club after his scoring debut for England against Scotland last week. "When he came on I just had that feeling, if he had that chance he would score," said Lallana. "It was made for him. I was delighted for him and I think you saw from the reaction of all the other players how well he fitted in.
"When he came back to training he had a massive grin and so did everyone else. No one really said much at first, then we were asking questions: Rooney this, Gerrard that, Lampard this. He couldn't wait to answer them. It was like a Q&A session for about 20 minutes, then it was like, 'Lads, I have got to eat my breakfast, we're going to training'."
Lallana is himself on Roy Hodgson's radar having received a call-up last season, much to the approval of the St Mary's faithful who serenade Lallana with a re-working of the cricket Barmy Army's Mitchell Johnson song, which compares Lallana favourably, and rudely, to Lionel Messi. "It's a nice song to have," he says with a smile.
Though he did not get further than the England bench, the experience –and Lambert's recognition – has imbued him with hope of another international summons. "It was a shock [being called up] last year. We had only had two or three games in the Premier League. It was great fun, though I didn't play. Rickie being capped gives people like me and every other English player in the team  confidence and belief that if you are playing well you will get considered for the national team."
The priority is to keep impressing his club manager, Mauricio Pochettino, whose arrival in place of Nigel Adkins, who steered Saints to back-to-back promotions, was criticised at the time, but not now.
"He's world-class," said Lallana, speaking at the launch of pumafootballclub.com, "not just as a manager, but as a person, the way he man-manages his players. He makes you feel good about yourself. I was injured when he came in but he spoke to me and said, 'Listen, it's not a problem, you can come back'. He didn't make me feel I had to really impress, though I wanted to. He made me feel relaxed about that. He's had a lot of time for us and I think it shows in how well we have performed for him. He has that way about him, he is a cool guy."
When Cortese hired Pochettino it was with the stated intention that Saints should be challenging for Europe. Lallana is more cautious, targeting only "an improvement on last year". He added: "Other teams have spent money, everyone is improving, top 10 would be very good considering we are only in our second season and a lot of people say that is tougher than the first.
"Long term, I hope we become an established Premier League club. With the marquee signings we are bringing in there is no reason we can't do that and then push on." Though born in St Albans, he moved to Bournemouth aged five and joined Saints at 12. He signed a new five-year contract in April and said: "Being a local boy, what is happening at the club now is special. Obviously I want to do well for [whatever] team I play for, but Southampton is a special club for me and I can't see myself going anywhere else."
My other life
I spend a lot of time with my baby, Arthur. He'll be a year old next month and he's great. He's a lot more fun now he is crawling around and  communicating rather than just feeding and sleeping all the time. I've already got him playing with a ball. I think he is left-footed [Lallana is right-footed], and left-handed. And he sleeps at night...
Adam Lallana wears the ultra light PUMA evoSPEED 1.2. It's in his nature to be Supersonic – blink and he's gone. Lallana has filmed exclusive PUMA Football Club training videos helping you to create a yard of space to score more goals. Head to facebook.com/PUMAfootball #PUMAFC