The Emirates was the stadium that Arsenal built and, on more occasions than the home team would care to remember, Manchester United turned up to and won. Not tonight, not in these different times when United can no longer bully Arsenal as they once did, and the old swagger has gone.
The hard aspect for United, and David Moyes, to take was that while a draw was much better than the worst case scenario, they slipped further away from fourth place. A win for Liverpool increased the gap to United in seventh to 11 points and Tottenham's victory against Newcastle meant that they too moved further ahead. The problems get worse for United in that respect. Defeat would have been unthinkable.
Since Arsenal opened their new stadium in 2006, United have won three of the nine games they have played there, including that Champions League semi-final second leg in 2009 in which their superiority meant a 3-1 humbling for the home team. Arsenal have won three of those nine games and tonight was the third draw. It was very far from a classic and it said plenty about how both these sides are stuttering.
United are stumbling when they need to pick up momentum. Arsenal have been spooked by that 5-1 thrashing at Anfield and are struggling to re-establish themselves. "A little bit nervous" was the assessment of his team by Arsene Wenger, in the light of the result at Anfield. His team are still in the title race but they are showing vulnerability when they should have been capitalising on Chelsea's failure to beat West Bromwich Albion on Tuesday.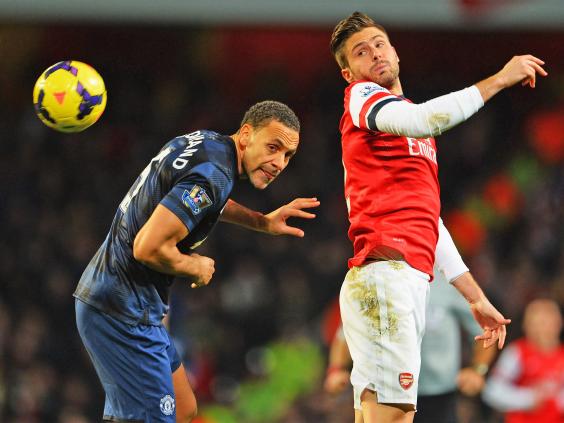 There was a frantic ending although it was a long way from those days when these two sides divided up the spoils in English football at the turn of the millennium. By the end of the game United were forced to cling on as Arsenal, the better team on the night, whipped up a storm of attacks to try to win the match.
At the other end, Robin Van Persie had the opportunity to nick a victory for United with a header that Wojciech Szczesny saved well. United defended better but their attacking fluency is still absent. Moyes stayed with the same back four that had creaked badly at times against Fulham three days earlier. They could not afford the same lapses in concentration.
Arsenal 0 Manchester United 0 player ratings
Arsenal 0 Manchester United 0 player ratings
1/22 Wojciech Szczesny 7/10

Spectacular save from Van Persie's later header to keep his team in the match

GETTY IMAGES

2/22 Bacary Sagna 5/10

Just like when the teams met at Old Trafford, right-back put in inviting crosses, but a team-mate could not capitalise

GETTY IMAGES

3/22 Laurent Koscielny 6/10

Came so close to opening the scoring but header was saved off the line. Solid performance otherwise

GETTY IMAGES

4/22 Per Mertesacker 5/10

Made some crucial interceptions in the first half, but lost Van Persie at times

Getty Images

5/22 Kieran Gibbs 6/10

Charged forward in the first half but header went straight at De Gea. Quiet as the game wore on

GETTY IMAGES

6/22 Santi Cazorla 7/10

Always looked to get his team on the move and late efforts well saved by De Gea

GETTY IMAGES

7/22 Mesut Ozil 7/10

Neat and tidy in possession and became more incisive and influential as the game became stretched in the final stages

GETTY IMAGES

8/22 Jack Wilshere 6/10

Caught in possession at times. Tried to drive his team on but Arsenal lacked runners

GETTY IMAGES

9/22 Tomas Rosicky 6/10

Sloppy passes and found it hard to get into a rhythm with match so tight in the middle

GETTY IMAGES

10/22 Mikel Arteta 5/10

Awful pass with the game in its infancy to put Van Persie straight through on goal. Struggled against Carrick and Cleverley

getty images

11/22 Olivier Giroud 6/10

Could not punish United with a couple of free headers and slightly off the pace. Tired

getty images

12/22 David De Gea 7/10

Brilliant save from Cazorla's snap shot late on. Hardly troubled

getty images

13/22 Rafael 5/10

A threat down the right in the first half. But went off at the break after colliding with Giroud

getty images

14/22 Nemanja Vidic 6/10

Lost Giroud on more than one occasion from a corner. But redeemed himself with important blocks

getty images

15/22 Chris Smalling 6/10

Comfortable along the back four. Performed well when moved to right back for the second half after Rafael went off

getty images

16/22 Patrice Evra 5/10

Attempted to get forward on the overlap but a quiet night for the Frenchman

getty images

17/22 Tom Cleverley 6/10

Comfortable in possession. Linked up well with Carrick and Mata

getty images

18/22 Michael Carrick 6/10

Broke up play constantly and did his job with diligence in the middle

getty images

19/22 Antonio Valencia 6/10

Fine header off the line to clear Koscielny's header from Arsenal's corner

getty images

20/22 Juan Mata 7/10

Beginning to fit right in at United with his quick passing to get the team on the attack. How Van Persie must enjoy playing with the Spaniard

getty images

21/22 Wayne Rooney 7/10

Delighful, lofted ball to Van Persie nearly won the game for United. Dangerous, but was he involved enough?

getty images

22/22 Robin van Persie 7/10

A shocking miss at the start of the game, hitting the ball straight at Szczesny, but was a constant threat, and powerful header was superbly saved by the goalkeeper late on

getty images
Arsenal enjoyed most of the possession and they ran the midfield where, for United, Tom Cleverley returned in the centre alongside Michael Carrick. Yet there were not the range of chances they might have expected with such a lot of the ball at the feet of Jack Wilshere and Mesut Ozil. In the first half, Arsenal went closest from set-pieces.
Never more so than early on when Nemanja Vidic came for a header and missed it entirely, allowing Olivier Giroud a sight of goal. He glanced the ball wide. It was another moment from the United captain that will have made his manager wince. This is not shaping up as the most auspicious farewell but, in Vidic's defence, he got a lot better.
Giroud looked dangerous on set-pieces and there was another header directed over the bar later in the half. But the home team failed to get behind the United defence consistently and there were no major tests for David De Gea before half-time.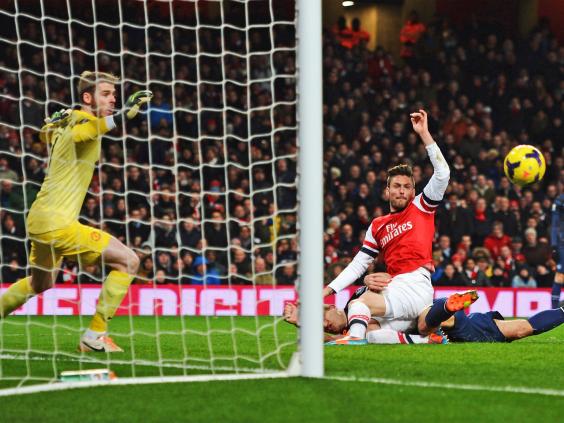 The best chance of the first half fell to United, when Van Persie robbed the ball from Mikel Arteta within the first two minutes. The Arsenal captain turned away from goal and straight into the path of the Dutch striker who took the ball left and did not give himself many options other than a difficult shot into the near top corner. In the end, he hit the ball straight at Wojciech Szczesny.
As for Juan Mata he found himself trying to pinch the ball on the edge of the United area and catch up with the counter-attacks on the few occasions they happened. It was not the night for him to orchestrate play, certainly not in the first half. His touch remains as elegant as ever. But United could not get the ball to him often enough and he was substituted in the second half.
It was even more frustrating for Wayne Rooney whom Mark Clattenburg called over for a conference with his captain Vidic, the referee having grown tired of the Englishman's constant hectoring. Again, Rooney tried hard but was not a decisive influence.
Rafael did not make it back for the second half, having turned over mid-air challenging Giroud for a header in the latter stages of the first half and landing on the top of his back. Instead, Rio Ferdinand came on in his place for his first league appearance since the 2-2 draw in Cardiff on 24 November. Smalling moved over to right-back and United prepared to face down a more serious onslaught from the home side.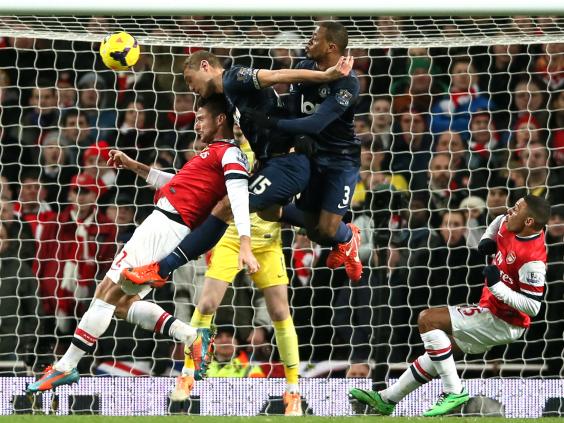 Arsenal cranked up the pressure around the hour, when Valencia was obliged to clear a header from Laurent Koscielny off the line - as close as Arsenal had come to scoring at that point. Giroud saw another header go wide and had a half-decent appeal for a penalty turned down. It would have been harsh on Vidic but the United captain certainly pushed the striker, albeit relatively gently, before he went down.
The pressure intensified on United, and Giroud failed to connect with an inviting cross from Bacary Sagna on 76 minutes that needed just a little contact to direct past De Gea. United brought on Adnan Januzaj but they fell back and it got worse for them. They were fortunate that Vidic found his A-game in the second half and was much more dominant in the air.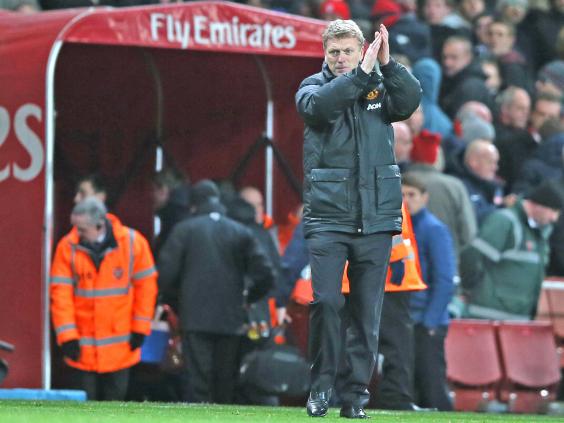 Yet still United went the closest. Wilshere delayed releasing the ball in midfield and was dispossessed by Carrick. From there it went to Van Persie and onto Rooney who struck a beautifully-flighted cross with his right foot to the back post where Van Persie had made his run. His header was powerful but somehow Szczesny managed to push it onto the frame of the goal.

Vidic was at his best in the closing stages, competing with Giroud for the balls into the box that Arsenal peppered the United defence with. The usual scenario of misfortune that Moyes has seen far too much of in his short time in charge would have seen United concede. But they held on for a draw and he will take that for now.
Arsenal (4-2-3-1): Szczesny; Sagna, Koscielny, Mertesacker, Gibbs; Arteta, Wilshere; Cazorla, Ozil, Rosicky (Oxlade-Chamberlain75); Giroud.
Manchester United (4-2-3-1): De Gea; Rafael (Ferdinand ht), Smalling, Vidic, Evra; Cleverley, Carrick; Valencia (Young 81), Rooney, Mata (Januzaj 75); Van Persie.
Man of the match: Ozil.
Match rating 5/10.
Referee M Clattenburg (Co Durham).
Attendance 60,021.
Reuse content