At this time of the year nothing matters except the result, which is some relief for Arsenal after labouring to this pained 2-0 win over Sunderland.
It was not one of the great Emirates Stadium nights, but it was enough. These precious three points propel Arsenal up to 72, with Everton to come here on Sunday for the season finale. And Arsenal still have a slim but plausible shot at coming fourth on final day.
Arsenal are still one point behind fourth-placed Liverpool, with a goal difference that is two worse. Realistically they must beat Everton here at the Emirates and hope that Liverpool do not beat relegated Middlesbrough at Anfield. Unlikely, but not impossible.
There is an even slimmer possibility that Manchester City lose heavily away at Watford and Arsenal win by enough to make up a six-goal swing in total. Although Arsenal must play much better than this if they are to win well this weekend.
It might sound like slim pickings but then, with 13 minutes left here, Arsenal were staring down the barrel of the end of their league season. It took 77 minutes for Alexis Sanchez to break the deadlock and for long spells it looked as if they would never beat Jordan Pickford. Had it stayed like that until the end then Arsenal would have been stranded on 70 points. Liverpool would have only needed a draw on Sunday to lock the door on Arsenal.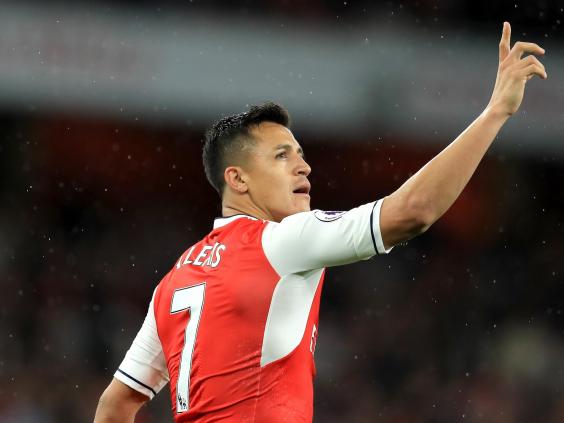 That would have been almost a nightmare scenario, and the way this game felt it was headed right until Sanchez popped up and scored. It was a strange night at the Emirates, the game played out in front of what looked like one of the stadium's lowest ever crowds. Officially 59,510 tickets were sold but 50,000 would be a better guess of the attendance here.
The lack of atmosphere filtered through to the players and this game never felt like there was much riding on it. Arsenal could never summon any momentum or intensity. There was an early burst at the start, when Alexis Sanchez had a goal disallowed because it touched Olivier Giroud's hand, but that was pretty much it.
Sunderland played as if they had been personally stung by Wenger's claim that at this stage of the season too many teams "release their focus" because they are mentally on holiday. They came here to make it difficult for Arsenal and did exactly that. They defended properly and even had two reasonable first-half chances of their own. Didier N'Dong and then Jermain Defoe both escaped down the left and forced saves from Petr Cech. Pickford was the busier keeper but he could stand up to everything Arsenal threw at him.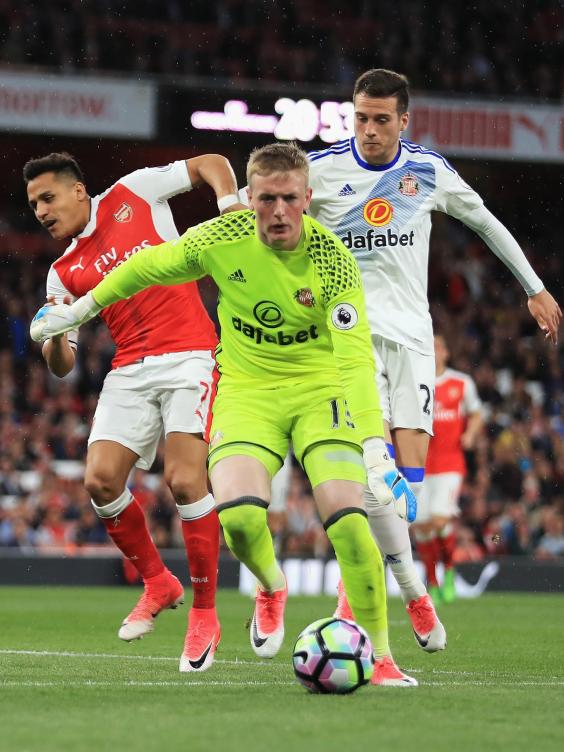 Arsenal needed to dramatically improve after the break but instead they got worse. When Nacho Monreal skewed a back-pass, Petr Cech had to scramble and dive to keep it out of his own net. That meant an direct free-kick on the by-line two yards out. Sebastian Larsson clipped the ball up and over the wall, but Hector Bellerin headed it behind for a corner.
That was the end of Sunderland's attacking intent and from then on the ball belonged solely to Arsenal. But they pushed and pushed and got nowhere. Sunderland were defending resolutely and Arsenal did not know how to pick through them. Alexis Sanchez hammered a free-kick into the wall, Olivier Giroud flashed a header just wide, but they had to turn to the bench with just over 20 minutes left.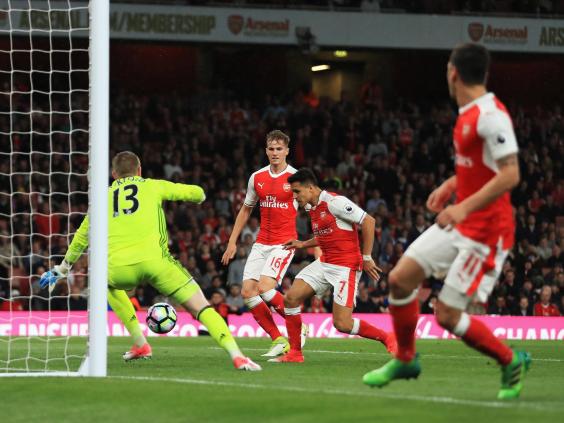 Alex Iwobi and Danny Welbeck came on, Arsenal went to a 4-3-3. It was a gamble to win the game, but it worked. Welbeck forced a corner with a stinging low shot from the wide. Mesut Ozil sent a corner back to Granit Xhaka. He chipped a beautiful pass over the top to Ozil, who squared low for Alexis Sanchez, who finished. Arsenal were ahead, at last.
From then on it was a different game. Sanchez should have another, Xhaka forced a good low save from Pickford, then Welbeck did the same.
The second goal came when Giroud plucked Mustafi's cross out of the sky, Pickford saved his volley and then Sanchez nodded the rebound into an empty net. That was enough to confirm the three points and to keep Arsenal's league season alive, for a few more days at least.
Reuse content