Arsenal's season unravelled further on Wednesday night as a stoppage-time own-goal threw away a game they had somehow been winning; and which Swansea  could have then won but for a controversial decision by the referee to blow his whistle for full time with Jonathan De Guzman through on goal.
The subsequent anger of the visiting players ended a night of slow frustration and occasional drama, in which Arsenal played dismally for the first 73 minutes, trailing 1-0 to Swansea, who played a nearly perfect game for more than hour. The weekend defeat at Stamford Bridge seemed to have sapped the Arsenal players and fans.
Then, out of nowhere, Lukas Podolski, on as a substitute, and Olivier Giroud scored in consecutive minutes and Arsenal appeared to have rescued a remarkable win before the dramatic finale.
The initial hope here on Wednesday night was just for a return to normality. Arsène Wenger's generous description of Saturday's collapse at Stamford Bridge as an "accident" suggested that he wanted to move on as quickly as possible from a very troubling trend. While Arsenal's record against the best is dismal, they are at least meant to be better this season against the weaker sides.
So Wenger only made one unenforced change to Saturday's team, with Mathieu Flamini brought in to add the intensity and application that Podolski had not exactly been brimming with before last night. Laurent Koscielny was out with a calf injury so Thomas Vermaelen came in at centre-back.
That partnership between Koscielny and Per Mertesacker has been one of the strengths of Arsenal's season; their new-found "defensive stability", in Wenger's phrase, helping them to 13 clean sheets this season.
But that pair was separated last night and with Swansea's first attack they took the lead. Arsenal played an acceptable first 10 minutes but when Alex Oxlade-Chamberlain, reprieved from suspension, gave the ball away in midfield, Swansea could play keep-ball. Soon enough it fell to Neil Taylor, in far too much space on the left. He crossed and Wilfried Bony darted behind Mertesacker and in front of Vermaelen, heading the ball into the net.
The Arsenal fans tried to rouse their team, and while they dominated possession they were very short on conviction and skill in the final third. It was explicable enough, given the absences of Mesut Özil, Aaron Ramsey, Jack Wilshere and Theo Walcott, but still a desperate frustration too.
Tomas Rosicky and Santi Cazorla found good positions on the left but crossed straight to defenders, Mertesacker headed into the side netting and Oxlade-Chamberlain, 20 yards out, hammered a shot straight into Rosicky's back. Giroud could not control a cross from Oxlade-Chamberlain and Bacary Sagna could not get his head on an Arteta free-kick.
There was one good chance, two minutes before the break, when Cazorla shuffled past two defenders on the edge of the box but he hit his left-footed shot straight at Michel Vorm. That was as good as it got, Arsenal trudging into the warmth of the half-time dressing room hoping to come back with some better ideas.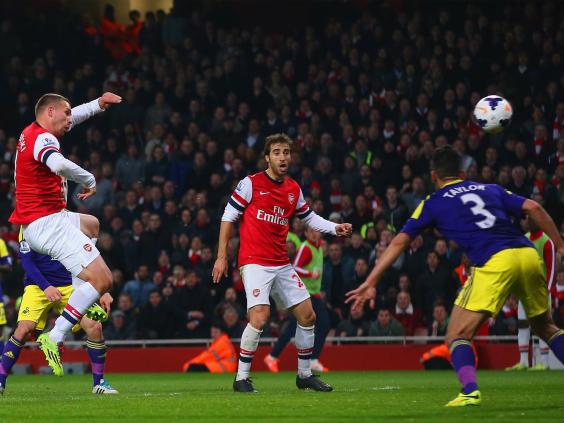 There was no obvious improvement, though, and so, 10 wasted minutes after the re-start, Podolski was introduced for Oxlade-Chamberlain. Arsenal continued to play in Swansea's half but could not break through their deep defence. Soon after, Rosicky stabbed a shot over from 20 yards but they still could not create anything resembling a chance.
These were old Arsenal problems, back to trouble them again last night. Possession is nice but without penetration it is what Wenger famously called "sterile domination".
There was so little nimble mobility from Giroud and Podolski that Rosicky and Cazorla did not know what to do with  the ball. When they gave it to the full-backs to cross, Swansea, with Ashley Williams and Chico Flores back to their best, simply headed the ball away.
But matches can turn on one quick decision and so it was, with 17 minutes left, when Kieran Gibbs just put his head down and ran. Rather than swinging in a cross from deep, he burst past a tiring Angel Rangel down to the by-line, and whipped the ball back. Podolski, free in the box, turned it in.
In a moment, the atmosphere inside the stadium switched. Having done nothing all game, Arsenal scored their second goal one minute after their first. Podolski, a confidence player in a confidence team, stormed down the left wing and bent a perfect cross around Williams and into the path of Giroud, whose finish could not have been easier.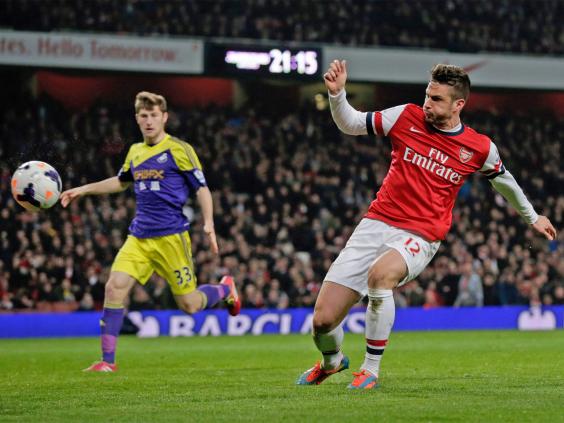 It felt, for the final 16 minutes of normal time, as if Arsenal had got away with it. Wenger even introduced Kim Kallstrom, but his calming influence was not enough to prevent the error at the death that cost Arsenal the win. Leon Britton, still energetic, exchanged passes with Rangel and burst into the box. Mertesacker lunged to tackle him, the keeper Wojciech Szczesny tried to hack the ball away but it hit Mathieu Flamini and rolled into the net.
And then came even more trauma. The referee Lee Probert blew his final whistle just as De Guzman was through on goal with Szczesny. The Swansea players surrounded Probert, and with good reason. But neither team walked off happy.
Reuse content