For those who have viewed Arsene Wenger as a fixed point amid football's changing times, there is an air of tragedy about the way his endgame is playing out.
It certainly feels like an ending, given the shocking depths of Arsenal's first half capitulation to Liverpool on Saturday and then the post-match conversation where the Wenger denials which would once give us cause to laugh and cheer his sheer cussedness sounded like the meanderings of a man staggering around in the depths of the forest, looking for the slightest shard of light.
The inquisition was dominated, of course, by the unfathomable and quite dreadful decision to keep Alexis Sanchez – the player who so concerned Jurgen Klopp that Liverpool's mid-week training had been built around him – on the bench.
Liverpool vs Arsenal player ratings
Liverpool vs Arsenal player ratings
1/22 Simon Mignolet – 6 out of 10

It was a relatively quiet day at the office for the keeper, with Arsenal providing him very few tests throughout.

Getty Images

2/22 Nathaniel Clyne – 7 out of 10

Made a number of bursting runs forward and worked incredibly well with Mane down the right.

Getty Images

3/22 Joel Matip – 6 out of 10

He held his position well and played it safe at the back – which it exactly what was needed.

Getty Images

4/22 Ragnar Klavan – 6 out of 10

He proved a tough opponent for the Arsenal strikers, as he tackles hard and reads the game well.

Getty Images

5/22 James Milner – 5 out of 10

Played a huge role in Mane's goal, but aside from that he did not make the biggest impact.

Getty Images

6/22 Georginio Wijnaldum – 7 out of 10

His impressive display was completed with a last minute goal to seal the deal at Anfield.

Getty Images

7/22 Emre Can – 6 out of 10

Was a key outlet for Liverpool, but his tackling was clumsy and unnecessary at times.

Getty Images

8/22 Adam Lallana – 7 out of 10

His closing down of possession and movement on the field was phenomenal. Top display.

Getty

9/22 Philippe Coutinho – 7 out of 10

Continued to make chances throughout and was a key element to almost every Liverpool attack.

Liverpool FC via Getty Images

10/22 Sadio Mane – 8 out of 10

With an assist and a goal under his belt, the confidence of this talent was obvious throughout. Caused a nuisance of himself throughout.

AFP/Getty Images

11/22 Roberto Firmino – 7 out of 10

His goal opened the scoring for Klopp's men and he continued to test The Gunners defence throughout.

Liverpool FC via Getty Images

12/22 Petr Cech – 5 out of 10

Letting in three goals at Anfield is never going to reflect well, despite making a number of important saves.

Getty Images

13/22 Hector Bellerin – 6 out of 10

Going forward he was dangerous, but defensively he kept being dragged out of position.

Getty Images

14/22 Shkodran Mustafi – 6 out of 10

He made a handful of vital interceptions and tackles.

Arsenal FC via Getty Images

15/22 Laurent Koscielny - 6 out of 10

Struggled, as the rest of the side did, against Liverpool's attack but managed to keep some sort of shape to the central defence.

Getty Images

16/22 Nacho Monreal – 6 out of 10

Worked well going forward, but looked insufficient against the pace and power of Mane.

Arsenal FC via Getty Images

17/22 Francis Coquelin – 5 out of 10

Made a number of unnecessary and clumsy challenges. Subbed during the break for Sanchez.

AFP/Getty Images

18/22 Granit Xhaka – 5 out of 10

Needs to be winning more in the middle of the park, as this lost Arsenal the game at times.

AFP/Getty Images

19/22 Alex Oxlade-Chamberlain – 7 out of 10

Showed glimpses of excellence and his skills on possession were sublime.

AFP/Getty Images

20/22 Alex Iwobi – 6 out of 10

Performed going forward, but defensively he appeared unaware of his duties.

Getty Images

21/22 Danny Welbeck – 6 out of 10

Aside from scoring, he did very little today. He was being dragged inside and it was making the Arsenal attack very narrow.

Getty Images

22/22 Olivier Giroud – 5 out of 10

Aside from one headed effort, he barely touched the ball. Quiet would be an understatement.

Getty Images
This had been so because Arsenal had wanted to go "more direct," Wenger said, explaining to one journalist that "what I call direct is when the goalkeeper kicks direct to the striker." It was hard to deduce whether this was sarcasm though it was frankly nonsense, given that nothing on the Anfield field suggested such a strategy, it is hard to recall Arsenal ever employing such a strategy and, even had they done so, Arsenal's best player could have been accommodated with Oliver Giroud and Danny Welbeck.
In one of the Anfield back corridors, before leaving the stadium, Wenger seemed to hint that there was something he was not telling us about Sanchez . Asked had he dropped him for the 'good of the team', he laughed. "I will explain that later, one time. If you make a decision, you make a decision. People are always emotional in their analysis to this kind of decision."
Sanchez certainly seems psychologically divorced from the team and sick to the stomach of the failure. That was patently clear when he arrived straight after the interval, gesticulating at and remonstrating with Nacho Monreal, whose positioning irritated him, much as Alex Oxlade-Chamberlain's did in Munich two weeks ago.
Sir Alex Ferguson was never averse to taking action against an ego like that. No-one, bar Eric Cantona, was bigger than his precious team. But Manchester United would usually go and win while the ego looked on from the side. And if the team was as pitifully meek as this Arsenal, then Ferguson would have been up on his feet, hauling players off after 20 minutes.
Wenger is not the master of his destiny in that way and a realisation of the fact is coursing through his team.  The most shocking part of Saturday's first half was the sight of Francis Coquelin and Granit Xhaka, terrorised by Liverpool players who hunted in packs and mentally spent. Neither should have seen the half hour out. It is almost beside the point that Wenger's full-backs were utterly absent when each of the decisive first half goals were scored, by Roberto Firmino and Sadio Mane.
The gulf between the sides before Sanchez's arrival triggered a modicum of professionalism took us back to a Wenger team's 5-1 annihilation three years ago, by a Brendan Rodgers team who were 3-0 up inside 20 minutes. Yet even in the depths of that February 2014 defeat, we witnessed Jack Wilshere snapping at the Liverpool midfield like his life depended upon it. No, there had been no Arsenal quite like this in recent memory, within the L4 postcode.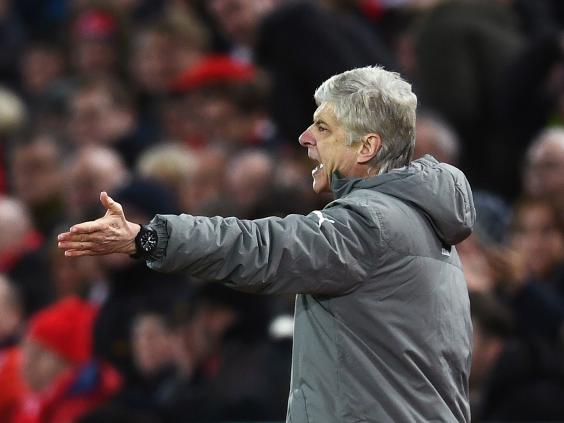 For Liverpool, the 3-1 win was a reminder of what their Firmino, Mane, Philippe Coutinho, and Adam Lallana can bring, with Lallana best of them all. It is against so-called 'lesser' opposition who harry them that the side feel the absence of a hard-running midfielder. Burnley will be a far tougher proposition, at Anfield on Sunday.
By then, Wenger's players will have faced the four-goal deficit against Bayern, though this top four battle seems his hardest ever. "No, not necessarily," he said needless to say. Martin Keown observed on the BBC he could not remember anything quite as bad as this from his old side. So precisely which Arsenal has he been watching? Those who witnessed the defeats to Watford and Chelsea will tell you wasn't even the worst of this year.
Reuse content