High, high, high up in the Kop grandstand Granit Xhaka's volley landed, bouncing depressingly into one of the central gangways before it was retrieved.
Arsenal had been behind for 20 minutes by then and the game was half an hour old. Xhaka twitched with his shorts, fixed his socks – as if he'd prefer people to believe the shot had been someone else's responsibility, but Anfield was already whistling. It was Arsenal's first effort on Simon Mignolet's goal and their only one of the first half.
A couple of moments later, Francis Coquelin, one of Arsenal's more competitive players usually, deemed it necessary to pull on Adam Lallana's shirt and for that he was booked. It was about as aggressive as Arsenal got in that opening period: a midfielder whose pocket had been picked not for the first time by Lallana – who was excellent for Liverpool – reacting not by chopping him down in frustration but by grabbing him instead. Either way it was going to earn him a booking.
Liverpool vs Arsenal player ratings
Liverpool vs Arsenal player ratings
1/22 Simon Mignolet – 6 out of 10

It was a relatively quiet day at the office for the keeper, with Arsenal providing him very few tests throughout.

Getty Images

2/22 Nathaniel Clyne – 7 out of 10

Made a number of bursting runs forward and worked incredibly well with Mane down the right.

Getty Images

3/22 Joel Matip – 6 out of 10

He held his position well and played it safe at the back – which it exactly what was needed.

Getty Images

4/22 Ragnar Klavan – 6 out of 10

He proved a tough opponent for the Arsenal strikers, as he tackles hard and reads the game well.

Getty Images

5/22 James Milner – 5 out of 10

Played a huge role in Mane's goal, but aside from that he did not make the biggest impact.

Getty Images

6/22 Georginio Wijnaldum – 7 out of 10

His impressive display was completed with a last minute goal to seal the deal at Anfield.

Getty Images

7/22 Emre Can – 6 out of 10

Was a key outlet for Liverpool, but his tackling was clumsy and unnecessary at times.

Getty Images

8/22 Adam Lallana – 7 out of 10

His closing down of possession and movement on the field was phenomenal. Top display.

Getty

9/22 Philippe Coutinho – 7 out of 10

Continued to make chances throughout and was a key element to almost every Liverpool attack.

Liverpool FC via Getty Images

10/22 Sadio Mane – 8 out of 10

With an assist and a goal under his belt, the confidence of this talent was obvious throughout. Caused a nuisance of himself throughout.

AFP/Getty Images

11/22 Roberto Firmino – 7 out of 10

His goal opened the scoring for Klopp's men and he continued to test The Gunners defence throughout.

Liverpool FC via Getty Images

12/22 Petr Cech – 5 out of 10

Letting in three goals at Anfield is never going to reflect well, despite making a number of important saves.

Getty Images

13/22 Hector Bellerin – 6 out of 10

Going forward he was dangerous, but defensively he kept being dragged out of position.

Getty Images

14/22 Shkodran Mustafi – 6 out of 10

He made a handful of vital interceptions and tackles.

Arsenal FC via Getty Images

15/22 Laurent Koscielny - 6 out of 10

Struggled, as the rest of the side did, against Liverpool's attack but managed to keep some sort of shape to the central defence.

Getty Images

16/22 Nacho Monreal – 6 out of 10

Worked well going forward, but looked insufficient against the pace and power of Mane.

Arsenal FC via Getty Images

17/22 Francis Coquelin – 5 out of 10

Made a number of unnecessary and clumsy challenges. Subbed during the break for Sanchez.

AFP/Getty Images

18/22 Granit Xhaka – 5 out of 10

Needs to be winning more in the middle of the park, as this lost Arsenal the game at times.

AFP/Getty Images

19/22 Alex Oxlade-Chamberlain – 7 out of 10

Showed glimpses of excellence and his skills on possession were sublime.

AFP/Getty Images

20/22 Alex Iwobi – 6 out of 10

Performed going forward, but defensively he appeared unaware of his duties.

Getty Images

21/22 Danny Welbeck – 6 out of 10

Aside from scoring, he did very little today. He was being dragged inside and it was making the Arsenal attack very narrow.

Getty Images

22/22 Olivier Giroud – 5 out of 10

Aside from one headed effort, he barely touched the ball. Quiet would be an understatement.

Getty Images
Soon enough when a header was to be won, Liverpool's players decided to leave it because Xhaka and Coquelin had gone to meet it together like two idiots. In the messy aftermath, Anfield cheered at the sight. Arsenal were sleep walking towards defeat. Liverpool's lead at the break was by two because for a second time, a full-back had disappeared from the position he was supposed to be in.
Liverpool were pretty good here – as they have been against the Premier League's other top six clubs this season. They are now unbeaten in 10 games against the top seven teams but that impressive statistic is counter-balanced by the fact they have lost five of thirteen fixtures against the bottom nine.
Arsenal's record is the reverse. Since defeating Chelsea so convincingly in September, they have drawn with Tottenham Hotspur and Manchester United, losing to Manchester City, Chelsea and now Liverpool for a second time this season and this explains why they are now two points behind Liverpool with a game in hand.
The respective patterns suggest that Liverpool have decent players, capable of raising performance levels against top class opponents, though they do not fall into the elite category themselves because elite category players produce consistency against all opponents, no matter their standing.
Arsenal's cycle is almost a tradition now and there is an assumption their players simply aren't mentally tough enough to get across the line when it matters most. It does not help Mesut Ozil's reputation as a flake when he misses important games such as this one because of flu.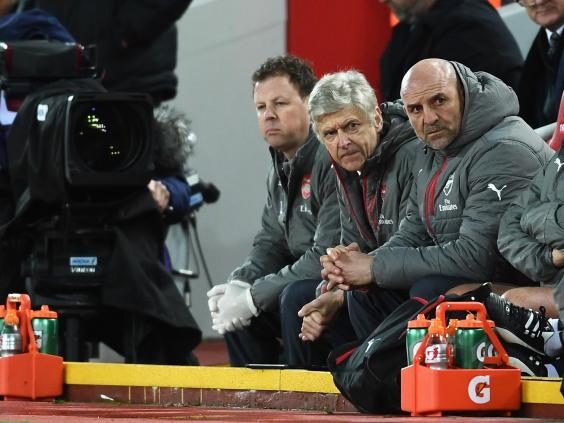 Arsène Wenger had said that he wanted Arsenal to be "proactive" and until the introduction at half time of Alexis Sánchez for Coquelin, it was as though his players had not been listening to the message. Sánchez transformed Arsenal's play, even though he was stationed to the left of their attack when he's spent the whole season scoring goals from the middle. He was a strutting, brooding presence and the sight of him giving Nathaniel Clyne so many problems is a reminder not only of where Clyne is at but where Sánchez, Arsenal and Liverpool are really at.
Sánchez was the only real world class player on the pitch. Wenger dropped him here for Olivier Giroud because he wanted to use a more direct style and the Chilean nearly managed to get his manager out of a hole even from two goals down because Arsenal's halves of football were unrecognisable from one another. By the end of the season Sánchez's involvement, indeed, might prove to be the determining factor in which of these sides finishes above the other. Whether that means either of them qualifies for next season's Champions League, though, is another more serious matter altogether.
Reuse content