All good teams are a reflection of their manager, but this Manchester City side are not – not just yet. Pep Guardiola is an intense driven winner but his team are not consistently showing those qualities, even as they enter the final straight of his first season in charge.
That is why here at the Emirates this afternoon City drew their third consecutive Premier League game, failing to take advantage of their obvious superiority or the two times they had the lead. That is why they failed to capitalise on Chelsea's defeat to Crystal Palace, leaving their gap to the league leaders at 11 points. And that is why they are not seriously challenging for the title this season.
Even accounting for Saturday's disaster, Chelsea bear the obvious imprint of their workaholic manager, playing Antonio Conte's rigorous, muscular football. But this City team are not on Chelsea's level, which is why they were beaten when the teams played at the Etihad in December. They meet again at Stamford Bridge on Wednesday but City will not get anything out of it if they play like this.
Arsenal vs Manchester City player ratings
Arsenal vs Manchester City player ratings
1/22 David Ospina, 5 out of 10

Should have done better with City's second goal, with Aguero shooting across the keeper and into the bottom corner of the net.

AFP/Getty

2/22 Hector Bellerin, 6

Rarely beaten for pace but horrendously exposed by Leroy Sane for Manchester City's opening goal.

Getty

3/22 Shkodran Mustafi, 6

Terrific header to level the scores. Exceptionally lax in possession, however, and looked shaky alongside Gabriel.

Arsenal FC via Getty

4/22 Laurent Koscielny, 6

Not one of the Frenchman's better performances – he failed to make a single tackle although did make a number of key interceptions. Withdrawn at half-time with an Achilles problem.

Getty

5/22 Nacho Monreal, 5

At fault for City's second goal and was repeatedly guilty of affording Sergio Aguero too much space.

Arsenal FC via Getty

6/22 Francois Coquelin, 5

This isn't the first-time he's struggled playing alongside Xhaka. Jumped into some dubious tackles and offered little on the counter-attack.

AFP/Getty

7/22 Granit Xhaka, 5

Frequently overran in the middle and, once again, recklessly jumped into several tackles.

Getty

8/22 Theo Walcott, 6

Wasted more than one chance in the first-half but persevered to score for the home-team, out-muscling Clichy to poke home.

Getty

9/22 Mesut Ozil, 6

Registered his 50th assist for Arsenal when Mustafi nodded home his corner. But still a long way from his best. His attitude leaves a lot to be desired.

AFP/Getty

10/22 Alexis Sanchez, 6

Deployed out wide with Welbeck preferred in the central role. Typically busy but, like Ozil, spent a lot of time with his hands on his hips instead of helping out his defence.

Getty

11/22 Danny Welbeck, 6

Worked hard but struggled to create any clear cut opportunities.

AFP/Getty

12/22 Willy Caballero, 6

Largely solid, and saved Ozil's low shot well, but could he have done better with Mustafi's header?

Getty

13/22 Jesus Navas. 5

A surprise to see him in Guardiola's starting line-up, especially at right-back. Looked vulnerable but Arsenal largely failed to exploit him.

AFP/Getty

14/22 John Stones, 6

Made a crucial interception and fared better than Otamendi alongside him.

AFP/Getty

15/22 Nicolás Otamendi, 6

Looked shaky at the back, especially late on after Olivier Giroud had been introduced.

Getty

16/22 Gael Clichy, 6

Desperately at fault for Arsenal's first-goal, when he stepped up and inadvertently played three Arsenal forwards on side.

AFP/Getty

17/22 Fernandinho, 6

Played further forward than expected and had a solid game. Tested Ospina in the second-half with a rasping drive from outside the box.

Getty

18/22 Kevin de Bruyne, 7

Completely sliced open the Arsenal defence with a wonderful through-ball, which Sane raced onto to score. Unlucky not to score himself, twice striking the woodwork.

AFP/Getty

19/22 Raheem Sterling, 6

Withdrawn at half-time. Presumably because of injury, because he started the game well and looked lively out wide.

AFP/Getty

20/22 David Silva, 7

Superb in possession and one of City's busiest players, frequently springing forward and stretching the Arsenal defence.

Getty

21/22 Leroy Sane, 7

The young German's fabulous goal-scoring form continues. A constant threat down the left.

Getty

22/22 Sergio Aguero, 7

A far better performance from the Argentinian. Terrorised the Arsenal defence with a number of surging runs and took his goal with confidence.

Getty
This game was perfectly set up for City to win. They faced an Arsenal team who had won two of their last six, and those against Sutton United and Lincoln City. Arsenal have been playing badly and find themselves in a state of political crisis with many of their fans furious about Arsene Wenger's likely continued future as manager. If City had been able to exploit that discord they could have turned the atmosphere against Arsenal but that never happened.
Arsenal, in blunt terms, were there for the taking. City's attacking football was good enough to take an early 1-0 lead and then to go 2-1 up just before half-time. They easily found space in the middle, David Silva was as influential as ever and Sergio Aguero found dangerous positions in the box. Laurent Koscielny went off at half-time, a departure that was deadly for Arsenal in both of their games against Bayern Munich recently, twice prompting a collapse to a 5-1 defeat.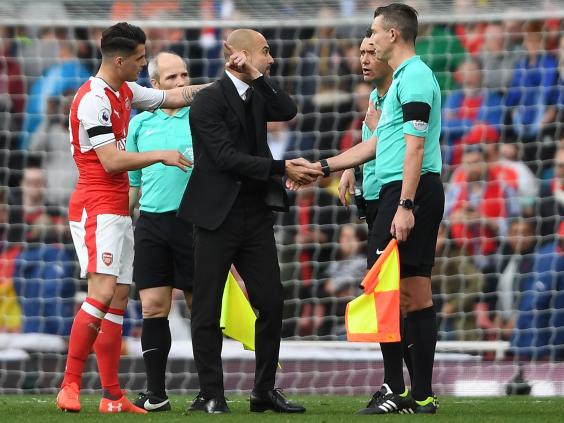 But what this showed is that City are nowhere near the standards of the club that Guardiola left to join them.
Both goals that City conceded were poor and preventable. Theo Walcott stabbed his goal in after Gael Clichy managed to make two mistakes in the same move, first playing Walcott on-side and then losing the 50-50 challenge with him. The second was a free header for Shkodran Mustafi from a corner, taking advantage of lax marking in the box. It was a well-directed header but a better goalkeeper than Willy Caballero could have reached it as it went into the net.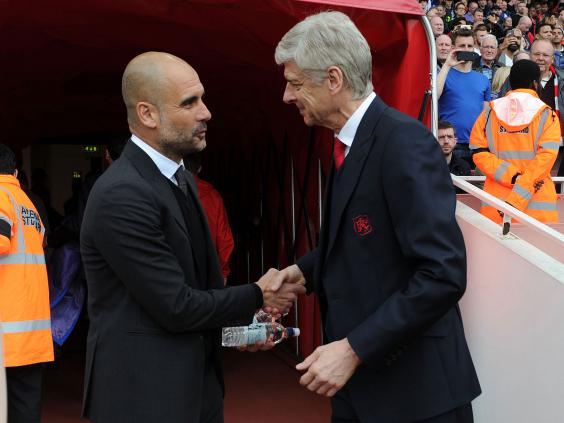 Guardiola might say that with better defenders and a goalkeeper these mistakes would have been prevented. In a sense he is right, and City will spend millions of pounds this summer on defensive players who can stop this from happening in future. They wanted to do that last summer, targeting a whole new back four, but it did not turn out quite like that.
But there is a bigger problem here than just defensive positioning. City want to play proactive football, taking the initiative, controlling the game and not giving their opponents a sniff. Here they had Arsenal exactly where they wanted them but twice they allowed Arsenal back into it. It was a failure of intensity, to be unable to keep playing Guardiola football.
If City had played well here they would have continued to show confidence and that touch of football arrogance that Guardiola demands from his teams. But instead they dropped off, slackened their grip on the game, and it cost them.
That is what Guardiola meant when he said in his press conference that City "forgot to play". They failed to show the personality that Guardiola demands of them. Of course, Guardiola said afterwards that the failure was his, that he needs to convince the players to play his way. He said the same thing after City went out of the Champions League in Monaco last month. But ultimately he knows that the ones who cannot do what he wants will be sold. The players know that too, and if they want to stay here next year they are not going the right way about it.
Reuse content