Mesut Ozil has indicated that manager Arsene Wenger remains key to his own future at Arsenal, stating that the Frenchman's decision whether to extend his contract or not will be "important for me" and "the whole club".
Ozil will have just one year left on his contract come the summer, but has stalled on committing his future to the Gunners as questions over Wenger's own status continue to persist.
Following Arsenal's worst run of results under the Frenchman since he joined more than 20 years ago, Wenger has faced mounting pressure to step down from his role.
Nonetheless, the 67-year-old still has the backing of the club hierarchy and has reportedly been offered a new contract for the next season and beyond.
Speaking in a recent interview, the World Cup winner suggested that he is now waiting to see how the manager's situation pans out before making any decision of his own.
"It's not just important for me but for the whole club," Ozil told the Daily Mail. "It's important to know if he stays or if he goes. We need to think towards next season.
"He's very important. In my career I've always made decisions not just because of clubs but managers, too. As a footballer, it's important to have the manager's trust and believe they can develop you.
"When I went from Madrid to Arsenal, I came for him because I told him at the time he'd be my first option. That was the case. We still have a super understanding today.
Arsenal have the same season every year
Arsenal have the same season every year
1/8 Surprise early defeat

A surprise early defeat, such as 2013/14's to Aston Villa or 2015/16's to West Ham United, makes July's Emirates Cup win seem like a distant memory.

Getty

2/8 Impressive win against top club

A promising win against a title rival, like last season's 3-0 victory over Manchester United or this season's win over Chelsea, has the Emirates hoping for the best again.

Getty

3/8 Injuries start to mount up

However, a long queue starts to form outside the treatment room. Key players, as well as regular absentees, tend to be the victims.

Getty

4/8 November curse strikes again

Arsene Wenger's side then begin to unravel in November, with the curse kicking in after an away defeat against one of the top flight's lesser lights. It's around now that the already-faint hopes of a title challenge start to fade.

Getty

5/8 Champions League elimination

The most predictable part of it all comes in February, with Champions League elimination, usually to Bayern Munich, Barcelona or Monaco, if they are really unlucky.

Getty

6/8 Title hopes finally killed off

A heavy, signature defeat to a fellow top six side puts paid to any lingering hopes of a title challenge in late February or March. 2013/14's 6-0 reverse at Chelsea, Arsene Wenger's 1,000th game in charge, is perhaps the most memorable example.

Getty

7/8 Strong rally to finish

The pressure is off, time to turn the style on. A rally at the tail end of the season does wonders for Arsenal's league standing, but little to combat allegations of flakiness.

Getty

8/8 Top-four finish

Arsene has his 'trophy'. Champions League football is coming to the Emirates again next year. What more could the fans want?

Getty
"I have his trust, he's a superb coach. He's been successful for many years, he's been here for 20 years and has always managed to get Arsenal to reach the Champions League, making Arsenal a big club. He deserves to be shown respect."
Ozil said he still believed Arsenal had the potential to win the Premier League - a title they last won in 2004 - as well as the Champions League under Wenger, but said the squad must be strengthened.
"I think the club know they need to strengthen," he said. "But what's most important is the manager's opinion. He and the club will make the decision.
"When you look at our squad, it's not as broad as Bayern (Munich)'s or Real Madrid's. In the Champions League, that's not enough, especially against big teams, because they have more breadth in their squad."
Arsenal, who face Crystal Palace on Monday night, are seven points behind fourth-placed Manchester City with two games in hand.
Ozil said he had not considered how it would affect his thinking on a new contract if they missed out on the top four.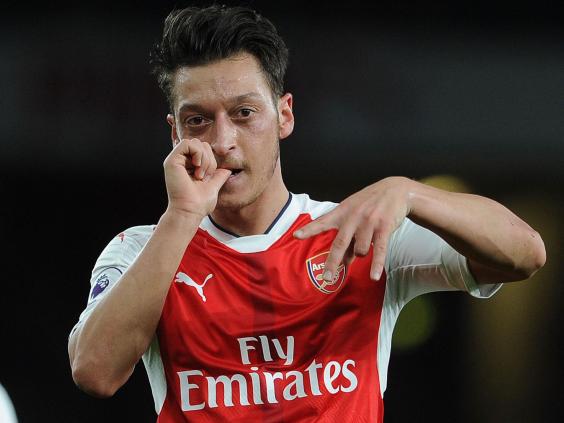 "I haven't thought about that. The club comes first, not Mesut Ozil or anyone," he said.
"The team have the aim to reach the Champions League and I'll fight for that. In the summer we have enough time to talk about the future and we'll do that."
He added: "I'm very happy. I have a connection with the club. I love London, it's great to live here but I can't say today what will happen in the future. In the summer we'll definitely talk."

Reuse content