Danny Karbassiyoon played and scored for Arsenal, achieving something that might have felt like an unreachable dream to him as a teenage boy. And yet it is what he has done for the club since having his career cut short by injury at 22 that has made the biggest impact.
Within months of being forced to retire by persistent knee problems, in early 2007, the club found a new role for him. Arsene Wenger and chief scout Steve Rowley decided that his intelligence and enthusiasm could be best used in a different way, as their scout responsible for north and central America.
So Karbassiyoon (above, left) has spent the last few years flying and driving across a continent looking for youngsters who would be able to play the Arsenal way. He has found two who have made their way into the Arsenal first team: Joel Campbell and Gedion Zelalem, now out on loan at Rangers.
Seven who could join Arsenal and and seven who could leave
Seven who could join Arsenal and and seven who could leave
1/14 INS: Zlatan Ibrahimovic (Paris Saint-Germain)

Age: 34

Expected fee: Free agent

The Swedish striker is out of contract in the summer and will be the top target for a number of clubs in Europe, North America and China. The PSG talisman, scorer of 141 goals in 168 matches for the French club in four seasons, has aged well and just led the club to their fourth Ligue 1 title in a row - the 12th of his career. Would offer Arsenal a genuinely world class striker for the first time since Thierry Henry left the club.

2/14 Toni Kroos (Real Madrid)

Age: 26

Expected fee: £45m

The German playmaker has seemingly slipped out of favour at Real Madrid, where Zinedine Zidane and president Florentino Perez are said to be plotting a revolution of playing staff. Kroos is another who will wanted by nearly every major club this summer, and there have already been hints that he wants to play for Pep Guardiola at Manchester City.

2016 Getty Images

3/14 Pierre-Emerick Aubameyang (Borussia Dortmund)

Age: 26

Expected fee: £60m

The hottest striker in Europe has an astounding 32 goals in 36 matches for Dortmund this season and plays in a style that would appear perfect for Arsenal. However, the former AC Milan man is wanted by Real Madrid and has previously mentioned that he'd like to play in Spain.

4/14 Victor Wanyama (Southampton)

Age: 24

Expected fee: £25m

Arsenal have been linked with the powerful Kenyan for years but never seem to take the plunge. Francis Coquelin was brilliant in the first half of the season, but the Gunners' lack of options in central midfield was brutally exposed when he went down with an injury. Wanyama alongside Coquelin would give the Gunners a powerful midfield platform on which to build.

2016 Getty Images

5/14 Alvaro Morata (Juventus)

Age: 23

Expected fee: £40m

The Spanish striker has not found much consistency at Juventus, but has showed, especially in the Champions League this season and last, that he is capable of operating at an elite level. He only has 10 goals this season but the potential to be a truly brilliant lone striker is there for all to see. Has also expressed a desire to play in the Premier League.

2016 Getty Images

6/14 John Stones (Everton)

Age: 21

Expected fee: £40m

The early season hype around the Englishman has fallen out considerably. Stones started the season as one of the division's most assured defenders but an awful winter has seen him lose his place in a defensively suspect Everton side. Some critics see him as all style and little substance. But he is still very young and that comfort on the ball would be ideal in north London.

2016 The Arsenal Football Club Plc

7/14 Mario Gotze (Bayern Munich)

Age: 23

Expected fee: £35m

Once hailed as the next big thing, Gotze must be regretting the day he ever left Dortmund for Bayern Munich. The German attacking midfielder has made just eight appearances and one goal in the Bundesliga this season. Liverpool are also linked with the World Cup winner.

2016 Getty Images

8/14 OUTS: Alex Oxlade-Chamberlain

Age: 22

Position: midfielder

For all his promise, Oxlade-Chamberlain is yet to deliver for Arsenal with any consistency, never playing more than 25 Premier League games in any of his five years at the club. He has just nine Premier League starts this season, in another campaign lost to niggling injuries. Chelsea and a return to boyhood club Southampton have been mentioned.

9/14 Kieran Gibbs

Age: 26

Position: left-back

Gibbs is not a good defender, too often caught far up the pitch and out of position. He lost his starting place to Nacho Monreal - a solid if unspectacular player - at the start of the season and has failed to win it back, starting only three Premier League matches this term.

2016 The Arsenal Football Club Plc

10/14 Mikel Arteta

Age: 33

Position: Defensive midfield

Seemed a year past his sell-by date last summer but the ever-loyal Arsene Wenger inexplicably opted to extend the veteran Spaniard for one more year. Zero Premier League starts tells its own story while his cameo at The Hawthorns will go down as one of the worst by any player this season.

2016 The Arsenal Football Club Plc

11/14 Mathieu Flamini

Age: 32

Position: midfield

Another player out of contract in the summer, Flamini is clearly not good enough for a title challenging, Champions League club, but has had to play important minutes in massive games. Wenger needs to move on from a player who has served him well but is no longer of any use at this level.

2016 The Arsenal Football Club Plc

12/14 Tomas Rosicky

Age: 35

Position: Attacking midfield

A case of what might have been for a supremely talented player, Rosicky's 10 years at the club have brought an average of just 25 matches in all competitions - Arsenal typically play 60. Always injured and without a single minute of football this season, the ageing player is just taking up a squad place that could be filled with an able body at this point.

2016 The Arsenal Football Club Plc

13/14 Mathieu Debuchy

Age: 30

Position: right-back

Another whose injury ruined any chance of a decent career in north London, Debuchy was excellent for the Gunners before that shoulder injury last season kept him out for months. In the few appearances he has made since returning he has shown he's nowhere close to good enough, while Hector Bellerin's rise has been unexpected and welcome. Has to be sold.

2015 The Arsenal Football Club Plc

14/14 Yaya Sanogo

Age: 23

Position: striker

Never ever looked good enough for Arsenal. Looked lost at Crystal Palace. Couldn't get into the Ajax team. Couldn't even get into the Ajax B team. How do Arsenal end up with these players?

2015 Getty Images
These two finds, the product of years of hard work, give Karbassiyoon a more lasting legacy than his unfortunately brief playing career. "With Joel and Gideon I have contributed more to Arsenal as a scout than I did as a player," Karbassiyoon tells The Independent, taking a modest perspective on his winner in the third round of the Carling Cup in 2004-05.
"Getting Arsenal to the fourth round of the Carling Cup, in the grand scheme of things, didn't do too much. But finding them two players who could potentially make an impact on the first team, it means more."
That work started in April 2007 when Karbassiyoon, still just 22, was given a three-week crash-course in scouting, attending "an inordinate amount of games", from youth level up to Champions League, learning how to evaluate players the Arsenal way.
"You have to learn to watch games in a completely different way," explains Karbassiyoon, over coffee in London, where he now lives. "If you look at the type we have, it is clear what the boss wants, so I was at an advantage for having played for him. Most guys that made it at Arsenal were very technical, very intelligent, concentrated and aware of what was going on around them."
Having learned what Arsenal expect, Karbassiyoon started driving and flying around north and central America, building contacts, watching players, hoping to find someone who might be good enough to wear the famous red shirt, as well as qualifying for, or even not needing, a work permit. "If you don't go," he says, "you don't know".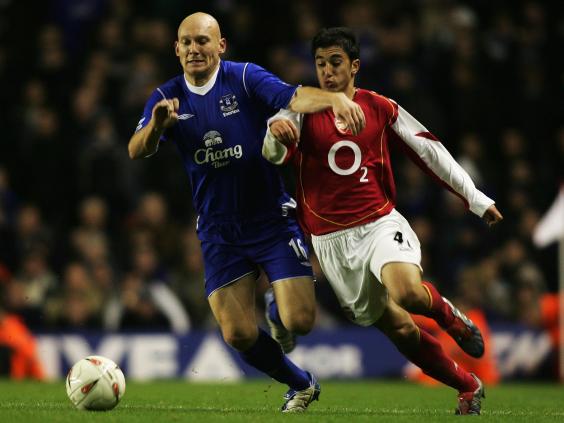 The first player Karbassiyoon sent on trial to Arsenal was Luis Gil in 2010, a young midfielder from California who decided to play in Major League Soccer and now plays for the United States national team. But later that year he got an email he will always remember.
"Sorry for the cold e-mail, but I have a 13-year-old who has a European passport who is special," wrote Matt Pilkington, coach of Olney Rangers, a boys' club in Washington DC.  Pilkington and Karbassiyoon had a mutual friend, who recommended Zelalem too, so Karbassiyoon went to take a look.
"I saw Gedion in a training session, and he was very different from what I am accustomed to seeing, from a typical player in the US" Karbassiyoon remembers. "Technically he was very, very gifted, he rarely looks like he's under pressure and always has a way out. I hadn't seen that in players in the US, his intelligence and awareness were on another level."
Zelalem was especially appealing because he was born in Germany – he had started at the Hertha Berlin academy – and therefore had an EU passport. While there are a few teenagers  in the US who are good enough to play for Arsenal, almost none of them are eligible to do so. Zelalem, though, was both.
Karbassiyoon had travelled across the US, Mexico and the Caribbean looking for players but had found the best one five minutes' drive from his old house in DC. So he kept watching Zelalem every weekend, started sending reports back to Arsenal, as well as building up trust with Zelalem's father. "I was a 26-year-old guy saying I work for Arsenal and want to take your son to London," he says. "It's a lot to take in. Scouting is much more than just recommending good players, you have to represent the club as well."
Arsenal were sufficiently attracted, having seem him play in the Dallas Cup, that in the summer of 2011, the 14-year-old Zelalem had a two-week trial at London Colney, with Karbassiyoon driving him in from the team hotel in Ellstree every morning. "Initially Gedion was training with the under-16s," he says, "and he did really well, so he was put in with the under-18s, and continued to do well. Two days before the end of the trial, he was thrown in with the reserves, and continued to impress. When a kid comes on trial you want him to make a difference, not just do enough to be part of the group. And he was influencing sessions with senior players."
Wenger had seen enough and so, when Zelalem turned 16 in January 2013, he signed as a scholar, making his first-team debut in the FA Cup days before his 17th birthday.
It was a very different process with Joel Campbell, who signed in the summer of 2011 but did not make his debut for another three years. Karbassiyoon saw him first as an 18-year-old, playing for Costa Rica in the CONCACAF qualifiers for the2011 Under-20 World Cup, in front of crowds of just a few hundred. Costa Rica were runners up, but Campbell top-scored with six goals.
"I really liked him," Karbassiyoon recalls. "His directness really impressed me, when he gets the ball he's super-confident, goes towards goal and wants to shoot. He had that raw ability, and I was excited about getting him to Wenger to fine-tune and polish it." That was a busy summer for Costa Rica, at the Gold Cup, Copa America and U20 World Cup itself, and Arsenal had soon seen enough to buy him from Deportivo Saprissa, despite competition.
The problem was that, unlike Zelalem, Campbell did not have an EU passport, so needed two seasons of loans before he was eligible for a work permit. Now, though, he is in the Arsenal team, and Karbassiyoon is delighted. "I'm really pleased now to see him have a good run of games, scoring some good goals and making them," he says. Campbell is now doing what Karbassiyoon only did briefly, and Zelalem may yet follow. "Playing for Arsenal was the highlight of everything," he says, "but being on the other side is something I cherish."
-
Danny Karbassiyoon's book 'The Arsenal Yankee' is out now on Kindle and next week in paperback
Reuse content