Chelsea interim manager Guus Hiddink says that he has not seen any of the footage of Diego Costa's unseemly brawl with Arsenal defenders Laurent Koscielny and Gabriel Paulista back in September.
The incident, which saw Paulista sent off after kicking out at the Chelsea striker, earned Costa a retrospective three game ban after video footage showed him scratching at French defender Koscielny.
Chelsea went on to win the game 2-0 against the 10 men of Arsenal, one of their few notable victories in a terrible season.
However, Hiddink, appointed to Chelsea for the second time after Premier League winning manager Jose Mourinho was sacked, says the incident is in "the past".
"That's the past," Hiddink said. "I haven't seen the images."
Costa, whose form has picked up since Mourinho was sacked, came off in the latter stages of the 3-3 draw with Everton last week, but should be fit enough to start.
Hiddink doesn't "have any complaints about his discipline" and told Costa to focus on playing football on Sunday.
"I cannot guarantee, because we're not dealing with machines, we're dealing with human beings, but when he is focusing on where he's good at, around the box, then he's of big worth."
Hiddink concedes the rivalry is lessened by the Blues' lowly 14th place in the Premier League, 19 points behind their derby opponents.
Asked whether the level of the rivalry remains, Hiddink said: "Not at this moment, not in this league.
"Arsenal are doing very well and making a good battle for first position. And Chelsea are way down under at this moment. Reality."
Arsenal have been strengthened by the arrival last summer, from Chelsea, of Petr Cech.
Chelsea captain John Terry said the goalkeeper, who was permitted to move after being displaced as first choice at Stamford Bridge by Thibaut Courtois, would be worth 12 to 15 points this season for the Gunners.
"He's doing very well," Hiddink said.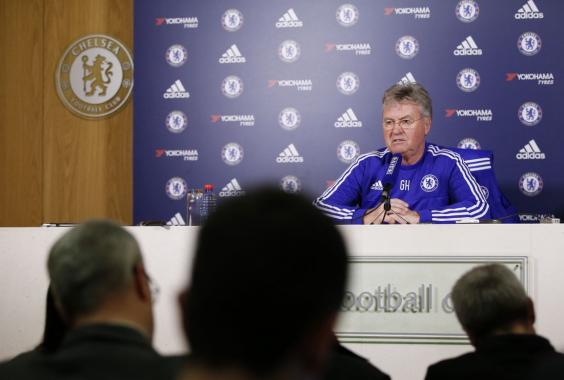 Adidas, Cech's glove sponsor and Chelsea's kit supplier, appeared this week not to have realised the goalkeeper had moved on after 11 years, sending his gloves to the Blues' Surrey training base.
Cech collected his gloves in person from Hiddink, who managed the goalkeeper during his first caretaker spell in 2009.
Hiddink, smiling, said: "I was here when Petr showed up. It was nice. We had a chat. Almost everyone was gone, it was late (on Wednesday) afternoon.
"We tried to hide them, which he did not accept. We tried to make them a little bit slippery, but he discovered that also."
Additional reporting from PA
Reuse content