As most people approach their 65th birthday, thoughts turn towards collecting a gold watch and pruning the roses. Arsenal manager Arsene Wenger, though, is not ready to take things easy just yet.
Wenger is 65 on October 22, when he will be in Brussels preparing the Gunners for their Champions League tie away to Anderlecht, and you suppose he might allow himself a small glass of red to mark the occasion, but most likely little other fuss.
The Frenchman, nicknamed "Le Professor" as he holds a masters' degree in economics from Strasbourg University, has just about seen and done it all since embarking on his first steps into coaching at Nancy following what was, by his own admission, a modest playing career.
It has, of course, not all been plain sailing on the journey from Monaco to Nagoya in Japan, on to the marble halls of Highbury and the now infamous "Arsene Who?" headline which followed his appointment at Arsenal during the autumn of 1996.
Arsenal's injury list
Arsenal's injury list
1/5 Mikel Arteta (midfield)

Like Diaby, the Spaniard is closing in on a return but the Swansea match will come to soon. The club captain last played in November.

Getty Images

2/5 Mathieu Debuchy (defender)

Returned in the FA Cup semi-final win over Reading but has since been ruled out with injury and Wenger confirmed he remains 'unavailable'.

GETTY IMAGES

3/5 Alex Oxlade-Chamberlain (midfield)

Suffered a hamstring injury against Manchester United in the FA Cup and hasn't played since as it has exacerbated a groin problem. Out at least until May and facing surgery in the summer.

4/5 Aaron Ramsey (midfield)

Aaron Ramsey caught a kick on his calf during the win over Hull and was later substituted. The Welshman was rated 50/50 for the Swansea match by Wenger, but it now appears that he is a major doubt for the clash at the Emirates.

Getty Images

5/5 Danny Welbeck (forward)

Danny Welbeck has not played since the goalless draw with Chelsea towards the end of April after suffering a knee injury. Wenger has confirmed that the injury is 'nothing major', and that he should return to full fitness before the end of the season.

GETTY IMAGES
Nevertheless, despite all of the many highs and, more recently, testing times, the desire for success continues to burn as fiercely as it ever did.
"When you come from where I come, where I started and look back a little bit at my career, you know that one quality you need is to fight," said Wenger, who last season passed 1,000 games in charge of the Gunners and extended his contract after leading the team to FA Cup success at Wembley in May, so ending a nine-year trophy drought.
"My father was not in football, I had no red carpet to get where I am and I had to fight and work hard every day and that is what I did every day. As long as I am capable of doing it, I will do it.
"We are all gifted at something in life. The only advice I would give is to really try to identify something you really love and give it your all."
When quizzed on the prospect of choosing to work on past 65 when most other people his age are closing in on retirement, Wenger showed his sense of humour remains razor-sharp.
"Maybe I have been very lazy in a former life and have to come back and work for the laziness I have shown before," he quipped.
"So I have to accept my fate and enjoy it, I am ready to fight (on) as long as I can."
The issue of just how Arsenal would go about replacing Wenger when he one day decided to call it a day was raised at the club's Annual General Meeting on October 16, with chairman Sir Chips Keswick maintaining they would expect to be "spoilt for choice" over potential new managers when the time came.
Of course whoever eventually has to take charge once Wenger moves aside will have some act to follow.
The Frenchman's legacy is already secure and recently he was honoured by a bronze bust alongside fellow legendary manager Herbert Chapman at the impressive 60,000-seater Emirates Stadium.
Wenger has guided Arsenal to three Premier League titles - including the famous Invincibles campaign of 2003-04 - along with the FA Cup five times, and also took his side to the 2006 Champions League final.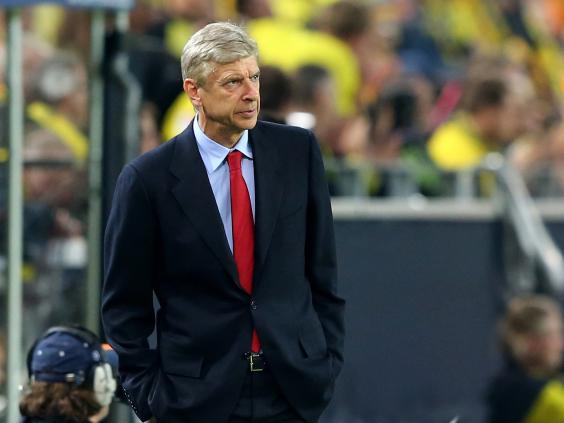 But he knows none of that success could have come without the unequivocal support from the boardroom, which has continued following the takeover by American tycoon Stan Kroenke.
"You need to go into clubs where they trust you and let you work. On that front I was very lucky," said Wenger, who has spurned advances from the likes of Bayern Munich, Real Madrid, Paris St Germain and even the England national team down the years.
"I have never had a day when I think I could live without football.
"I know one day it will happen, but you should not live every day knowing you are going to die - you live knowing that you want to live.
"You will know if you are not hungry enough any more, but other people will tell you if you are not good enough any more."
After 18 campaigns and counting, that discussion, you suspect, is still some way off yet.
PA
Reuse content