There are days when Arsène Wenger is consumed by a martyr's anguish, taunted by the ignorance of the fickle and the faithless. This was his compensation, the crystallisation of his vision of football as a fusion of art and science, intelligence and application.
Arsenal's seventh successive victory confirmed Liverpool's exile from the top four, and left Brendan Rodgers clinging to the lifeboat of the FA Cup. The most he can hope for is revenge at Wembley, assuming both sides justify the bookmakers' odds and reach the final on May 30.
Three sumptuous goals in nine first-half minutes gave Arsenal the platform to move into second place. Their first title in 11 years remains an unsustainable flight of fancy, but they no longer exude the vulnerability of spring lambs.
Arsenal 4 Liverpool 1 player ratings
Arsenal 4 Liverpool 1 player ratings
1/23 David Ospina - 6/10

He didn't have a save to make until the 56th minute. A very comfortable game for a goalkeeper who has took permanent charge in the Arsenal goal in recent months.

Getty Images

2/23 Hector Bellerin - 8

Made an excellent incisive run before curling a left-footed effort beyond Mignolet. Defensively he was strong and Moreno didn't enjoy the Spain right-back's dangerous runs down the right.

Getty Images

3/23 Per Mertesacker - 7

Enjoyed his time against Sterling in the first half, especially when Liverpool went direct with the long ball. Positionally, he looked comfortable.

Getty Images

4/23 Laurent Koscielny - 6

Replaced by Gabriel Paulista in the second half after suffering a knock. He was overstretching in the first half but was rarely under pressure.

Getty Images

5/23 Nacho Monreal - 6

He found himself under threat by Coutinho who never stopped trying to unlock the Arsenal defence. He did handle the danger of Sturridge well in the second half, though.

Getty Images

6/23 Francis Coquelin - 7

A very assured performance by the young defensive midfielder. He proved very effective in tidying up just in front of the Arsenal defence. Allen found things touch against him.

Getty Images

7/23 Aaron Ramsey - 7

Replaced by Flamini. Assisted Bellerin and Sanchez for their goals. Replicated the excellent form that he showed on international duty for Wales.

Getty Images

8/23 Alexis Sanchez - 8

As dangerous as ever. Scored his 20th Arsenal goal of the season with a superb effort from outside the Liverpool area.

Getty Images

9/23 Mesut Ozil - 7

Showed skill throughout the match. Scored with a sumptuous free-kick. He was replaced by Welbeck in the second half.

Getty Images

10/23 Santi Cazorla - 7

Tricky and effective. So dangerous going forward but did find himself running into trouble a little too often.

Getty Images

11/23 Olivier Giroud - 7

Held the ball up well, provided a calmness to Arsenal's attack, and scored his side's fourth goal.

Getty Images

12/23 Simon Mignolet - 4

Should have done better for Arsenal's first two goals. Too easily beaten down to his right.

Getty Images

13/23 Emre Can - 4

Picked up a needless booking early in the second half and was sent off with minutes remaining for a second bookable offence when he took down Welbeck.

Getty Images

14/23 Kolo Toure - 5

Looked unfit when faced with the speed of Sanchez.

Getty Images

15/23 Mamadou Sakho - 5

Clumsy to bring down Ozil before the German stepped up to score Arsenal's second. Failed to keep the shape of the Liverpool back three.

Getty Images

16/23 Lazar Markovic - 5

Dangerous in the first half but was replaced by Sturridge at half-time as Liverpool went for a more attacking front line.

Getty Images

17/23 Lucas - 6

Didn't control the midfield very well but at least he tried to connect the midfield and attack.

Getty Images

18/23 Jordan Henderson - 6

Scored the penalty to give Liverpool a chance but he failed to dictate the game probably because he was played as a right wing back - a position that doesn't suit him.

Getty Images

19/23 Joe Allen - 6

A poor game for the Wales midfielder. He had improved recently but his performance here was not great.

Getty Images

20/23 Alberto Moreno - 6

His error led to Arsenal's first goal. Didn't get close enough to Bellerin.

Getty Images

21/23 Coutinho - 7

One of Liverpool's more influential players. Tricky and skillful - a lot of creativity but no one around him could take advantage.

Getty Images

22/23 Raheem Sterling - 6

Won the penalty after a clever run but his impact was little. Too often Mertesacker got above him. A frustrating day to end a rollercoaster week for the 20-year-old.

Getty Images

23/23 Daniel Sturridge - 6

Came on at half-time to provide a more clinical edge to Liverpool's attack. He played ahead of Sterling and Coutinho and was a threat. He still looks a little off the pace, though.

Getty Images
Wenger spoke of "a great day," embroidered by a coruscating performance by Mesut Özil, but effectively conceded their ambition of becoming champions was unsustainable once they won only two of their opening eight games: "We missed important players at the start of the season, when we dropped too many points. We have the quality to find ourselves at the top, but that needs us to be perfect and for Chelsea not to be perfect."
He studiously avoided the most obvious mantrap, of confirming his interest in Raheem Sterling, by artfully highlighting the attacking strength on his bench. Danny Welbeck made a vibrant cameo appearance. "We are not in a transfer period," he observed.
Sterling's most telling contribution was to win a penalty converted by Jordan Henderson. Rodgers did not shy away from exposing the curse of agent-driven intrigue.
He favoured paternal understanding, praising Sterling's contribution and distancing him from the distasteful opportunism of modern transfer sagas. He defused emotion while reinforcing his authority, and hinted at Mario Balotelli's lack of commitment by revealing the Italian spared himself the chore of being a secondary substitute by ruling himself out with an indistinct knee injury.
For the neutral, the football was a blessed relief. The backcloth of synthetic emotions and sly protestations of loyalty was ripped asunder by a game of speed, intensity and technical skill applied at pace.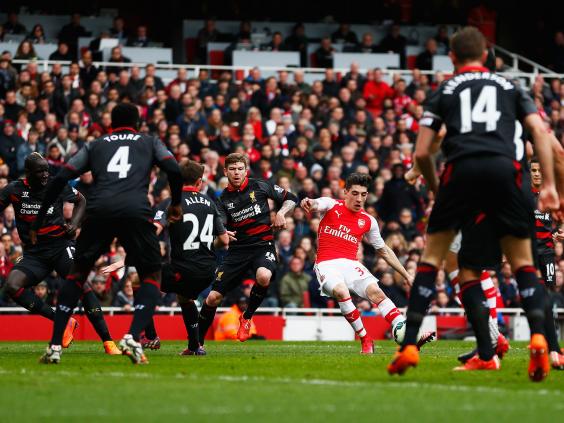 The moral question framed by a long red and white banner which read "£5bn and what do we get? £64 a ticket" will eventually require an answer, but this was undoubtedly Premier League gold. 
Arsenal passed quickly, and Wenger praised their "killer instinct" but took care to highlight the quality of their combination play in the final third. They allowed Liverpool back into the game for a 15-minute spell in the first half, leaving large pockets of space which invited exploitation, but had few alarms.
This is a squad which is capable of much more; significantly they would have trailed but for Lazar Markovic's fearful, overhit squared pass, which Sterling missed with an empty goal gaping. Liverpool's only other genuine chance, squandered when Sterling dragged a shot wide, lent credence to suggestions he remains an incomplete player.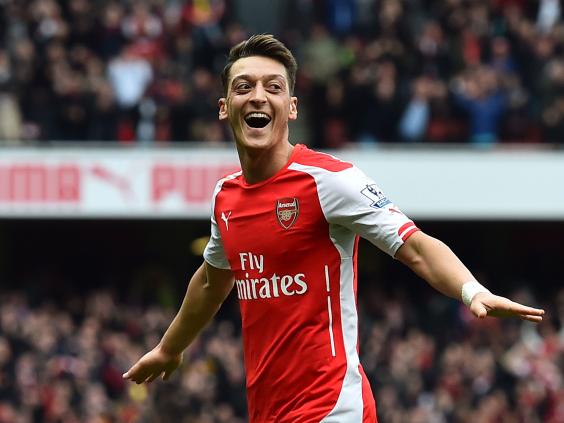 The back stories of Arsenal's goalscorers hint at the breadth of Wenger's philosophy. Liverpool's defending was neurotic, but the manner in which they conceded was not entirely down to their fallibility.
Hector Bellerin, who opened the scoring after 36 minutes, has surprised Wenger with his progress, but is the perfect example of organic growth. Recruited from La Masia at 16, he has developed so impressively that he is even being spoken of as a realistic replacement for Dani Alves at Barcelona.
The Spaniard was almost abashed by his impudence in sweeping past Alberto Moreno, who was too square on and obsessed with keeping his arms by his side to avoid the risk of handball. He shifted the ball on to his left foot, and scored past Simon Mignolet's right hand.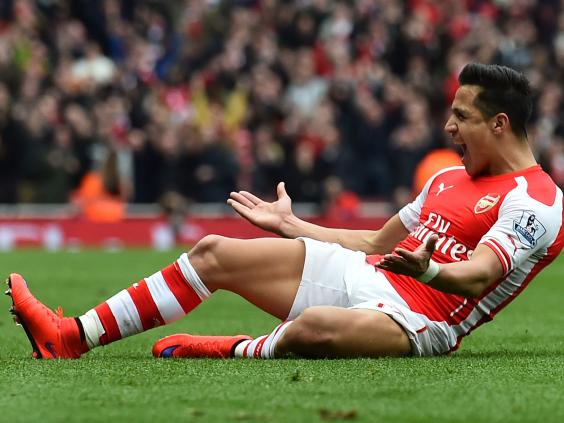 Özil's left-footed free kick two minutes later, set out wide before it arced into the side panel of the net, was so well struck he was running away in celebration while the ball was still in the air.
The standing ovation he received when, physically spent, he was eventually substituted signalled overdue acceptance from a demanding crowd, which expects value from the £42m invested on their behalf. He was outstanding, creative and diligent.
Wenger stressed: "He is always class. He is agile, flexible, and the intelligence and timing of his passes is exceptional. People love to play with him. "
Alexis Sanchez remains the darling of the Emirates, however, a player of unremitting intensity, compelling physicality and endearing optimism. His 20th goal of the season, the perfect completion of a flowing move which started on halfway, was one for the ages.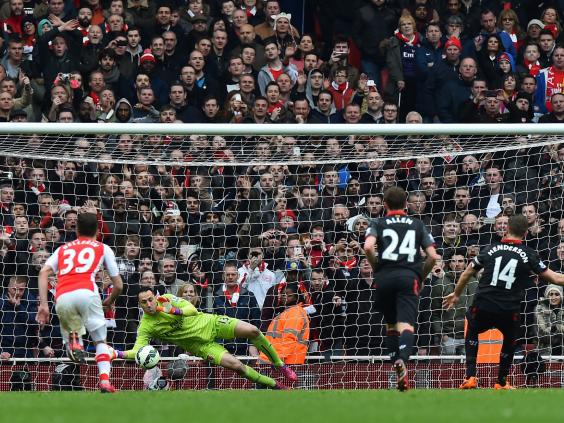 His first touch inside Kolo Touré was sublime, and the ball stood up perfectly for him to strike it through the sweet spot. His rising drive was past Mignolet before the goalkeeper could even flinch. The game demanded and duly received a suitable exclamation point, when Olivier Giroud scored his 12th goal in 13 games with a majestic sweep of his left foot.
By that time Liverpool's season was further complicated by Emre Can's second yellow card, a lamentable lunge at Welbeck. He misses Wednesday's Cup replay at Blackburn. Life for Rodgers gets no easier, but for Wenger it is almost redemptive.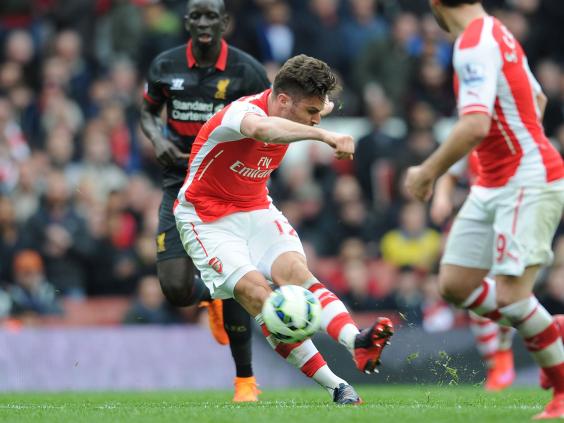 Arsenal: (4-2-3-1) Ospina, Bellerin, Mertesacker, Koscielny (Gabriel, 48), Monreal; Coquelin, Ramsey (Flamini, 61); Özil (Welbeck, 73), Cazorla, Sanchez; Giroud
Liverpool: (3-4-3) Mignolet; Can, Toure, Sakho; Henderson, Allen, Lucas, Moreno; Markovic (Sturridge, 46), Sterling, Coutinho.
Referee: Anthony Taylor.
Man of the match: Özil (Arsenal).
Match rating: 8/10.
Reuse content